Hello CP friends! So excited that this week we are featuring Gardens theme. Whenever I think about garden, floral elements immediately popped into my mind. I am a HUGE fan of any type of pretty floral! And probably that's one of the reasons why I can relate & can't stop using the Bloom collection on my projects :) With that theme in mind, I took the opportunity to decorate in my gold planner. Simply because everything looks good with gold *wink*
To create the dashboard and decorative cover page, all you need are a few supplies like patterned paper that will work as base and all the pretty embellishments (floral ephemera, die-cuts, clips, chipboard stickers, etc.) that you can add as you decorate.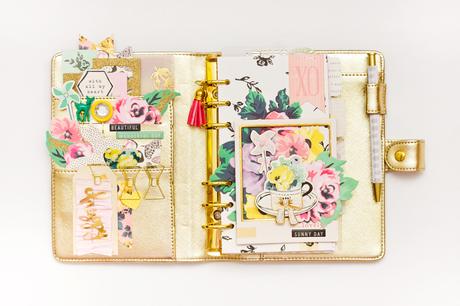 The dashboard (on the left) is useful especially when you want to add any pretty elements on your planning pages. You can always grab those and make your pages pretty & interesting! 
 The decorative cover page (on the right) will be great as a monthly cover for your daily/weekly planning. You can always add the month for reference.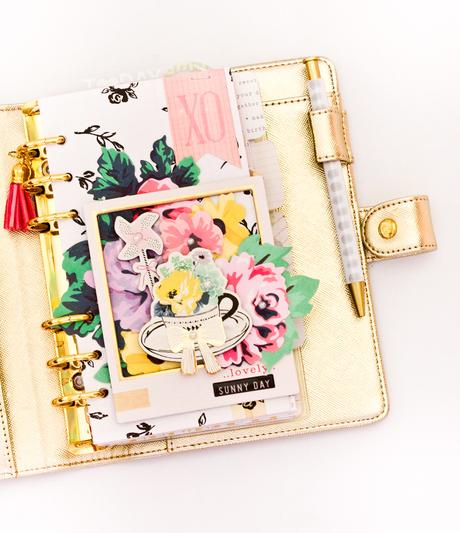 By keeping or changing things around in your planner will keep you going and it's a fun way to keep up with the new products as well. Perfect excuse rite? *haha*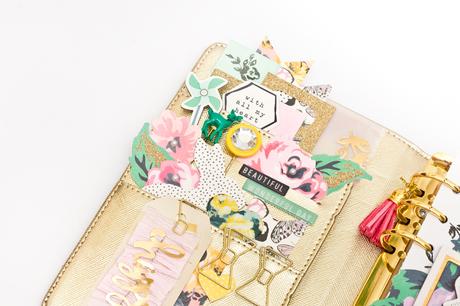 Don't you just love that cute little tassel? That is definitely a fun little piece to add to your planner! 

It's absolutely fun to personalize your planner and of course it brings out your personality, own unique style & design! Try it out with CP products today! 
Supplies: Maggie Holmes Bloom Paper "Peony" (680423), Maggie Holmes Bloom Puffy Thickers (680431), Maggie Holmes Bloom Chipboard Stickers (680433), Maggie Holmes Bloom Ephemera Die Cuts (680434), Maggie Holmes Bloom Tassel (680437), Maggie Holmes Bloom Gold Floral Vellum (680427)