When I found out that I'm assigned to create a layout that incorporates stitching, it sure made me think on how to make stitching to stand out. As always, I will take out products and look at the possibilities on how these products "speak" to me. This time, I wanted to play with Oasis collection, simply because of that cute photo of my baby girl in our garden! That also challenges me that I can create fun & cute projects with themed collection on everyday photos :)
After glancing through, I decided to include some ephemera leaves on my layout. That pretty much sets the tone for my layout. All I knew was to add stitches at the middle section of each leaf. Once that is done, I was looking for patterned papers. I really loved how the black & white script paper against the green & gold leaves but it was a little too "loud". So I decided to use a black cardstock to layer on the script paper to tone things down. I felt the black cardstock was not outstanding enough for the layout. That's when I decided to give a little stitch by stitching stripes on it.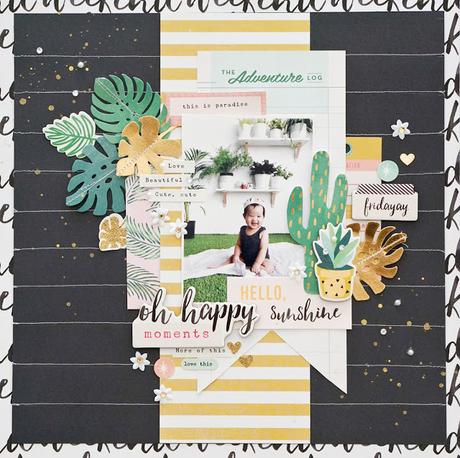 To begin, I measured the space for each line. Then, I used a ruler & lightly drew the lines with pencil. That way, my stitches will look uniform and chances of sewing it crookedly will be reduced too. Mine is certainly not perfect stitching but it's the look I was going for. Absolutely loved the end result, it is subtle and not looking for too much attention on the overall design. 
Here are some closed up shots of my layout: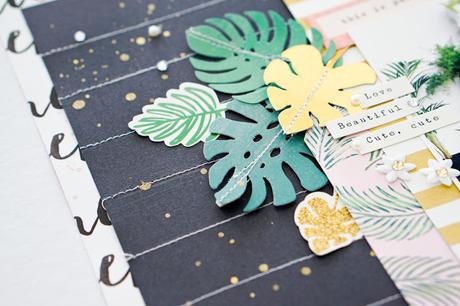 Adding the gold mist splatters really brought out the fun of this layout. Looks really pretty against the black cardstock!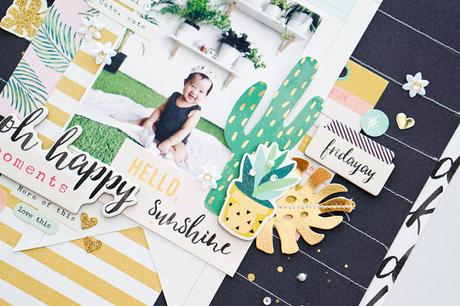 By adding layering & texture i.e.: papers, stickers (accent, chipboard, etc) to the layout, it will give a fuller look to the layout.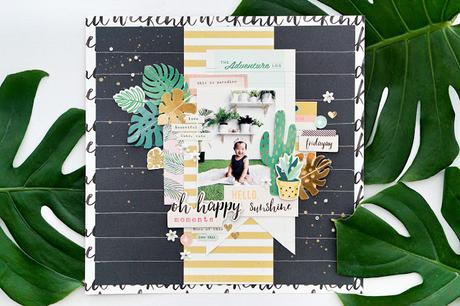 I couldn't resist using my monstera leaves that I had at home. Love that these leaves matched the cute photo and also the elements on the layout!
Supplies: Crate Paper Oasis - Chipboard Stickers (378993), Cardstock Stickers (378995), Ephemera Die-Cuts (378994), Getaway (OASDS-75973), Palm Springs (OASDS- 75972), Postcard (OASDS-78984)
Thanks for letting me share today!Xoxo Jessy