When I was assigned to create for the Travel week, instantly I knew I had to scrap about our latest vacation in 2015. Last November, we had the opportunity to travel to Japan to celebrate our 10th wedding anniversary and also to visit our Japanese friends. It was a wonderful experience for all of us especially for my daughter. She absolutely loved Japan and still talks about it until today! And of course it is a great reason to scrap all about it.
Before I begin with my scrapping process, I will make a habit to go through all the papers & products so that I can carefully choose the right elements to include onto my layout. And of course, it doesn't have to be travel theme to be able to scrap about vacations. Anything that has similar resemblance is awesome! As I was going through the Maggie Holmes Bloom, Little You + Hello Love collection, I managed to pick out some cute elements i.e.: the globe, XO balloon, hearts, arrow and some awesome sentiments. I certainly loved how Crate Paper collections are made to mix + match. 

I absolutely adore the chevron wood patterned paper and thought it would be a great contrast with all the colourful embellishments. I also used the Silhouette Cameo die-cut machine to cut out the globe at the left top to give more interest to my layout. 

On the right side of my layout, I layered a lot of phrases and sentiments at the bottom of the title. Don't be afraid to layer, there's no right or wrong whenever it comes to personal creativity! Trust me, layering will make your layout interesting with the entire different dimension on each sticker.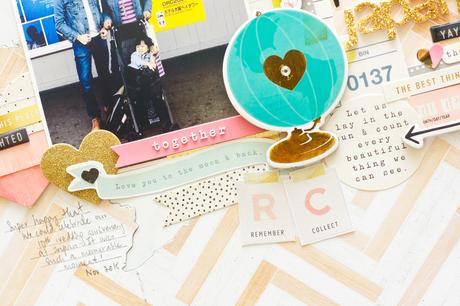 Just love that cute globe in the middle of the layout. Just perfect for traveling theme!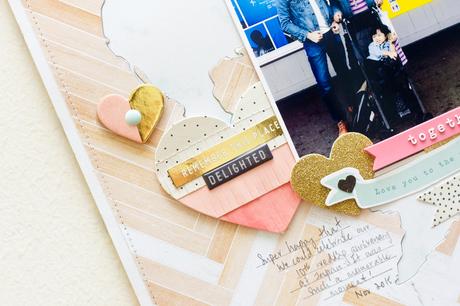 To finish up my layout, on the left side I used a lot of heart embellishments and also some fun die-cuts across the layout to express our love for Japan & travelling! And lastly, I machine stitched the edges of my layout. 
Supplies: Maggie Holmes Bloom 6x6 Paper Pad (680428), Maggie Holmes Bloom Accent Stickers (680435), Maggie Holmes Bloom Clear Stickers (680443), Maggie Holmes Bloom Grow Thickers (680431), Maggie Holmes Bloom Happy Thickers (680432), Maggie Holmes Bloom Rubber Shapes (680436), Maggie Holmes Bloom Fringe Hearts (680442), Maggie Holmes Bloom Delighted (680408), Little You Embellishments (680397), Little You Ephemera Pack (680391), Hello Love Chipboard Stickers (680360)
Thank you for coming by! Have a great week!Xoxo Jessy