Hello everyone! I'm so thrilled that this week it's about Mothers. And with that theme in mind, I knew I have to scrap about me being a Mum. Being pregnant was never easy in my life. After 7 years of marriage, I finally got pregnant with my first daughter. She was indeed a miracle child. And now, I'm blessed with a second pregnancy. 
I absolutely love being a mother though there are times where I have to face a lot of challenges. With all those challenges, it actually makes me a stronger person. As a mum, scrapbooking is very therapeutic for me. The minute I dropped my little girl to school, I'll spend some 'me' time by playing pretty papers, scissors & glue. So thankful for this hobby! 
Let me share with you how I created my layout...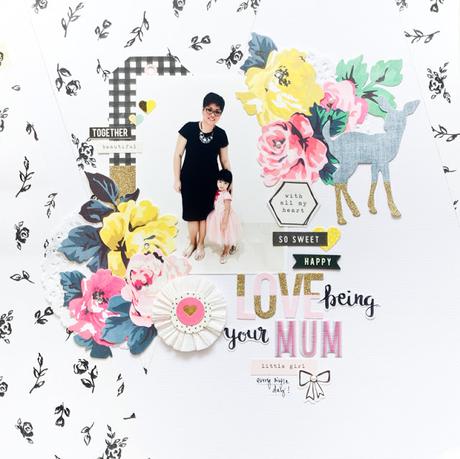 Before I begin, I always select my photo first. This time round, it'll be a photo of my little girl and me. Next, I'll select my patterned paper(s). I wanted to only use a piece of patterned paper, therefore I cut the paper into triangle shape and attached them onto a cardstock by leaving the bottom part empty. Then, I positioned the photo somewhere in the middle. I slowly worked my way around the photo by layering some flowers, ephemeras & stickers. Once I'm happy with that, I finished the layout with a title "Love being your Mum". 
Here are some close-up shots: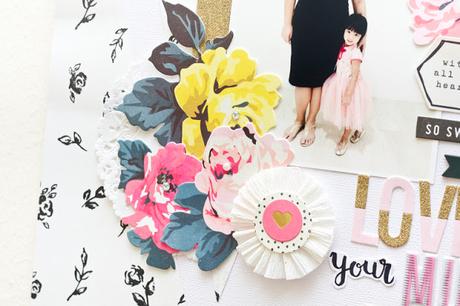 Layering has always been my favorite technique. It definitely gives a lot of depth to your layout! I also added a standout (detached the green checkered ribbon) among the die-cut flowers to add further interest to my layout.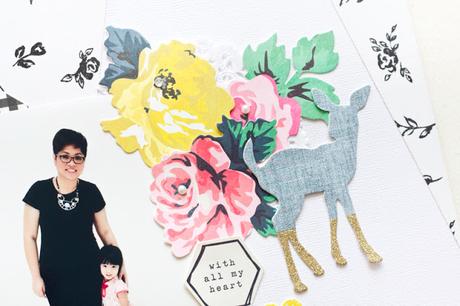 Don't you just love that little doe?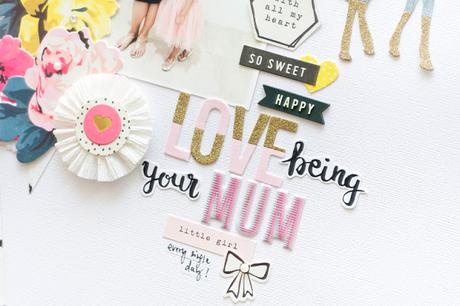 Recently, I have learnt how to write with my brush pen. By adding personal touches like having your own handwriting as part of your title is absolutely fun & personal too! 
Happy Mother's Day to all the mums! 
Supplies: Maggie Holmes Bloom Ephemera Pack (680434), Maggie Holmes Bloom Stickers (680435), Maggie Holmes Bloom Rubber Shapes (680436), Maggie Holmes Bloom Peony (680423), Maggie Holmes Bloom Standouts (680441)
Thank you for letting me share today!Xoxo Jessy