While the average person tries to spend as minimal time in the grocery store, i am one of those weirdos who loves to walk through each aisle leisurely.  I dawdle, i deliberate, and i drive my supermarket companion (whoever is unfortunate enough to be with me ) nuts at my unprogressive rate.
It was during one of these trips that i spotted this Pistachio instant pudding mix from Jell-o.
I grabbed one knowing exactly what i wanted it for.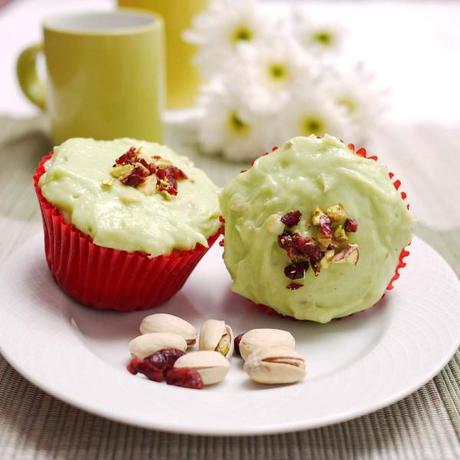 A pistachio cream cheese frosting from my Cream Cheese Jelly Berry Pie. The original recipe was for filling a pie, but the texture was so thick and the taste so creamy that i decided that it would work as a frosting too.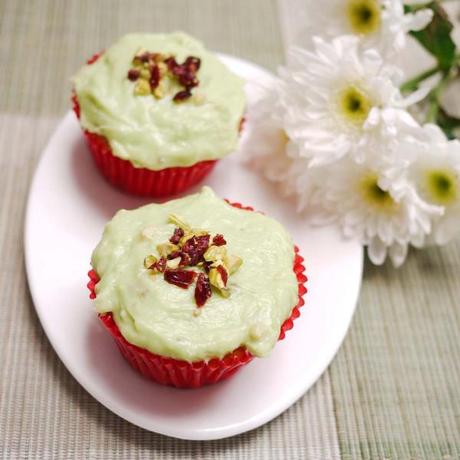 But as an insurance, i did omit out the liquid (milk) in the recipe. I wanted this frosting to be really thick and full flavoured.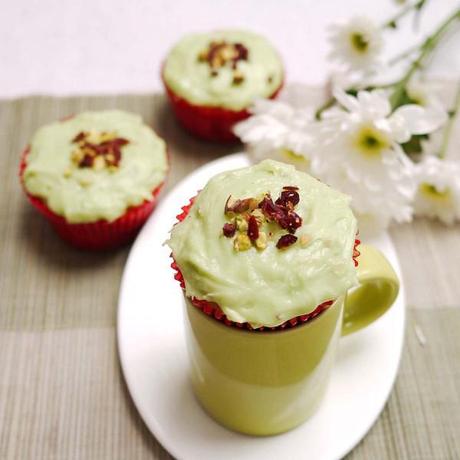 And since i was going fancy with the frosting, i didn't one plain vanilla for the cupcakes. So i took an orange cupcake recipe but subbed the orange juice in it for cranberry juice.
Cranberry Cupcakes with Pistachio Cream Cheese anyone?
It didnt work out so well though, i couldn't taste the cranberry flavours for one bit. I suggest on using cranberry extracts for this.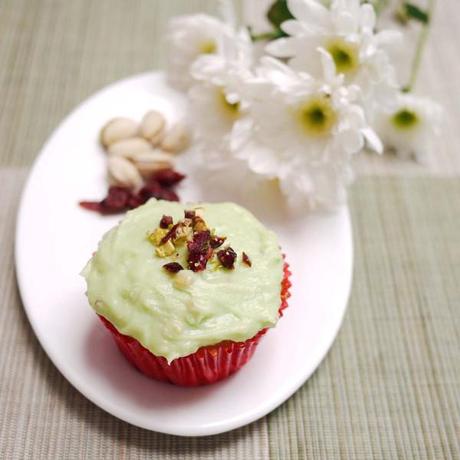 Having said that, the real star here is the frosting. Really, it could have been just be a piece of stale bread underneath and it will still taste delicious!
Cranberry Cupcakes:
2 eggs
1 stick unsalted butter
1 cup granulated sugar
1/2 tsp pure vanilla extract
2 cups sifted cake flour
2 tsp baking powder
1/4 tsp salt
1/2 cup milk
1/4 cup orange juice
Preheat the oven to 190°C (375°F). Line your cupcake pans.
Beat butter with sugar until light and fluffy.
Add in the eggs one at a time, then add the vanilla.
Sift the flour with the baking powder and salt. Mix well.
Combine the milk with the cranberry juice.
Pour one third flour mixture into the butter mixture, then half of the milk mixture. Repeat ending with the flour mixture. Mix well.
Spoon batter evenly among cupcake liners.
Bake in the oven for 20-25 minutes or until a cake tester comes out clean. Cool before frosting.
Pistachio Cream Cheese Frosting
1 Can (14 ounces) sweetened condensed milk
1 package (8 ounces) cream cheese
1/4 c cold milk
1 Package (3.4 ounces) Pistachio Instant pudding mix
In a large bowl, beat sweetened condensed milk, cream cheese, and pudding mix for 1 minute.
Spread over cooled cupcakes.
Sprinkle chopped pistaschio and dried cranberries over to prettify!