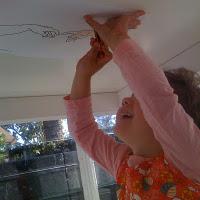 It's no secret that we Aussies come from "down under" and that got me thinking about a crafty art project for kids that they could do under the dining table... look away super-clean mums, because this project involves the potential for mess... albeit on the underside of the table!
I created a coloring page based on the Creation Of Adam, from the Sistine Chapel at the Vatican (I'm lucky enough to have been there, and it IS as awesome as you expect, and some).  I've posted the coloring page on my website for you to use.
Here's what to do;
Click on the following link to launch the page filled with FREE Coloring In Art Projects, you'll need to scroll down to find it under "Jasper"
Download the free file
Print out Page 2 (the coloring in page) or use your own suitably themed coloring page
Tape or temporary-tac it to the underside of the dining table
Let the kids get under there and color it in!
Mimi got a real kick out of getting under the table - it was such a weird and funny thing to do for a nearly 4 year old.  Her little sister Lotti was totally bemused and kept asking me and Mimi "ok?" while getting increasingly excited at this new way of using our dining table.
It was a great learning opportunity to explain about how artists work in different ways, and even though she's not yet 4, she still did a great upside down job and announced excitedly, "my neck got so sore!"  She LOVED it and I know your children will love it too, so go on... try it!