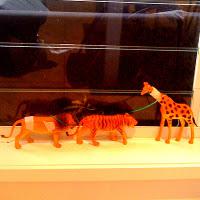 It's no secret that calling an ambulance to your home in the middle of the night is a bit scary.  That's what we did last night.  Little Lotti went to bed just fine... then woke up coughing... then struggled to breathe... so off to hospital she went.  She was released a couple of hours later diagnosed with croup.  Most immunised children don't even react if they are infected with the virus, but about 10% get sick... poor Lotti. 
Upside; it passes generally quickly if diagnosed and the child is kept calm enough to control her breathing.  Today she's a different child; tired and grumpy from lack of sleep and a bit coughy, but no one but us would even know what happened.  She's blissfully sleeping as I type.  
Downside; Mummy aged about ten years in ten minutes!
The 'funny' thing is that I was going to blog 'craft hospital' today even before all this happened - I promise - the photo proves it.  I have been using plastic jungle animals for a variety of ideas in the Jungle Drums craft ebook, including; tying cutlery to them as table settings, turning them into decorations, attaching bag tags and lollipops for keepsakes, etc. 
My girls came the other day and picked them up, and with the aid of some green wool and masking tape proceeded to 'fix' all the sick plastic animals.  The crafty game lasted long into the afternoon and early evening, as my two little vets created a variety of ailments and remedies.
Here's hoping that string and tape are the only first-aid items we'll all be needing for awhile.  On that thought; I hear a cough-cough... better go!