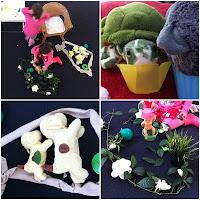 It's no secret that I'm blind to some things.  So happy was I about the clever little vet-hospital that my two preschool daughters had made, complete with sippy-bowls for the sick animals, waiting-rocking-chair, bandage-bed, and flower garden for them to recuperate in, I never really noticed all the leaves lying about the place.  For the briefest of moments that I did see them (such as the one lying on little Spot-the-dog's back), I just assumed that perhaps Little Lotti had pulled them off my faux-gardenia garland, and they would simply slot back on again later.  How nice.  Since they were playing so well together, what better time than this to go enjoy a hot cuppa and a flick through a pretty magazine.
Ever had one of those cups of teas?
The ones where you're blissfully relaxed, so pleased that the kids have found a way to amuse themselves quietly, without you, without eye-gouging each other or ruining the house?  Don't they just taste so good?  And if you're really lucky, you'll have a choc-mint biscuit hidden in the freezer like I do, already taken out of the wrapper, so they won't hear any crinkly-foody-noises to alert them; those biscuits will be just hiding up there on a shelf where the kids can't see and would never think to look... you'll sneak one out and ahhh....
And then the cuppa comes to an end, you lick you lips and smile to yourself as you get ready to tell a little white lie (we call them 'fibbles') when the children ask you why your breath smells minty; "well I brushed my teeth of course!"  Then you walk in to check on the kids....
And right about now you regret taking so long over your cup of tea...
The living room is a shambles.  The 'cute' and imaginative get-up you'd photographed before is now unrecognisable chaos.  That can be cleaned however.  What's worse, is that it turns out that the little snippy scissors I had loaned them to cut strips of masking tape to use as band-aids had also been used to snip the leaves off the gardenia garland.  Ok then.  No slotting those back on again.  Even a super glue gun would have a hard time with this one.  Darn it.  No one to blame but yourself and the cup of tea...
Breathe deep and remember that collaborative-play, imagination and self-expression is more important than cleanliness...
and those leaves will come in handy one day (if you look closely at the Halloween pictures from yesterday's post you'll see they popped up a couple of times!)
The upside of the moment was that I was so busy ranting and raving under my breath, that no one dared get close enough to get suspicious about my choc-mint smell! x