If you haven't heard of Crackbird I'd advise you to give up life under your rock, as nice as it might be, and join the real world. Conversations among my friends about chicken have always descended to a single question "have you been to Crackbird." Social media buzzes about the place, due in no small part to their #tweetseat campaign I'm sure. Even me, who hates chicken, has a fondness for Crackbird.
Crackbird began life on Crane Street as a popup in the premises now occupied by it's sister Skinflint. It was a phenomenal success and eventually found a permanent home in the former premises of Fans Chinese on Dame Street. Much of the original decor in Fans has been retained and so you have the unusual experience of sitting down to eat your buttermilk chicken looked on by some Chinese Concubines!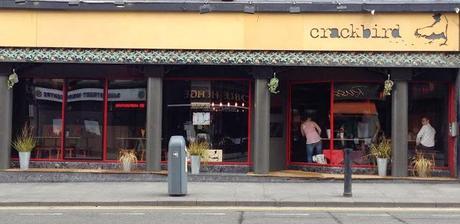 Crackbird's permanent home on Dame Street. 
The menu is very simple, you have "Pecks" or appetizers followed by "feed" or main courses which range in price from €4.95 to €17.95, the latter being big enough for two people to share. There are a number of accompanying sides and sauces, all under €4.00. If you are feeling virtuous (what's wrong with you?) there's also a few tasty sounding salads.
M loves chicken. He'd live on chicken alone if he got his way, actually he'd probably live in Crackbird! He always has the buttermilk chicken. It comes coated in bread crumbs. It's juicy and oozy, the licking of fingers is obligatory!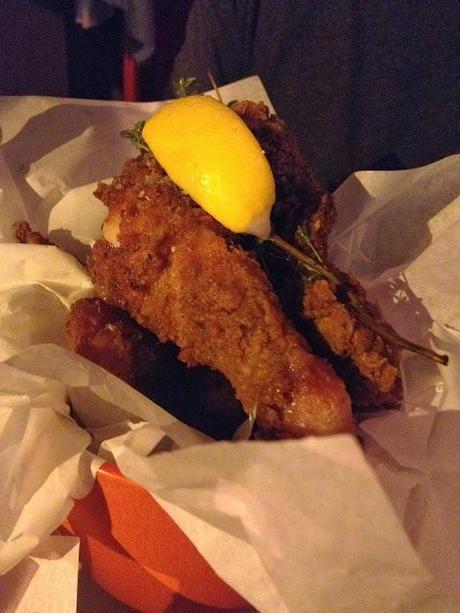 Half of a buttermilk chicken. As M says, "it's chickenlicous" 
I'm going to say it again, I hate chicken, there's just something about it that creeps me out! I only go to keep M's habit fed! However when in Rome and all that... so I usually go for the brochettes. While I like both kinds on offer the lemon, garlic and bay leaf is my favorite. So much flavor is imparted into the chicken that I barely notice it's chicken!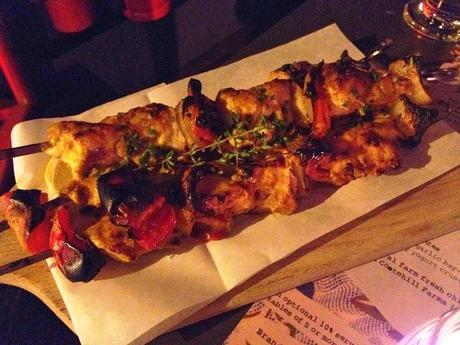 Very tasty lemon, garlic and bay leaf brochettes.
We usually order a few sides so as not to appear too carnivorous! Recently we had the potato croquettes which were very good and the chipotle baked beans which were slightly watery and needed more seasoning. We've worked our way through the sauces on offer and have come to the conclusion that the burnt lemon and feta is the only one we can eat comfortably without the need for a bucket of water.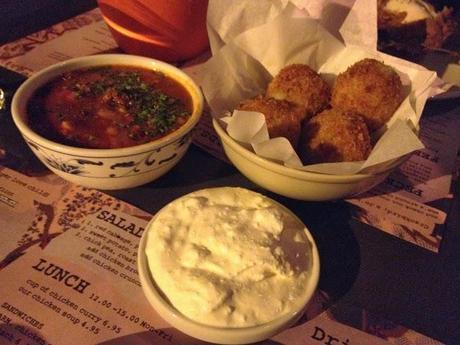 Our sides and sauces - chipotle baked beans, croquettes and burnt lemon and feta sauce.

In terms of drinks the best of the beer on offer is by 8 Degrees, there's a couple of wines and of course the JoBurger family favorite of homemade lemonade, often copied but never equaled! There's a simplicity about the menu that I love. If you're only going to work with one ingredient why make it complicated!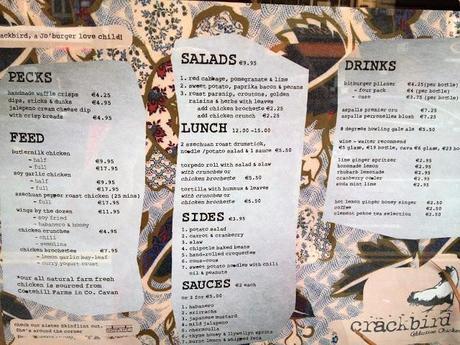 The menu - simple but good.
Finally I'm going to end on a bum note. I have a major bone to pick with Crackbird. What's with the volume of the music? I'm not that old yet, am I?
Crackbird
60 Dame Street
Dublin 2
01 616 8941
Website