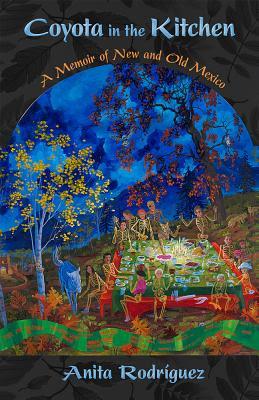 Oh, my goodness -- there is so much to love about this book! It's a mix of memoir, cookbook, and art. Rodriguez, the daughter of an Anglo mother and a Hispanic father, shares her struggles and her triumphs in this colorful and eclectic account.
There's a lot about adobe -- Rodriguez learned the art and made a living as a plasterer and oven builder. There's a fascinating section on the hallucinogenic ayahuesca and more on the folk remedies used by the native curanderas.
And throughout, the family stories and the culture clashes keep the narrative lively.
The cooking runs like a thread throughout -- family meals, celebrations, meals in hard times, cooking at a restaurant where the owner wants to use up all the shrimp and the coconuts . . . and it all sounds wonderful.
I've never been to New Mexico but after reading this book, I'm homesick for it. The recipes have me making a list and planning a visit to a local tienda in search of some of the ingredients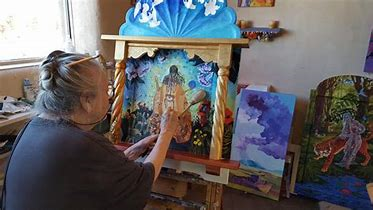 A bonus is the inclusion of color plates with Rodriguez's paintings --  brilliant mixtures of (to quote Wikipedia) "Native American ceremonialism, Mexican mysticism, and Hispanic folk art."
I loved this book!