In a city teeming with hotels, including a great number of the world's most renowned brands, Courtyard by Marriott Bangkok is one of its best kept secrets. Following the standards and prestige of Marriott International, it's a refreshing, vibrant hotel that offers quality rooms for business and leisure travelers alike. And the best part is, rooms are quite affordable. Read more…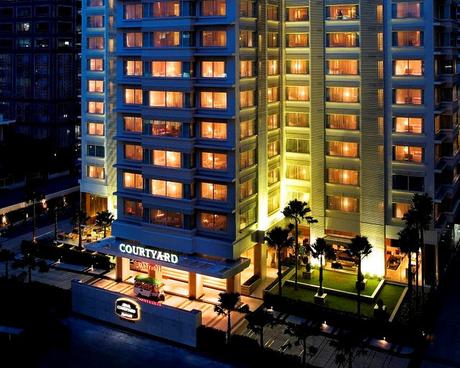 Courtyard by Marriott Bangkok is tucked away at a side road off Rajadamri Road, one of Bangkok's major thoroughfares. Although located at a quieter portion of the area, it's still walking distance away from the city's main shopping mecca formed by CentralWorld, Platinum Fashion Mall, the luxury strip at Ratchaprasong junction, and the shopping district at Siam, among others.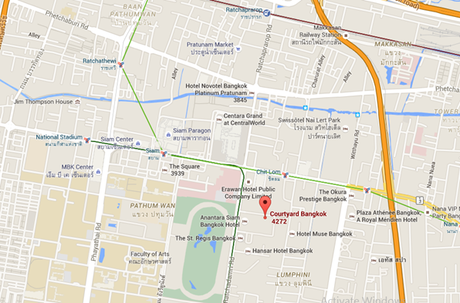 In terms of accessibility, the hotel is fortunate to be near two BTS stations, Rajadamri and Chit Lom, and there are many taxis and Uber cars that ply the area at any given time. Both of Bangkok's airports may easily be reached via their respective expressways, and the Ratchaprarop Airport Rail Link station to Suvarnabhumi Airport is a few minutes by car or motosai (motorcycle).
Courtyard by Marriott, which carries the tagline Make Room for a Little Fun, is a brand continuously evolving to meet its guests' needs. Its smart, dynamic hotels help its guests "make the most of their time on the road" by combining innovative technology with style and comfort. To date, there already are a thousand Courtyard by Marriott hotels in 38 countries and counting.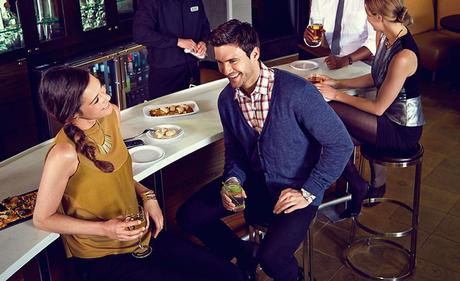 We arrived at the hotel's open lobby and immediately fell in love with it. The space is not only trendy but breezy as well, and we really noticed how nice it smelled. Anyway, after only a few moments, the hotel's young, friendly staff were able to sort our details out and hand our keys.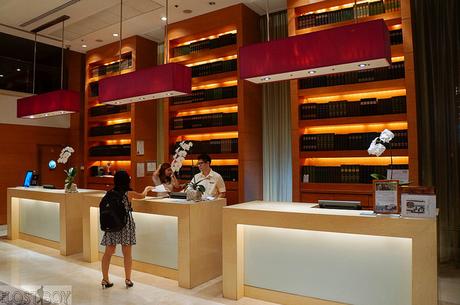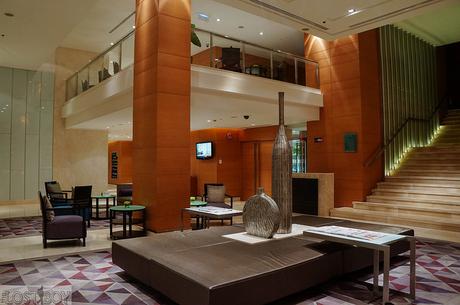 We were upgraded to a Grand Deluxe Room, a larger room that enjoys a splendid view of the city. The first thing that I found attractive about it was its colors, set in deep reds and earth tones. The room's overall design resulted to a refreshing ambiance and a classy, modern look.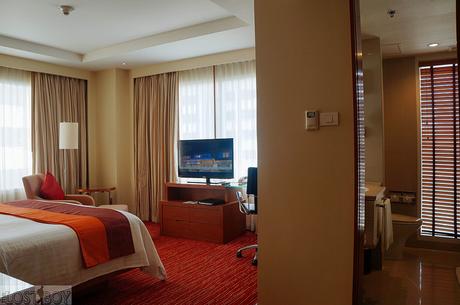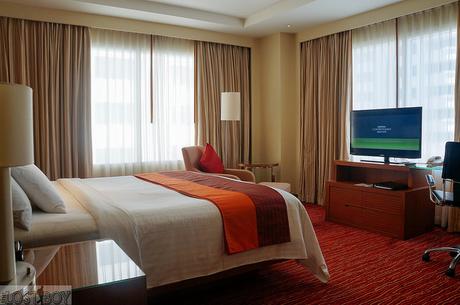 The room came with an array of features and amenities expected of a five-star hotel, including a comfortable king bed accompanied by luxurious sheets and fluffy pillows, a work desk with lamp, a lounging chair, an LED TV, a minibar with coffee and tea making facility, ample closet space, and for us millennials, plenty of electrical outlets and fast wired and wireless internet. The spotless bathroom, meanwhile, came with a complete set of towels and eco-friendly amenities.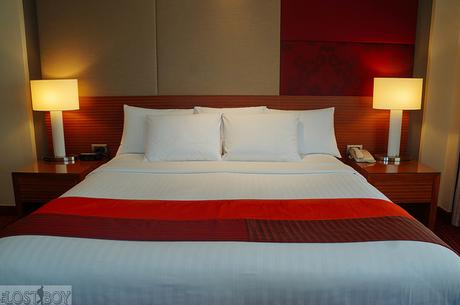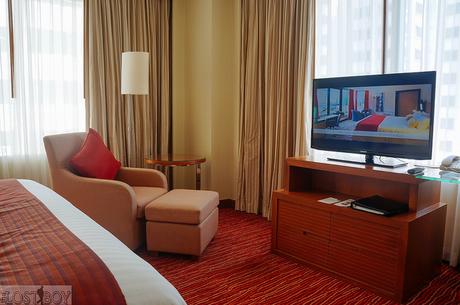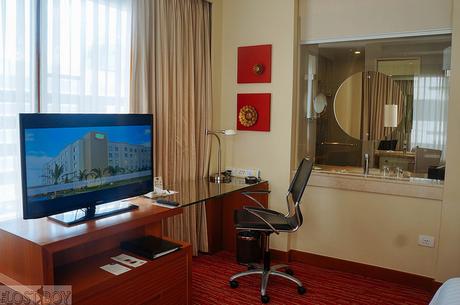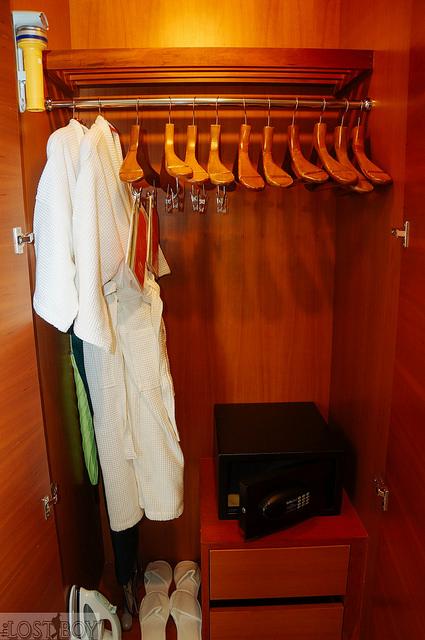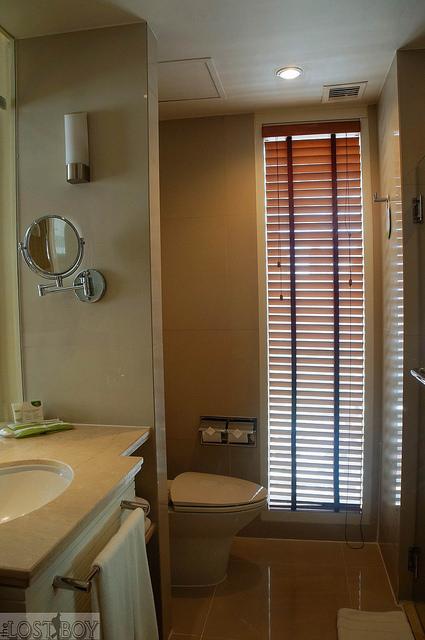 Breakfasts are served at MoMo Café, the hotel's all-day international restaurant. Their morning spread includes Western, Asian, and Thai items, and surprisingly, there's coconut juice, too.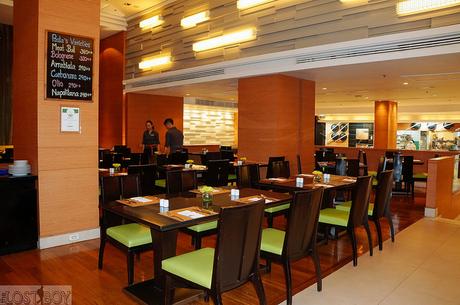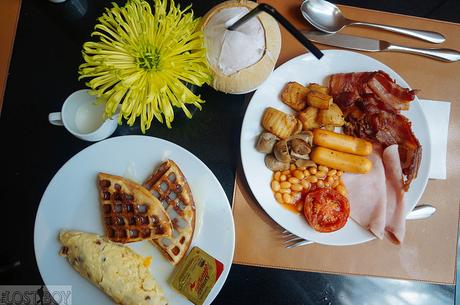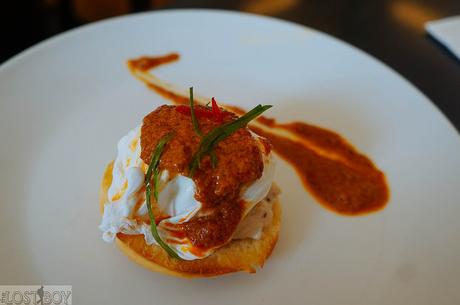 Since we were quite free that weekend, we were able to check out the hotel's facilities, like its swimming pool, fitness center, and impressive ballroom.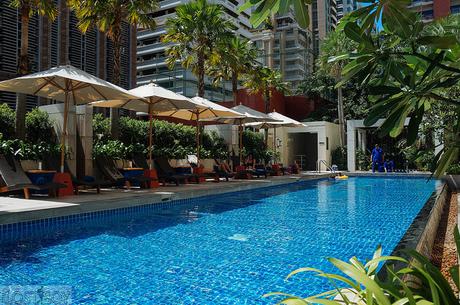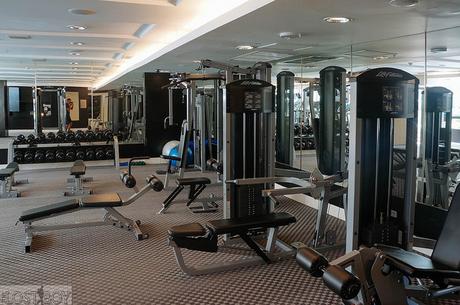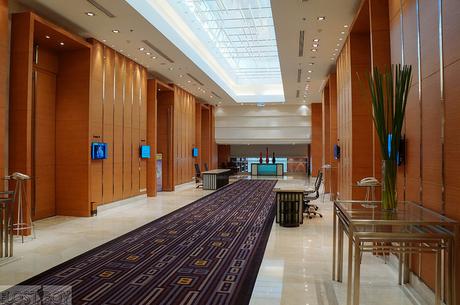 To sum, Courtyard by Marriott Bangkok is, in many ways, refreshing. Its commendable rooms, facilities, service, and dining collectively give the hotel a feel that's young and vibrant. It's perfect for us millennials who want something more fun than a typical business and leisure hotel.
COURTYARD BY MARRIOTT BANGKOK
Soi Mahadlekluang 1, Ratchadamri Road, Bangkok, Thailand
Telephone: +66 2 690 1888
Website: www.marriott.com/hotels/travel/bkkcy-courtyard-bangkok
Social Media: Facebook and Instagram