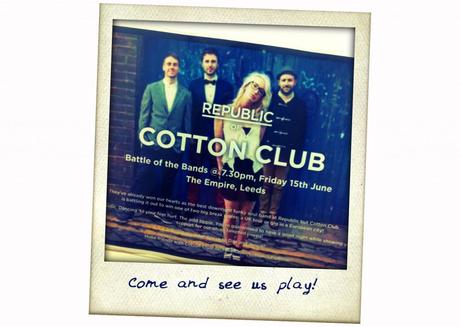 This lovely poster is what you'll see hanging on the back of toilet doors over here at Republic HQ…..'cos that's how we roll!

If you don't know about Leeds based funky soul band Cotton Club already then get yourself down to Empire in Leeds on Friday 15th June! Dan Kudelnitzky co founded the band and the very beginnings of Cotton Club were woven right here in the Republic office (we're cool like that).Cotton Club has been a complete soul and funk machine since 2010 then Buying Admin Assistant, Jennie Kecic completed the picture when she rocked the mic as lead singer in May 2011.
Now they are putting up a fight for funk in Battle of the Bands and it would be great if you could show your support! Come on, you know you want to.
The band promise a great night out and dancing 'til your feet hurt. Like really bad.  An offer you can't refuse me thinks!
Come and dance with Cotton Club and Republic @ 7:30pm, Empire, Leeds – we'd love to see you there!
Magsy x