Opertoonity.com Review: "Two by Victor Herbert"
Live Performance
March 22, 2014
Presented by Concert Operetta Theater, Philadelphia, PA

Composer Victor Herbert is perhaps best known (and only known?) for his two-act operetta
Naughty Marietta.
 As
the
Concert Operetta Theater of Philadelphia (COT) demonstrated this past weekend, they are keenly aware of dozens of other Herbert works–operettas, revues, musical comedies, and songplay because they have been presenting these pieces for years, most recently in 2012 with their program
Thine Alone! The Music of Victor Herbert.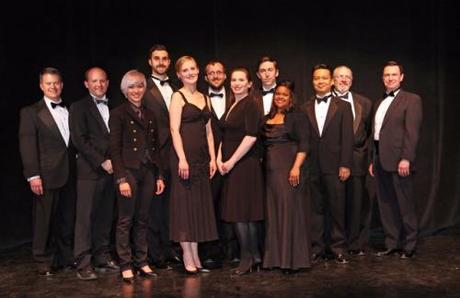 The cast of "Two by Victor Herbert"
The patrons gathered at the Academy of Vocal Arts in downtown Philadelphia were primed for Two by Victor Herbert, ready for lush melodies and intricate harmonies and, dare I say, toe tappers?
So they might have been surprised by the first piece on the bill–Madeleine, a lyric opera in one act that had a very limited run of six performances at the Metropolitan Opera in 1914. The storyline, based on a French play, is droll: it recounts the disappointment of Madeleine Fleury, an opera prima donna who can't persuade anyone who cares about her to dine with her on New Year's Day. Yes, that sums up the plot. And yes, it is hard to take her chagrin seriously. If the opera is so dated as to be hard to appreciate, why not let it wither on the vine? Why resurrect it at all?
If Artistic and Executive Director Daniel Pantano can assemble a cast of talented singers and musicians like he did, well, why not resurrect it? Yes, this Herbert opera was panned in its time and cast off as a thinly-veiled Strauss for the excited and fragmentary manner in which it was written. But poor-man's Strauss is not such a bad thing, is it? Some of the orchestration was sheerly lovely.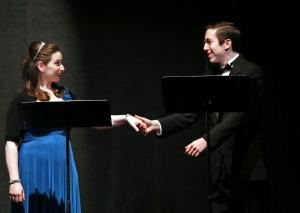 Jessica Lennick and Jonas Hacker
Also, Madeleine offered a splendid showcase for voices, particularly female voices. Soprano Jessica Lenick as Madeleine sang an inspired "O Perfect Day," turning in a commendable performance overall, though she occasionally strained to hit some of the opera's high notes. Soprano Christina Chenes was a delight from her first steps on the tiny stage. Chenes has a warm quality to her soprano that wraps around the listener like a velvet shawl. Jonas Hacker and Paul Corujo sang solidly as Francois Duc d'Esterre and Didier, respectively, earning accolades of their own.
But ultimately the show belongs to Madeleine and, at least in this performance, perhaps the musical director and pianist Tim Ribchester as well, who together with violinist Philip Kates, played the opera as if it had been lain across their hearts to render well. On the whole, Madeleine was a good effort.
Much more to my liking, and the rest of the audience's apparently, was the second-half of the bill, a pocket opera called Cyrano de Bergerac, based, of course, on the famous French play by Rostand, never before performed in Philadelphia. When it premiered on Broadway in 1899, it was criticized as being nothing more than a burlesque of the original play, but 21st century audiences found it delightful. Here was the Victor Herbert we knew and loved for his lilting and stirring melodies bolstered by a clever new libretto by Alyce Mott of the Victor Herbert Source.
Number after number was delightful, from Roxanne's lament "I Must Marry a Handsome Man" to Christian's big number "The King's Musketeer" to the utterly winning company number "Cyrano's Nose." The famous balcony scene when Cyrano feeds Christian with sweet nothings to woo Roxanne was so cleverly composed. And it wasn't just novel composition on the page. It worked in performance, too.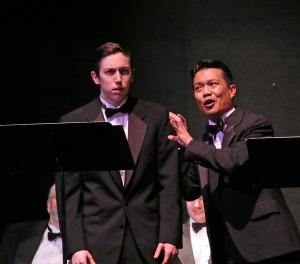 Jonas Hacker and Brian Ming Chu
Mezzo-soprano Evelyn Rossow sang beautifully as the impetuous Roxanne, distant cousin to Cyrano. She had the uncanny talent of appearing sweet and sultry at the same time.
However, my favorites in this half of the bill were Brian Ming Chu as the homely Cyrano and Jonas Hacker as the handsome Christian.
Ming Chu, a baritone, was appropriately cheeky and debonair and sang with resonance and power. The operetta is not as broadly comic as other more contemporary versions of the story, and he brought just the right sensibility to the Cyrano needed in this production.
Hacker, a first-year resident artist at the Academy of Vocal Arts, was simply a marvel. His strong tenor–a spinto–carried to the rafters. He has stage presence in spades.
All three leads blended to splendid effect throughout. Robert Finkenaur was appropriately oily as Comte de Guiche. Melissa Dunphy guided the audience through a great deal of exposition for a pocket opera with style and class.
COT's interpretation of Cyrano de Bergerac was a great effort, from the first notes of the overture played by a gifted quintet under the baton of Tim Ribchester to the curtain call that everyone clapped along to.
Philly is chock full of musical talent–vocalists and musicians, a magnet for seasoned professionals and exceptional students alike. How wonderful that Concert Operetta Theater provides another showcase to appreciate all their gifts.
* * *
COT's 2014 season continues next on May 17 & 18 with  My Vienna, the music of Emmerich Kálmán and Franz Lehár, sung in English and German. More information is available at 215-389-0648.