Hey Girls,
Todays' product under the Blush and the Blog scanner is Cosmedic Lumi Fast Brightening Minute Mask.
Price: 330 INR for 50 gms Shelf life - 24 months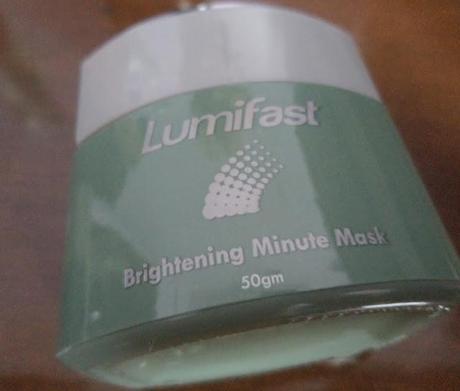 About the product: Brightening 10-minute facial significantly reduces dullness and hyperpigmentation, resulting in visibly brighter and glowing skin within minutes. Our amplified proprietary Concentrated Hydroxy Complex delivers a potent mix of 10% Alpha Hydroxy Acids combined with Natural Moisturising Factors for significantly effective results without irritation. Free of hydroquinone, steroids, and other irritating demelanizing agents. Hypoallergenic, Non-Comedogenic and Oil-Free!
How to use: Apply a thin layer to cleansed face and neck and leave on for 5-10 minutes. Rinse clean with water. Can be used 2-3 times a week.
Caution: Product action may cause slight tingling sensation. Recommend sun protection for optimal skin health. Avoid contact with eyes. Store product in a dark cool place. For external use only.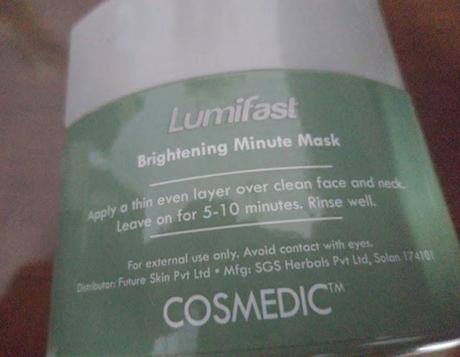 My Experience:
This Cosmedic Lumi Fast Brightening Minute Mask comes in a glass jar which is a bit bulky and not so good for traveling. But we don't really carry face masks in our handbags, Do we ??
I usually use a scrub and then apply this mask for maximum effect.
I moisten my face with a little water or rose water and then spread this mask. The Mask is quite thick in texture and it is a little difficult to spread. At first I applied it on dry face and it was wee difficult to spread. But the moistening tip really helps to spread this mask evenly and easily. There's a mild tingling sensation till the time is stays put. It turns invisible almost after 2-3 minutes. The mask is a bit sticky and needs to be cleansed thoroughly with a lot of water. Next time, i will try to remove it by wiping with a damp towel.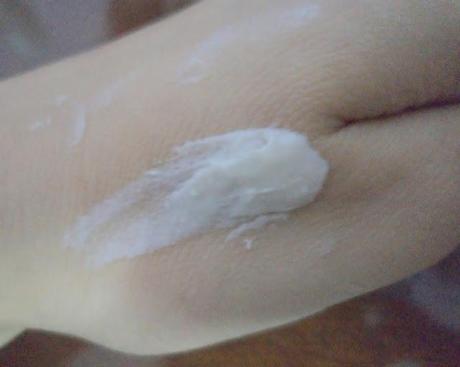 After removing
It definitely gives a bright soft glow to face and I could feel that my face felt much more clean. The brightness stayed till the next day.
However, it dried my already dry skin. So, I had to apply loads of thick facial cream for the hydration again.
Over all, a great product to make dull skin looks brighter, especially in winters or for a quick fix before a special occasion. I would love to try more products from Cosmedic.
The Goods about Cosmedic Lumi Fast Brightening Minute Mask
·

  

Not very expensive, easily affordable, considering it will last for about 15 uses.
·

  

Dermatologically tested, Non comedogenic
·

  

Lives upto claim of reducing dullness and making skin glow.
·

  

Safe for people with sensitive allergic skin
·

  

Quick solution to remove dullness.
The Not so Good about Cosmedic Lumi Fast Brightening Minute Mask
·

  

Application and removal can be a bit difficult because its quite thick.
·

  

Packaging is big and bulky and a bit unhygienic.
Disclaimer - PR Sampl

e.