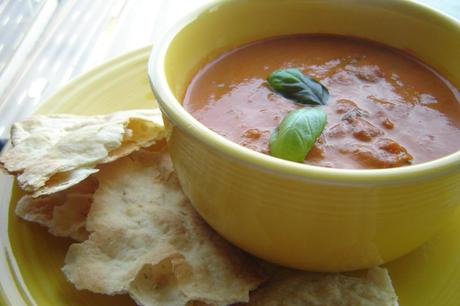 I am a fan of the tomato-basil soup at Cosi, I must've had it at least half a dozen times in the past two weeks. The other day I thought I should try and find the recipe on the net, and I came across something that looked promising. However, after I began making it, I discovered it needed adjustments, as the recipe I had found did not have enough liquid for my taste. So, this is what I came up with, for 4 servings:


For soup:
- 1 tbsp olive oil
- 3 cloves garlic, minced
- 1 (6 oz.) can tomato paste
- 1 (28 oz.) can of diced or crushed tomatoes - 2 cups chicken broth (can be replaced with vegetable stock if desired) - 1 cup heavy cream, heated (can be replaced with half and half, or with milk)
- 12-14 leaves fresh basil, chopped - 1/4 tsp white pepper - salt


Heat oil in a saucepan over medium heat. Saute garlic until fragrant, stirring often. Add the tomato paste; stir and cook for 30 seconds. Add diced tomatoes with their juice, then chicken broth; stir, cover and simmer gently for 15 minutes. Remove from heat and let cool slightly. Stir in the heated heavy cream, fresh basil, white pepper and salt to taste.




For the flatbread (recipe from "Gourmet" magazine):

- 1 3/4 cups unbleached all-purpose flour
- 1 tbsp chopped rosemary plus 2 (6-inch) sprigs
- 1 tsp baking powder
- 3/4 tsp salt
- 1/2 cup water
- 1/3 cup olive oil plus more for brushing
- flaky sea salt
Preheat oven to 450°F with a heavy baking sheet on rack in middle.
Stir together flour, chopped rosemary, baking powder, and salt in a medium bowl. Make a well in center, then add water and oil and gradually stir into flour with a wooden spoon until a dough forms. Knead dough gently on a work surface 4 or 5 times.
Divide dough into 3 pieces and roll out 1 piece (keep remaining pieces covered with plastic wrap) on a sheet of parchment paper into a 10-inch round (shape can be rustic; dough should be thin).
Lightly brush top with additional oil and scatter small clusters of rosemary leaves on top, pressing in slightly. Sprinkle with sea salt. Slide round (still on parchment) onto preheated baking sheet and bake until pale golden and browned in spots, 8 to 10 minutes. Transfer flatbread (discard parchment) to a rack to cool, then make 2 more rounds (1 at a time) on fresh parchment (do not oil or salt until just before baking). Break into pieces.
Flatbread can be made 2 days ahead and cooled completely, then kept in an airtight container at room temperature.


Enjoy!