He's Back! Arnold Schwarzenegger's new film, The Last Stand hits theaters world wide this Friday on January 18th. While you wait for that, you can check out some of the coolest photos snapped at the world premiere event of the film, featuring the awesome Corvette ZR1, film stars and many more sexy snaps.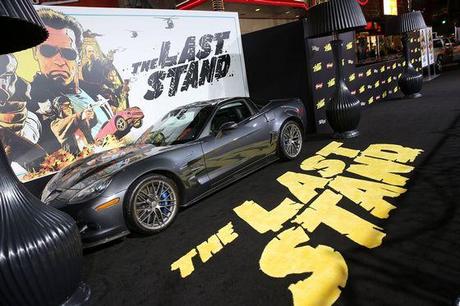 SYNOPSIS:   After leaving his LAPD narcotics post following a bungled operation that left him wracked with remorse and regret, Sheriff Ray Owens (Schwarzenegger) moved out of Los Angeles and settled into a life fighting what little crime takes place in sleepy border town Sommerton Junction. But that peaceful existence is shattered when Gabriel Cortez (Eduardo Noriega), the most notorious, wanted drug kingpin in the western hemisphere, makes a deadly yet spectacular escape from an FBI prisoner convoy.  
With the help of a fierce band of lawless mercenaries led by the icy Burrell (Peter Stormare), Cortez begins racing towards the US-Mexico border at 250 mph in a specially-outfitted Corvette ZR1 with a hostage in tow.  Cortez' path:  straight through Summerton Junction, where the whole of the U.S. law enforcement, including Agent John Bannister (Forest Whitaker) will have their final opportunity to intercept him before the violent fugitive slips across the border forever. 
Check out all the photos after the break.