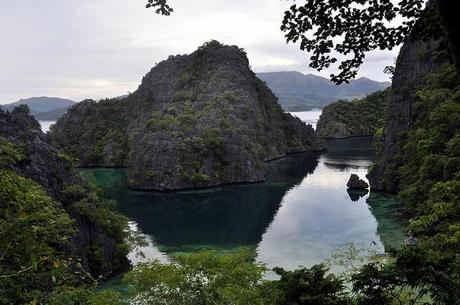 2010 would have to be a  banner year that  we ran a into a lot trouble  in the airport . Failing to secure a friends credit card upon check in the terminal 4, I stage an impromptu drama to convince the manager to let us board in the plane bound to Busuanga.  Not even a call from the credit card owner would suffice to sway or make them believe. Our friends were able to board without any dispute  from the airline personnel. The wife was so pissed,while I was left scratching  my head thinking what the hell happened.  I blamed it on my lousy acting as the trip to Coron would have to be delayed for another day. I swear I won't be booking any of my upcoming trip in this not so refreshing airlines.  Learning from the two previous mishap my airport experience, thereafter it was a constant narrative of  "we got our bags from the arrival hall en route to a perfect getaway. blah-blah- blah".
Anyway, the flight to Busuanga was uneventful. I just  sit back  and flipped through the pages of the in-flight magazine to elapse time. The weather forecast had not been ideal but things were looking mostly sunny. Before landing, I took a glimpse at the beautiful group of islands that are so surreal.   It was a sight to behold. I totally forgot the the stress and additional payments I had to pay to rebook our plane tickets.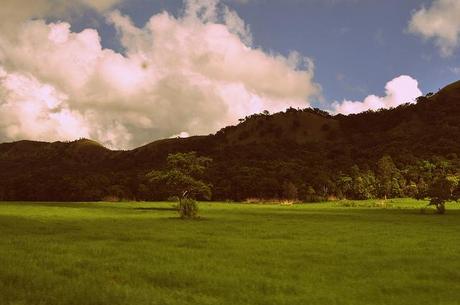 vast expanse of greens going to the port of Coron
The airport in Busuanga ( Francisco B. Reyes airport) is fairly small. Waiting for our bags was a breeze and there was no mob scene.  We went outside and looked for our driver to take us to the port.  Another 45 minutes on some unpaved and dusty road which is fairly urban but mostly pleasant. I wished we could have stop to take some picture.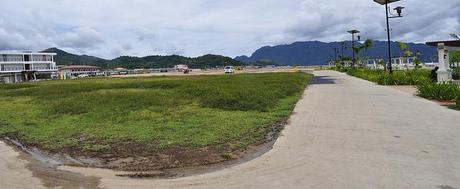 Upon arrival at the port ,we were billeted by the boatmen that would to take us to Banol beach. It feels so good to be reunited with friends that we don't often see. It was perfect time as well for lunch.We took time to catch up on stories before moving to Skeleton Wreck.
If there's one thing that Coron is known for – it's diving. I would love to dive as well but I think I'm not yet ready for this kind of adventure.Nevertheless one doesn't need to be a license diver to see sunken ships and beautiful coral reefs within Coron.  From the boat, you can already see the sunken ship. We all snorkel closer to the ship. Even with the life vest I tend to panic at times while  some dared to reach some parts of the ship.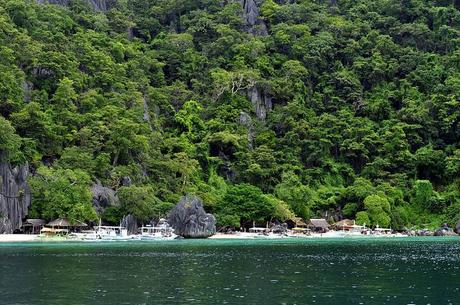 arriving in Banol beach
I just stayed near the boat when I caught a glance of an old man in a small boat. The thought of Charon ( the ferryman of Hades in Greek mythology) that carries the dead in River Styx crossed my mind when I saw the boatman.   It turned out that  he's one of the caretaker of this place who belongs to the Tagbanua tribe. They are said to be one of the original inhabitants on certain parts of Palawan thus they have ancestral claims of Coron.  According to our guide, most of the admission fees charged to tourist goes to the tribe community project or for the upkeep of Coron island attraction.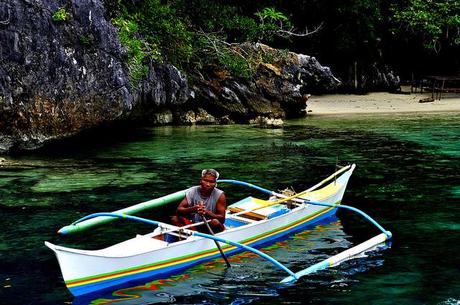 the boatman of Skeleton Wreck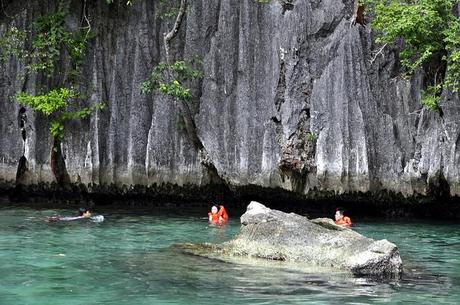 Twin Lagoon
Next on our list is Twin Lagoon.  It is made up of two lagoon separated by a wall of rock  and is connected by a narrow opening.  Interestingly the inner lagoon can be access only during low tide. Being a freshwater lagoon the water is cooler and more serene compare to the warm water of  outer lagoon (salt water).  Surrounded by towering limestone cliffs and lush vegetation, the air of serenity shrouded the inner lagoon. The place is really calm and the leisurely swim was relaxing.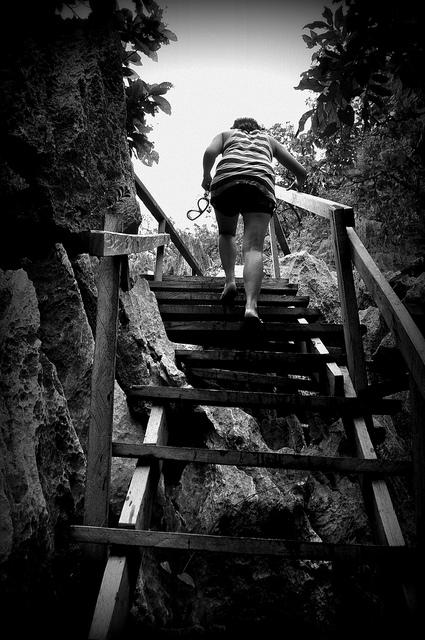 scary steps in Barracuda Lake
Afterwards our boatman lead us to Barracuda Lake. Compare to Twin Lagoon, the Barracuda Lake has a better access. There was a wooden dock waiting for us. Just prepare yourself for a little climb and mind the slippery, sharp rocks along the way. Aside from the pleasing backdrop,  there's a lot of space to swim in. I can only imagine the visual spectacle underneath this lake. A popular myth among the locals is that there is a huge barracuda fish thriving in this ancient  lake.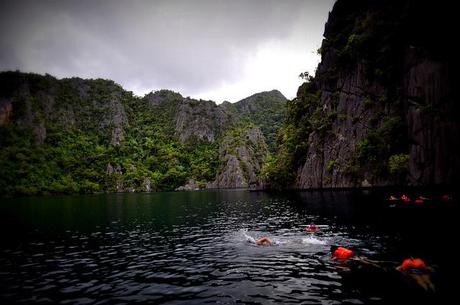 Barracuda Lake
And trip to Coron wouldn't be complete without a visit to Kayangan Lake.  Said to be the cleanest inland body of water in the country.  Just like Barracuda Lake, you have to climbed a series of steps which are built upon slabs of stones. It seems a bit tiring for the uninitiated hiker but don't let  this stop you though.  You'll be rewarded with the most photographed image of Coron.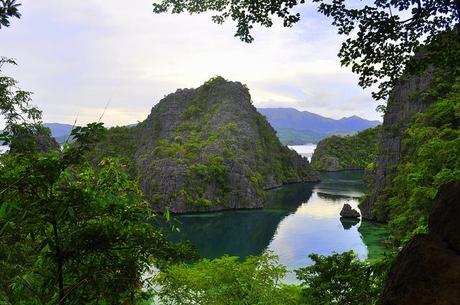 I can't seem to find the right word to describe the scenery from our viewpoint.  This place is undeniably beautiful .

Kayangan Lake
We begin to descend on the lake after numerous snapshots in the popular vista.  The emerald water was so inviting. What's amazing  about it though  is that you can actually see all the way down the bottom of the lake, even if you're not in the water.
The rock formation and schools of fish underwater can be seen from where we sat.

The lake much like Barracuda and Twin Lagoon is surrounded by majestic limestone cliffs and lush vegetation.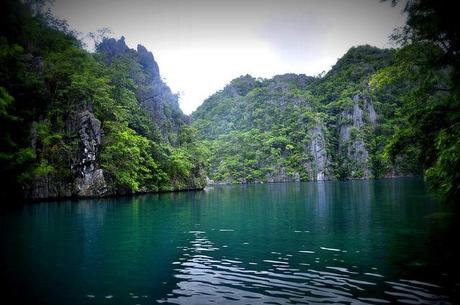 I only dipped on the water for a moment to feed the fish then chill on the wooden steps. We stayed the whole blissful afternoon in the lake. It was a surreal and  astounding experience. Kayangan would easily fall on the places that you don't want leave.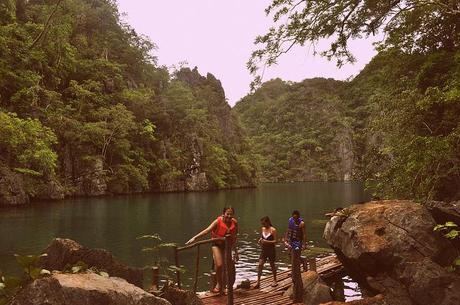 leaving Kayangan Lake wasn't easy after all
The day ended with a short visit to Siete Pecados as the sun was bearing down on us.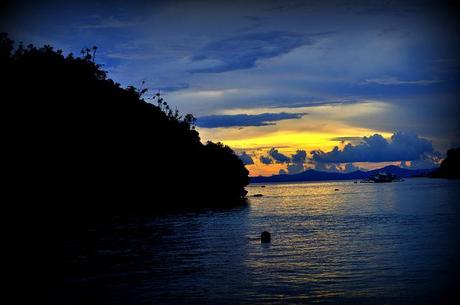 sunset in Siete Pecados