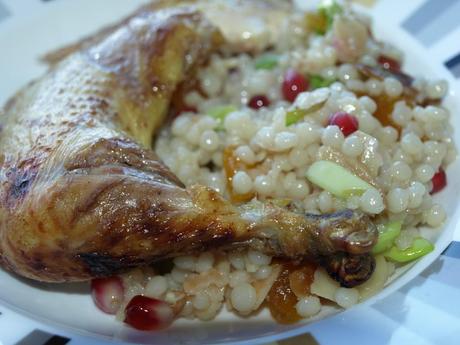 I saw this recipe last week on Food Network and decided to try it. Let me tell you, it was a good decision!
I started with making the pomegranate molasses by combining in a small saucepan, on medium heat, 2 cups of pomegranate juice, 1/4 cup of sugar and 1 tbsp lemon juice. I stirred until the sugar dissolved, then allowed it to reduce, on medium-low heat, for about an hour, until it became syrupy. I let it cool, used about 2 tbsp of it, then stored the rest in a jar, in the fridge.
For the cornish hen (split, spine and wing tips removed): I coated a saute pan with olive oil and brought it to medium-high heat. I seasoned the hen (I used only one) on both sides generously with salt. I laid the hen in the pan, skin side down, and cooked until the skin became brown and crispy, 6 to 7 minutes. Then I turned the hen over and browned it on the flesh side. I removed the hen to a sheet tray. 
I brushed the hen on both sides with the reduced molasses, combined with a clove of garlic, then put it in the preheated oven at 350F and roasted until it was cooked through, basting occasionally, for  about 20 minutes.
For the couscous:
Ingredients:
Kosher salt
2 cups Israeli couscous
extra-virgin olive oil
3 cloves garlic, smashed
pinch crushed red pepper flakes
1/2 cup sliced almonds, toasted
1 cup chicken stock
1 cup pomegranate seeds
1/2 cup dried apricots, cut into 1/2-inch dice
4 scallions, white and green parts, cut thin on the bias
Bring a small pot of well-salted water to a boil over high heat. Add the Israeli couscous and cook through, 6 to 7 minutes. Strain from the water and reserve. 
Coat a large saute pan with olive oil. Add the garlic and crushed red pepper and bring to high heat. After a few minutes, add the almonds to toast them in the oil. When the garlic is golden and very aromatic, remove it from the pan and discard it. Add the cooked couscous and chicken stock. Season with salt and cook until the stock has reduced by half. Add the pomegranate seeds, apricots, and scallions. Stir to combine. 
Serve hot or at room temperature. Enjoy!