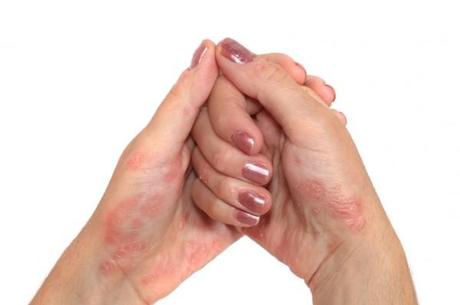 What is Psoriasis?
Psoriasis is a skin disorder which is characterized by the red skin, patches on the skin, plaques. These symptoms are seen on the entire body and later it affects the joints. The skin new cells in the body replace the red skin on the body and this cycle takes around 21 to 28 days.
There are no data that can tell us that what will cause Psoriasis and who will not. It is still suspected that 1.8 million of the entire population is suffering from the disease. This affects he men and women equally. Psoriasis is said to have impacted higher in the United Kingdom and Ireland. There is no reason why Psoriasis can show up, but it is believed that it is influenced by genetics and the environment. This can occur at any age and no certain age criteria impacts the cause and symptoms though there are two peaks. Late teens to thirties and some may have it between the age of 50 and 60. The disease leads to Psoriasis arthritis, but that doesn't mean that every person suffering with it will have arthritis and not everyone who has arthritis will have Psoriasis.
There are many myths about the disease due to lack of information. People have been saying that the disease can spread and catch. The answer is no. Psoriasis can never spread and catch any other person and there are a wide variety of treatments available for the disease. Psoriasis takes a mental and physical toll on your life as well as your near ones. But any person having the disease can absolutely live a normal life. Along with proper treatments and exercise a person can have a quality life with the disease.
Tips to coping with Psoriasis
Stress can be an important reason for the disease and it can get triggered specially in women. There are many ways to effectively reduce stress levels. Practice meditation and Exercise. Yoga can be a very good form of exercise for Psoriasis patients.
Psoriasis can have a bad itch on the skin. It is described as the burning and biting sensation and it can cause pain on the skin. This itch cannot be controlled and can happen anywhere and everywhere. Keep the skin moisturized by ointments and creams. Cold showers and cold packs regularly can reduce the itch and can provide relief.
Psoriasis can affect your relationships and a person can feel awkward telling the partner that he is suffering from the disease. But one has to understand the ups and downs of life and accept the situation as it is. Talking to friends and people who understand you can help a lot.
Psoriasis can cause depression almost in all patients and they are unable to sleep, feel lack of energy, lack of interest and cannot focus. It is best advised to get medical help and cope with depression.
Above mentioned tips will help you cope with the disease. Always seek medical advice, talk to experts, and feel free to share with your friends and family. This will help you lead to a normal and healthy life.