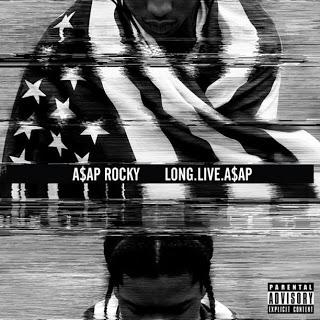 Cop A$AP As Soon As Possible?
A$AP Rocky's Long. Live. A$AP.
A$AP Rocky's debut album has finally hit stores, and it is officially his time to shine in the spotlight. Coming out with a debut hip-hop album so recently after Kendrick Lamar's critically acclaimed
good kid M.A.A.D. city
, would appear to be a risky move. Since A$AP's official release date just a couple days ago, it is projected he sells around 130,000 copies in the first week. Not too shabby for the young rookie.
Long. Live. A$AP
. starts quite hot, as the title track off the album showcases Rocky's versatility right away. The eeriness of the beat, and the uniqueness of the high-pitched vocals on the hook make this cut a standout record on the CD. On the second track,
Goldie
, A$AP delivers strong bars over a gritty, more traditional hip-hop instrumental. Then, on
PMW (All I Really Need)
, A$AP's youth shouts loudly, as he touches on an all-too-familiar subject often discussed on various rap songs. Still, with the immaturity displayed on the song, he somehow manages to captivate listeners to want to hear what he has to say on the matter.
On
LVL
, Rocky takes a more positive, fun approach. This song is rather catchy, and the beat's energy makes the song highly listenable over and over again. The short-lived glimmer of positivity is followed by the demonic A$AP Rocky firing bars over
Hell
, featuring Santigold. This track features another unique hook, provided by Santigold, which sounds a little like an early 2000s' Gwen Stefani. Rocky continues with the dark vibes on
Pain
, as he lets his audience in on some of his stories from the bottom.
Track seven is
F*****'Problems
, his ultra-catchy lead single on the album, which features 2 Chainz, Drake, and Kendrick Lamar. This is the definite club joint on the track list, meant to blast over car speakers and home stereo systems. From here, A$AP teams up with electronic music genius, Skrillex, for a sure, upcoming major radio sensation. The song is titled
Wild For The Night
, and after just one quick listen, fans are sure to get wild for any given occasion. Next up is
1 Train
, featuring many artists such as Kendrick Lamar, Joey Bada$$, Yelawolf, Danny Brown, Action Bronson and Big K.R.I.T. Rocky enlisted these artists to perform on track together to represent his generation of the newest, hottest rappers in the game, regardless of race, background, or style.
On
Fashion Killa
, A$AP aims for the ladies, as he simply rhymes about a woman he considers to be the ultimate fashion killer. As for the last two tracks on the album,
Phoenix
and
Suddenly
, A$AP gets both lyrical and realistic. He covers touchy subjects such as race, religion, love and hate. On these last two cuts though, he shows his fans what he is truly about and reestablishes his purpose in today's hip-hop scene.
Many listeners will be pleasantly impressed with the strength of A$AP Rocky's debut effort. He brilliantly showcases his ability to blend 90s rap with current rap, and he does so while encompassing so many other genres and sounds in his work. His willingness to think outside the box, and work with artists typically forgotten about in hip-hop, is significantly unmatched this day in age. With a firm imprint in to the hip-hop scene, A$AP Rocky proves that he is here to stay.
RRR Score: 8.5/10
Written and reviewed by Seth Kaplan