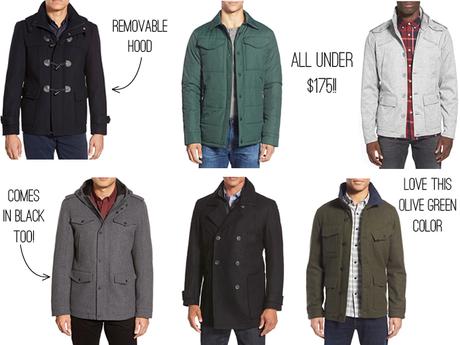 Duffle Coat with Removable Hood // Grey Wool Blend Hooded Military Jacket // Green Quilted Shirt Jacket // Double Breasted Pea Coat // Grey Lightweight Field Jacket // Olive Green Field Jacket
Alright guys. It's time to hang up that North Face (just for a minute). While I have a soft spot for the fleece jacket, I'm also a firm believer in finding a more refined option that will easily go with any outfit.
I've found a few options that won't break the bank (*score*) and are comfortable and cool all at the same time.
My personal favorite is this olive green field jacket. Versatility is key with me and this guy would be so easy to dress up or dress down. Really get your money's worth!
Because who says you can't have your cake and eat it too?
*Disclaimer: I know who said that in real life. For the record :)
*Disclaimer No. 2: I love North Face- but I need you to have another more tailored option in your closet!