I can't quite make up my mind about Nandos. On one hand, it's pretty tasty (spicy chicken, what's not to love), relatively quick and in pretty much every major town. It's not horrendously bad for you. On the other hand, it feels a bit overpriced, the cooking can let down the flavours, and the restaurants are often smoky and noisy.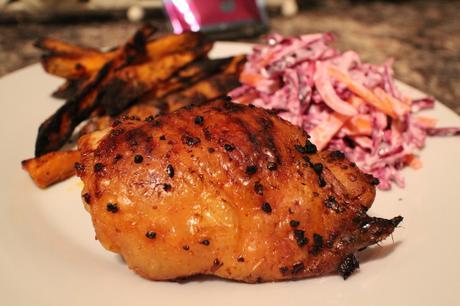 Solution: make your own.
This meal is tastier than Nandos in my opinion, and can be tweaked to your tastes. Prefer a herbier chicken – add herbs! Like spice – add more chilli. Want to be healthier – use a leaner cut of chicken and (sacriliedge) remove the skin. A homemade Nandos just how you like it.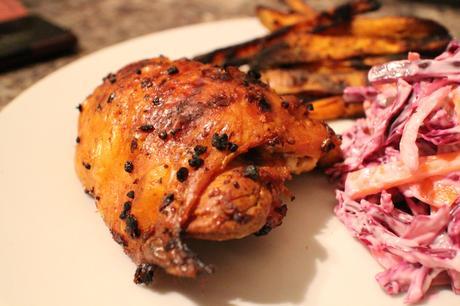 Plus, it's super easy. It's my go-to Friday evening meal, marinating in the fridge all day, then thrown in the oven after a few drinks.
Very Lazy
make this even easier, as there's no chopping involved in the marinade. Less washing up, less fuss, maximum flavour.
Ingredients
Chicken pieces. Skin on for the best flavour, wings are good but messy.
1/2 teaspoon Very Lazy Peri Chillies* – be warned these are hot, hot, hot!
1 teaspoon Very Lazy Garlic* – I like it garlicky. The Smoked version makes this taste even more Nandos-like!
1 lemon (halved)
A sweet potato
Cajun seasoning
Splash of oil
1/3 red cabbage, shredded
1 carrot, finely chopped into strips
1 tablespoon mayonnaise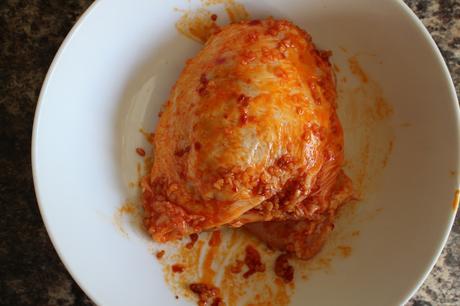 Marinate both the sweet potato fries and the chicken during the day. Throw the chicken in a sealable plastic bag, add the garlic and chilli, and msuh around until the chicken is covered. Chop the sweet potato into fries, add to another bag with the oil and seasoning, and shake. Throw both bags in the fridge. Oh, and the bowl in the photos is purely because it made the pictures look nicer than a plastic bag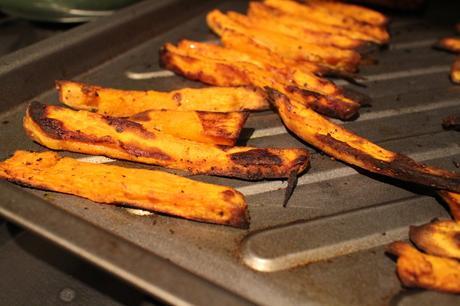 When you get in, whack the oven to 200C. Slice half the lemon and place in a baking dish. Fries spread flat on a tray, chicken on the lemon (skin side up). Cook the chicken for 50 minutes, or until thoroughly cooked. The fries want about 35-40 minutes, and turning halfway.
The slaw is super-easy, and I've made it before. Squeeze the remaining lemon half, mix in the mayo. Add the carrot and the cabbage, and stir together.
Serve, devour, and feel smug that your homemade Nandos is a fraction of the price of the real stuff. Bargain!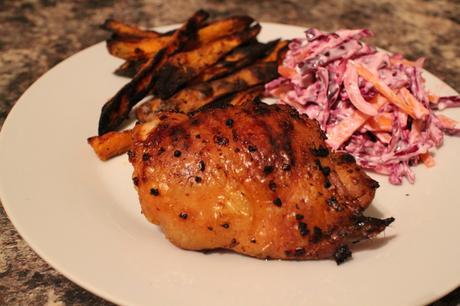 Disclaimer: I was gifted some Very Lazy products to trial in recipes. All opinions are my own – and I definitely like not having to chop my own garlic! 
Are you a Nando's fan, or a bit unsure like me? I'm desperate to try their new slaw with beetroot though!