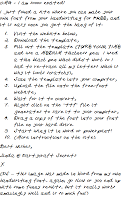 It's no secret that I worship fonts and typography (you'll find plenty of links to wordy posters or free fonts over on my facebook page), but today I discovered something pretty amazing - a site where you can convert your own handwriting into a font to use on your computer.
Here is the tutorial - if it is not showing up as a new font, you can see it written in my new handwriting font by clicking on the image in the top corner!


OMG - I am soooo excited!

I just found a site where you can make your own font from your handwriting for FREE, and it is easy once you get the hang of it:

1.

  

Visit the website below,

2.

  

Download the template,

3.

  

Fill out the template (TAKE YOUR TIME and use a MEDIUM thickness pen;  I used a thin black pen which didn

'

t work so I had to re-trace all my letters which is why it looks scratchy),

4.

  

Scan the template into your computer,

5.

  

Upload the file onto the free-font website,

6.

  

Wait for it to convert,

7.

  

Right click on the

'

ttf

'

file it generates to save it to your computer,

8.

  

Drag a copy of the font into your font file on your hard drive.

9.

  

Start using it in word or powerpoint!

10.

  

(More instructions on the site).

Best wishes,

Linda @ Partycraft Secrets

X

(PS

–

this image was made in Word

from my own handwriting font... again; go slow or you end up with some funny results... but it really works amazingly well and is so much fun!) 

Here is the website: 

http://www.myscriptfont.com/

Enjoy!

Linda.