First time I met him, his quiet exterior defined for me that I was meeting an artist. Finely bred with an almost other- wordly preoccupation. Punctilious in manner and a smiles that scaled over you. I was intrigued. I had been told he is a prince and I wondered what princely duties took him to that aspect of the Arts. I visited his Treasure House Fine Arts gallery first in Ikeja then later at Ikoyi.
In today's long conversation, I have the distinct pleasure to share my conversation with a Giant. He knows why I call him that. Please welcome  Prince Sehinde Odimayo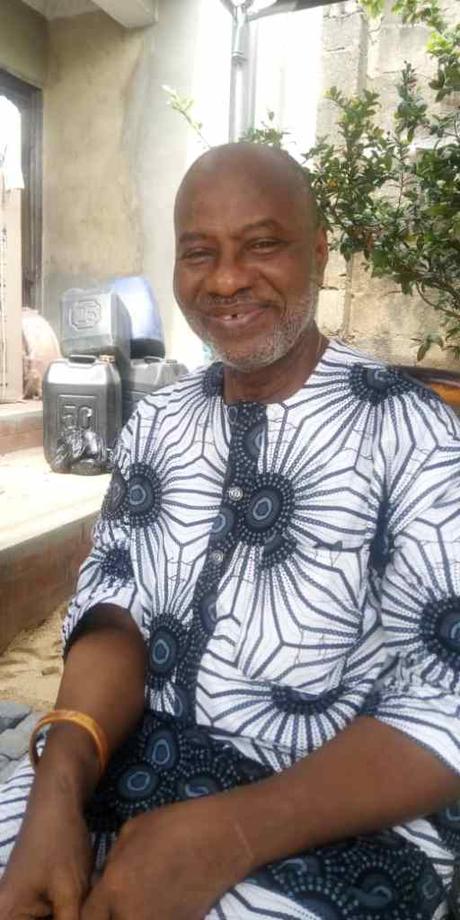 1.We learn while we were in school the understated
Art is a creative activity that expresses imaginative or technical skill. It produces a product, an object. Art is a diverse range of human activities in creating visual, performing  artifacts, and expressing the author's imaginative mind. The product of art is called a work of art, for others to experience.
Please define how I should understand it
Fine art is received as already explained above, but the technique for making the arts is what is learned either formally(at school)or  informally (though the ancient  apprenticeship or workshop system)
2. A prince and a gentleman, who is Olasehinde Odimayo?
I was not born an omooba (prince) in 1949,but became one when my late father John Feyisara Odimayo,1978 became an oba, the olofun of irele and jagboju Vlll, and he reigned until 1993. my early manifestations of the arts became obvious when I was a small child before I turned five years old, when i use to collect motor spare parts from the maintenance yard of Kabiyesi's timber trucks, which I stored in shoe boxes and in making foldable paper boats whichIi also stored in shoe boxes. my late brother Oladele told me this, and he also said the paper boats I use to throw  in the gutter in front of our house, whenever it rained  and i would watch them sail away until they disappeared(our house at that time was 23,oshodi court, Lagos).I have taken interests in the arts since my secondary school days and also went on to major in them at Ibadan.
3. Is Art received or learned?
Like everything in human life and activities, there must be responsibility attached to the work of the artist. every work is primarily created to give pleasure to the audience or beholder. the arts regardless of the genre must let the sense of beauty arise in us, in whatever we do, even in the most insignificant things, such the way we dress. So the artist must ensure he draws from beautiful and high sources of inspiration, so his works can also be beautiful, give joy and happiness to his fellow human beings otherwise he can also depending on his inner being  draw from low and base sources, which will result in ugly and depressing works like in music and visual art.
4. Is the artist  expected to have a peculiar responsibility?
Indeed all artists regardless of the genre they work with draw inspirations from various planes of creation, depending on the purity or otherwise and desire of their beings. what they draw and how they invariably depict it in the earthly will be homogeneous with their beings whether good or bad, pure or impure, base or uplifting. their works will always  portray where they are drawing their inspirations from!
5. We see the artist and the artist views the society. Most times, what the artists envisions is unsettling, questioning some of our values and value system, please educate us
Only a few days ago i watched Prof.Wole soyinka and a Turkish female writer in a talk show, in which both of them agreed that through the style and content of his or her art, an artist is an activist. They should normally be the conscience of society, as their works, mirror the state of society they live in or in which they find themselves. they will always through their works reflect what  is good or wrong in his or her society
.
6. Dante's Inferno frightens us but today, there are different levels of Arts, can you please educate us
indeed all artists regardless of the genre they work with draw inspirations from various planes of creation, depending on the purity or otherwise and desire of their beings. what they draw and how they invariably depict it in the earthly will be homogeneous with their beings whether good or bad, pure or impure, base or uplifting. their works will always  portray where they are drawing their inspirations from!
7.To retun to the mundane, can a student of art survive on his art talent?
 There has been a phenomenal growth in the promotion and development of visual art as an endeavor to give pleasure, joy and happiness to Nigerians and as a business. One is talking particularly about the period from 1982 till today. This has manifested particularly in the coming of art galleries and gallerists, private art dealers, publication of books on visual art, art exhibitions and art fairs in different kinds of spaces eg gallery spaces, hotels, public and private halls, college premises and even private homes .There have also being many fora for lectures, symposia and workshops  organized to promote the development of visual art. before 1982 the art scene was in the country was in the doldrums. one must emphasize that both contemporary, modern and traditional arts are the area of focus being discussed.
however we can't compare the growth, promotion and development of art here, with the situation in Europe or America at all, where visual art has always been promoted in many and diverse ways for many centuries without any interruptions. Tthis has been so with the availability of various art institutions eg public and private museums, galleries, school's of art, mega art shows such as art biennales and fairs .the scale of promotion of art in Europe and America can't be compared with the situation in Nigeria and Africa because the endeavor has a very long history of, growth development and promotion, which hasn't been the case in the latter. The coming of the missionaries in the 19th century also  contributed immensely to the disruption of the development of our arts, as the missionaries erroneously discredited our arts which they mischievously classified as objects of paganism, an act which created a disbelief and lack of appreciation of  our traditional arts among our people The damage done by the missionaries to the development of our arts can't be underestimated or imagined, the consequences of which is the very low level of appreciation of our arts by our people which is still being experienced even up till today.
8. Art is generally understood as any activity or product done by people with a communicative or aesthetic purpose—something that expresses an idea, an emotion or, more generally, a world view. It is a component of culture, reflecting economic and social substrates in its design., there is Art and Craft , What is the difference?
Art and craft are two different human endeavours, because of their different origins, the former is the spirit(spiritual) while the latter is of the intellect(earthly).one has already discussed above the spiritual nature of high art, in which the artist through homogeneity in his spiritual desire longs and automatically connects himself to homogeneous planes in the realm of medium gross and indeed beyond for inspirations, which he then manifests on earth as works of art regardless of the genre eg visual art, design, architecture, dance, literary arts, performance arts, dance etc. works of art, of are always permanent and indestructible and survive civilizations as we know today eg from ancient Greek, Roman, Egyptian, Atlantis, African, Aztec civilizations. on the other handcraft is of the intellect, ie of gross matter or earthly, perishable and transient. craft pieces are works anybody and everybody can produce repeatedly without the high beyond the earthly inspiration of art. crafts are objects of everyday needs and uses, which everybody can produce. whereas everybody and anybody can be a craftsman, not everybody or anybody can be an artist. art is esoteric while the craft is mundane. however, in traditional African art, the definition of these two activities are almost blurred because most ancient African art bore a lot of the elements of craft in them which make them manifest as craft pieces because they were usually made due to the demands of the patrons, who always need them routinely, for everyday needs and uses. however, a lot of the craftsmen who started carving objects needed by their patrons after many years of producing crafts actual transit to become true artists, whose works became highly inspired which would manifest in the high quality of their works .examples of this could be seen in the works of ancient Ife, Benin artists and Yoruba artists of the 19th century especially those of the northeast Yorubaland of Ekiti and igbominaland.in this regard the work of Olowe of ise Ekiti , easily the greatest and most famous Yoruba carver is worthy of note.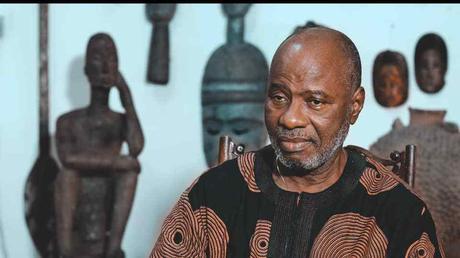 9 Art is important because creativity is the foundation of a child's education. It helps to develop motor skills, eye-hand coordination and has a large impact on their social and emotional growth. It also enhances their cognitive development which can have a positive effect on math skills and other related subjects, and parents carry a primary responsibility in this regards, how do we transmit this to our children and when can we start that?
The knowledge of the activities of the animistic beings are often depicted in vivid and pictorial forms, which  when shown and depicted can be interwoven with the teaching of the arts because inspirations are also experienced by the artists in vivid lifelike pictures and they must be received in deep humility because they are actually blessings that are being mediated from Above through a long chain blessed helpers downwards to us! so great responsibility is therefore attached to the teaching of the arts and the awakening of the sense of beauty in us and around us, something  that can be of great help in our vocations, professions and indeed in our entire future lives. indeed this is like laying the very crucial foundation  for building of our future lives and indeed of the world as should be according the will of God!
10. In the past, we were given pictures of certain Nature beings that frightened us, it gave a basis of Nature beings in a dark sense, how can the enlightened artist help us redress this?
That which is received as inspirations and depicted in the earthly by very  gifted artists can only be light and beautiful and never dark and ugly. the enlightened and gifted artists will only produce great works of art we can describe as MASTERPIEECES
11. So many years back, we had the pleasure of visiting you in Treasure house of Fine arts, are we to expect a come back soon of Treasure House?
 I have never left the art trade at all. Due to major challenges about 2013|14 i had to close down the physical gallery space at ikoyi. however i have always remained very active in the business of art, focusing mainly on promotion, writing on virtual art, consulting-,already working  on line, even long before Covid came and even now the possibility of still opening a physical gallery space, at iju ,ogun state and online gallery spaces still exit. Ones life is totally and exclusively committed and dedicated to the promotion and preservation of Nigerian and African art
12. Look into tomorrow and share with us your picture of Art in the country and young artists
From art history, we know that the arts flourish during the time of peace and national economic growth and personal well being. for many years now since the national economic has not been doing well ,the arts have not being flourishing very well.alot of money is always needed to be voted for the ministry of culture to support the promotion and preservation of all the arts. wealthy individuals are always needed to patronize the arts. the ministry of culture receives probably the smallest vote in our national and state budget  annually. of course if we have adequate resources the arts will always flourish and the artists will also do well. so the same will apply to young artists for them to have a bright future and successful careers. for young artists to do well we will always need committed and dedicated patrons who will always acquire their works all the time, so they can always have a thriving studio practice and be able to exhibit their works regularly. 
Nigeria is a huge country where you find artistic expressions and manifestations everywhere you go, so given a stable and growing economy the future will be bright for artists of ages.
Thank you very much for coming on Centrespread.