When you hear the word artist, all types of pictures come to your mind. If you are wealthy, you fancy a Picasso? Impressionist? Surreal? If like me the names just float over your head. You have holes in your pocket besides, you comfort yourself that you want to live in the present. You throw your mineral bottle out the door. You are then confronted with the bottle in a different setting, and this young man walks up to you. Quiet smile and says his name is Gbenga Adeku. You swallow and stare. A thrill walks up your spine as you stare at the ant. You remember you were taught to be as industrious as the ant. This ant was the bottle you threw out. You swallow again, shake your head and Gbenga stretches his infectious smile,and invites you to his studio.
Welcome to Centerspread with Gbenga. Come with me for this conversation.
1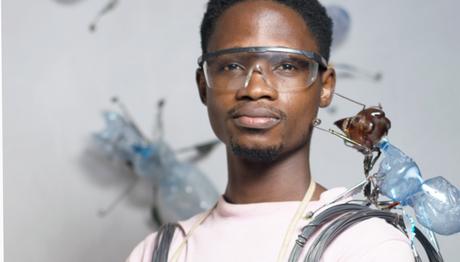 Please tell us a bit about yourself
I am Gbenga Adeku. I am an upcycle artist. Upcycle means I create high value art from waste Items. I am a protege of the famous Dotun Popoola. A son of Segun Adeku one of the few neo-african printmakers. I have a passion for fine art so I studied at obafemi awolowo university, graduated 2015, served and started out as a freelance artist for a few years before discovering a strong anti-waste drive. I currently run XtetixUpcycle an art studio centred on upcycling and teaching youths to do the same.
2. As a child, did you want to be like your dad?
. As a child I always wanted to be an artist, it felt like being an astronaut to me. I was an apprentice to my dad as early as I could remember. I thought what he was doing must be important as he mostly had many foreign friends over at his gallery cum studio. He let me draw and at times play with his art materials. I enjoyed the freedom I feel even then.
Yes, I would say I really wanted to be like him.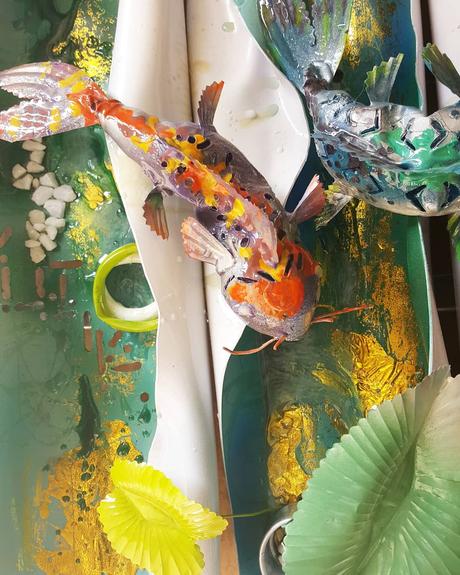 3. What tilted you to your very peculiar art?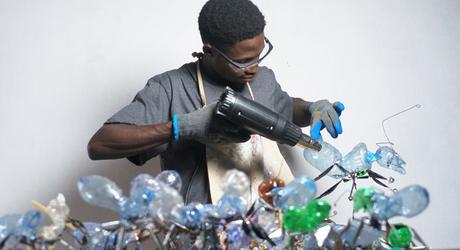 . What tilted me…old empty perfume glasses & exotic wine bottles. Those always look exquisite to me, and it always take too long for me to dispose them. PET bottles were the exact opposite,  I thought they weren't exquisite, they were everywhere. They're  such a nuisance. Like a metaphor for bad human relationship, I found out that I like the bottles before I bought the drink but disposes off indiscriminately as soon the drink runs out. The guilt of knowing my mindset contributes to toxifying the environment converted by disinterest in plastic waste into keen passion. I started to pay attention to plastics, in doing so I discovered how much more they could do,  become, and even speak if they were given voices.
4. Climate change is an issue that some human beings are yet to come to terms with, I am stunned by your exhibition, why do you do this?
. Of all the solid waste degrading our planet, in my opinion plastic waste is the most violent, yet the most easily generated and hardest to properly dispose. I want Nigerians to see their "discards" become more. I want to share the truth of the living dirt. Paying attention to waste is the first step to gaining an environmental awareness.
.5 What influences your art?
. Just as a musician is inspired, I am influenced by my surroundings, issues of daily life, love, hope, spirituality, most especially the 21st century african pop culture. Let's just say I like to express myself per time.
6. The artist makes a comment as he receives, what is the most urgent comment you want to make?
. Gbogbo ènìyàn ló lè lórí Afínjú. Meaning every human can have a cautious, aesthetic & an environmentally proactive mindset.
7. How affordable are your works?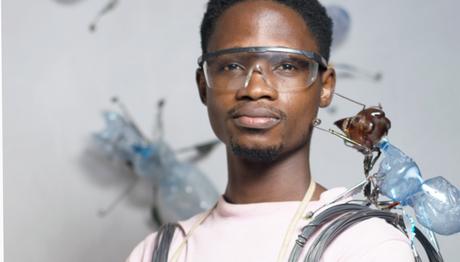 . I see my works as properties, like a real estate asset, so I'll say my works goes for friendly prices likened to buying plots of land in small Nigerian towns.
8. There have been artists that stamp themselves on the psyche of their society through their works. What type of stamp are you looking at?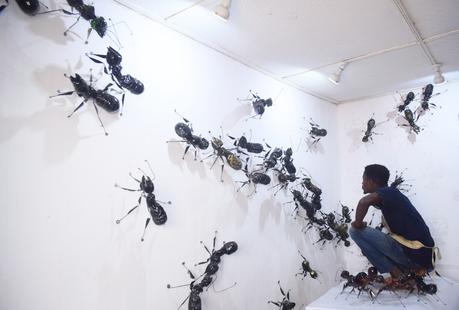 . Maybe a Plastic Lazarus stamp, but sincerely I'm particularly not looking for a stamp, so to say, but I'm certain it will find me with consistency in time.
9. Please share with us your average day.
. My average day starts by 6am with prayer, podcast & good music to go. Studio works starts around 7am/9am. I keep a to-do list, but mostly do between 30%-60% per day. The process of detailed works gets boring so I play loud music to keep me going. I take intermediate breaks as my mind, body or logistics demands, work closes by 5pm, sometimes earlier. I took the habit of working at night from my father. 4 times a week, starting from 2am. That is how I spent most days.
10. What has been the effect of your art on your contemporaries?
Wow, I haven't considered that. I probably can't measure that at this moment, but I certainly hope to inspire my contemporaries to take on upcycling. I have friends who keep sack loads of pet bottles for me. They know I need it plus they probably don't like the guilt of throwing it away.
11. Please share your frustrations and successes?
. My number one will be *Environmental awareness*  I believe the government and environmentalist organizations can do more educating the people at the grassroot level that means the towns & rural settlements in Nigeria.
My second frustration is that there's too much plastic waste to upcycle. Once you tell someone about the dangers of these plastic, the reaction is mostly positive. They begin to keep the pet bottles that they drank from, soon a sackload, 2 or more is stacked at their yard. Only to spend months before going to the landfill because recycling hub isn't yet a thing. It isn't yet a commercial business for the masses like POS money agents. If it were, I'll have more peace.
12. How do we reach you to book?
. I am on Instagram as @gbengaadeku and you can also contact me on orilafinju.com
13. What other medium can we employ to manage our waste in a world being over- burdened by human neglect and ignorance?
: The most wasted human resource is our brain and this is the reason why other things around us go to waste and we don't have the slightest clue on how to make things better. So first we need to educate each other, especially the generation Z that waste management is integral to a healthy planet. We also have to intentionally create industries invested in waste upcycling, recycling and not just disposal.