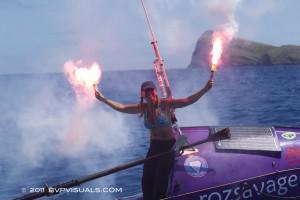 Huge congratulations go out today to British Ocean Rower Roz Savage who has successfully rowed the Indian Ocean, completing her epic goal of rowing the three major oceans, the 'Big Three, and becoming the first woman to do so!
Rowing an ocean is something I certainly would HATE to do - deep water, miles from anywhere and alone for extended periods of time - HELL! To row the three biggest oceans in the world in a 6 year period is an incredible achievement, well done Roz Savage!
Check out http://www.rozsavage.com/ for more.