I can hear the

A

tlantic echo back roller coaster screams from summers past.
And everything was closed at

C

oney

I

sland, and 

I

could not help from smiling.
Brooklyn will fill in the beach eventually and everyone will go except me.
   - Coney Island by Death Cab for Cutie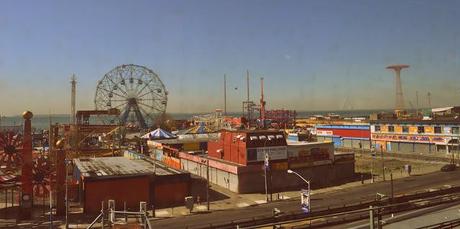 On an early Friday morning after I accompanied  the wife to JFK, I suddenly feel the urge to ditch going to officeEight weeks has passed and needless to say I still feel I haven't really visited all the places in New York that's on  mylist. And since it's my last day in US, I said

to myself

why not?
I was undecided when I rode the Airtrain from Howard Station towards Inwood, I narrowed my choices to Bronx or Coney Island.  And before even swiping my Metrocard I made up my mind to visit the iconic landmark and picturesque Coney Island. I prefer going to Coney Island over Bronx mainly for the reason that I'm not really a baseball fan.
I boarded on a busy station as I cram myself onto an already packed train. I guess I have to agree on what most New Yorkers say that you've never been to hell until you ride the subway during the rush hour. The simple but complicated DCFC song slowly send a quiver through my senses almost creating a picture in my head.  Twenty stops and almost half an hour spent, I alighted at the Jay Street- Metrotech station for another train ride this time to Coney Island-Stillwell Ave. That's another nineteen stops.
The station wasn't crowded and the trains are quite newer. Once inside I was relieved to found out that  I wasn't the only one that seemed lost. An old Russian woman keeps asking a fellow passenger if this train will take her to Brighton Beach. It's nice to know that the other passenger was accommodating enough to answer the old lady back.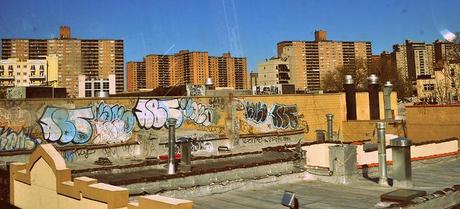 It was a surreal experience to be seated on the train while viewing a glimpse of Brooklyn. The drag-ass-slowness between stops bore me, good thing there are graffiti's that make the F-train experience more entertaining. Stop after stop passengers emptied out that train, until I was the one left. Then I began to feel anxious. Ever watched movie Taking of Pelham 123? It felt like I was one of the hostages taken by John Travolta speeding towards the Coney Island.
It was fairly a long subway ride. Good thing I finally saw the ocean and the amusement park from the F-train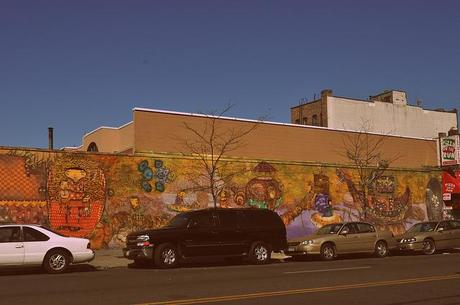 Stillwell Ave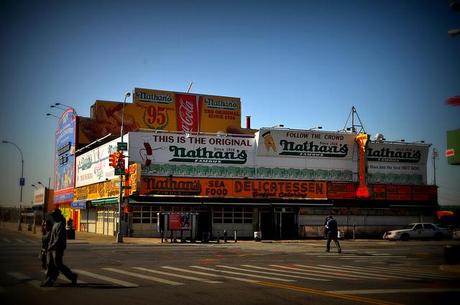 Nathan's - the pride of Coney Island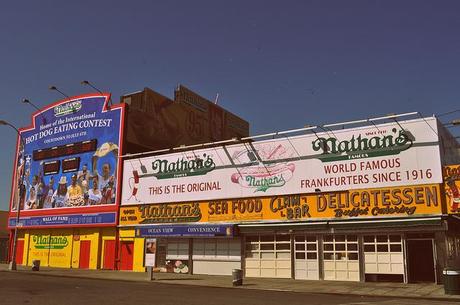 Home of the International Hotdog Eating Contest
From the  station I walked down on the almost empty streets of Stillwell Ave. The sight of Nathan's Famous Hotdog's put a smile in my face. You've probably heard of that annual hotdog eating contest held here every year. I turned my attention to the towering

Ferris

wheel and

roller coaster

. Back in the days Coney Island was a popular destination no wonder it has become a piece of inspiration in the pop culture.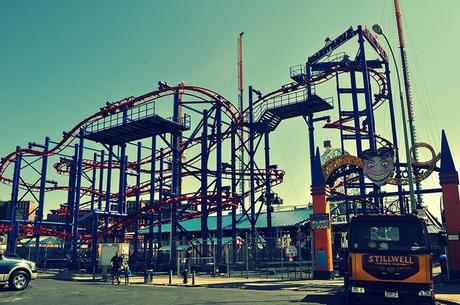 The Cyclone - built in 1927, it is one of the United States's oldest wooden coasters still in operation.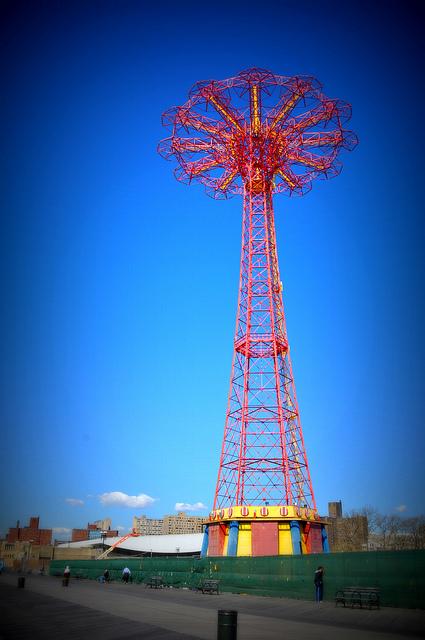 Parachute Jump is also known as Brooklyn's Eiffel Tower
With unprecedented levels of neglect and modernization – most of the rides and attractions were eventually closed down. But there are still remnants that gives Coney Island a unique charm. There

'

s the old  vintage buildings and abandoned food stands  that have a scary feel to it as I drag my weary feet in the boardwalk.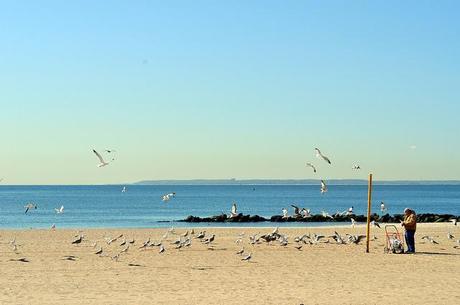 The broad and sandy beach.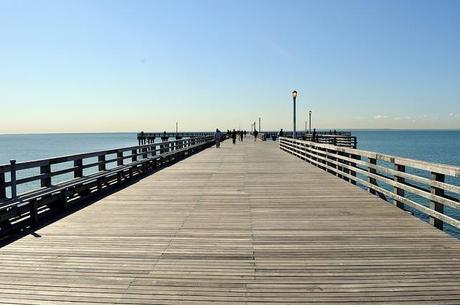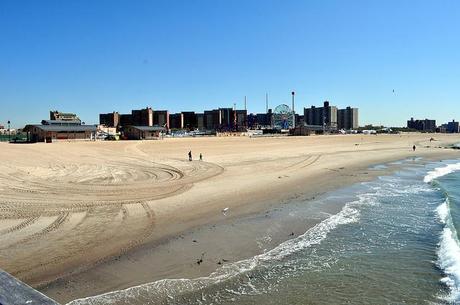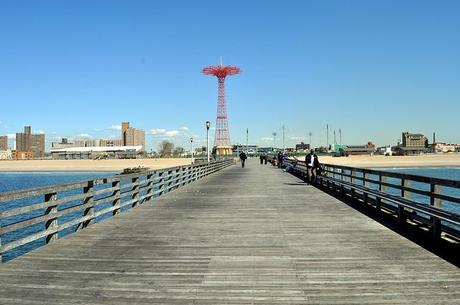 It was a spring that time and as far as I can tell, Coney Island was lifeless at that extent. Everything was practically closed.  I wonder how packed this place gets especially during the summer. There were few people around and it was a good time to observe people. There are fitness enthusiast busy rounding up the boardwalk, families having fun in the beach, oldies fishing and some creepy homeless guy I had staring contest with.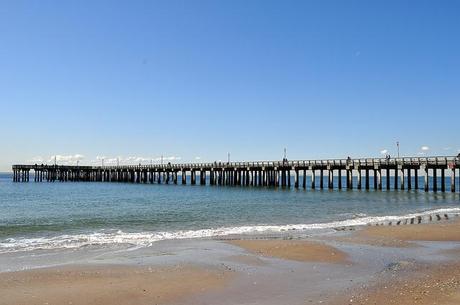 Snapping enough pictures of the Brooklyn Cyclones and Parachute Jump, I walked towards the sandy beach. Surprisingly the sand was remarkably fine and soft. Alas, I finally landed my feet on the beach. For a beach lover  who've been away for two months

from

the Philippines – you can relate to what I feel.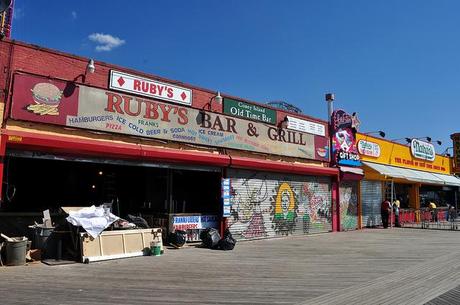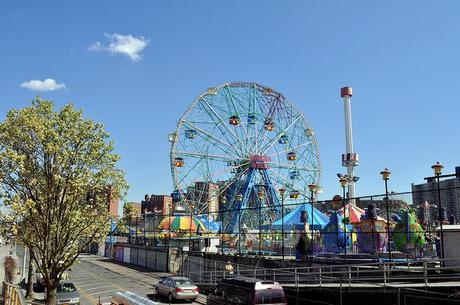 Astroland and the Wonder Wheel
Walking around it's good to know that the landmark is undertaking a kind of makeover. And this was the time I finally decided to get a hotdog at Nathan's. Just like  most typical tourist do I ate the Chilli Cheesedog while seated on the bench of the boardwalk.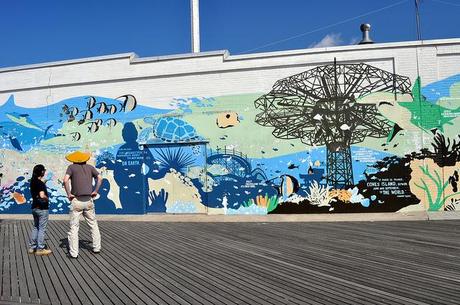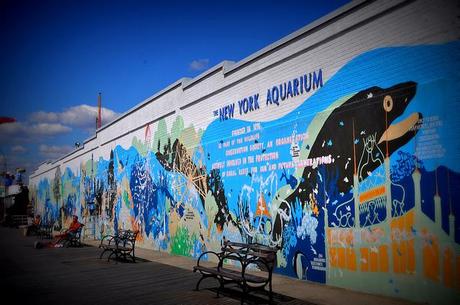 New York Aquarium - is the oldest continually operating aquarium in the United States.
It wasn't the perfect time to visit this cultural landmark but it was still a great way to enjoy the sunshine and trust me you'll have a different perspective of New York as well.