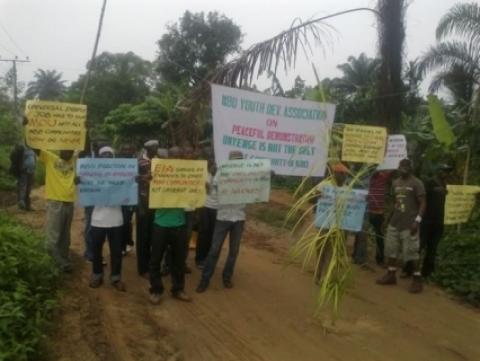 Cross Posted from Leadership
The host communities of Universal Energy Resource, an oil company, have staged a peaceful protest against it for alleged non-implementation of development projects in 2012.
The protest was staged by the people of Ntak Inyang in Esit Eket and Unyenge in Mbo and communities in Oron Local Government Areas of Akwa Ibom on Wednesday.
The News Agency of Nigeria (NAN) reports that their placards had the following inscriptions: "implement the provisions of the MoU; we reject injustice, we reject divide and rule system. No community development, no universal energy."
The Secretary of Memorandum Implementation Committee (MIC), Chief Okon Ani, said the protest was aimed at reminding the company of the agreement it signed with the host communities.
Today's protest is peaceful but the next one may not be peaceful. The problem is that the operation of the company is supposed to be that of empowerment but it has turned out to be exploitation.
The 2012 development project is long overdue and it has not been implemented
For the eight years that the company has been on ground, no positive development impact has been made by the company to the host communities.
We want the world to know that the company has not implemented any item in the Memorandum of Understanding (MoU) they signed with the host communities.
The Local Content Act has been totally neglected by the company in terms of employment, contract awards, scholarships and empowerment of youths and the women from the host communities.
It is better to address these pressing issues before the youths become hostile and make it difficult for the company to operate in our environment," Ani said.
The General Manager, Finance, of the company, Mr Ukpe Udoette, said 99.9 per cent of the implementation of the MoU has been achieved with the relocation of the company's headquarters from Lagos to Akwa Ibom.
The relocation would make it easier for the company to address issues affecting the host communities.''
He said the company could not act unilaterally without the consent of Sinopet, a Chinese company.
The Public Affairs Officer of the company, Mr Aniefiok Ewaudofia, said it had a lot of empowerment and development plans for the host communities.
The company is not giving deaf ears to the host communities because if we do that, it means we don't want to be welcomed.
The host communities at this moment should be rejoicing that the company has finally relocated its headquarters from Lagos to Akwa Ibom," he said.
He said that the issue of employment, empowerment and scholarships would be resolved quickly following the relocation.