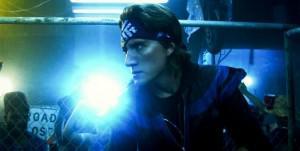 It's no secret I've been really excited about The FP. For those who are still in the dark, The FP, is a movie where gangs battle by epic Dance Dance Revolution competitions. It looks completely over-the-top and might turn out to be awful, but the trailer had me sold. Imagine my surprise when Drafthouse Films decided to release ten minutes of the film online. The FP is getting a limited release on March 16 ( you can get the full theater list here.)
Here's the official plot description:
In a dystopian future, a relentless turf war rages. Two rival gangs feud for control of rural wasteland Frazier Park ('The FP') in the deadly arena of competitive dance-fight video  game "Beat-Beat Revelation." After hometown hero BTRO is slain on the dance platform by thug leader L Dubba E, his protégé younger brother JTRO (Jason Trost) goes into isolation, vowing never to duel again. One year later, The FP is in ruins, and JTRO must find the courage to return and restore order in a ruthless battle for revenge that can only leave one man dancing. From the producers of PARANORMAL ACTIVITY and featuring narration by James Remar (THE WARRIORS), THE FP is a fury of fierce footwork, triumphant montages and neon street wear that Moviefone calls "a rare ready-made cult hit."
Now It's Your Turn! What did you take away from this article? Share your comments with us in the box below!