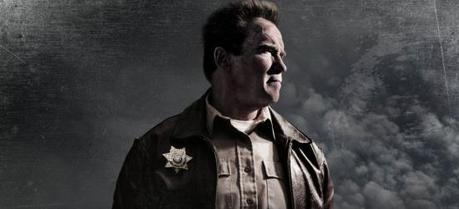 South Korean director Kim Jee-woon (I Saw the Devil, The Good, the Bad, the Weird) will be making his English language debut with The Last Stand. It features the return of Arnold Schwarzenegger headlining a major motion picture. In the feature, Arnold will be playing a small town sheriff that has to stop a powerful drug lord (Eduardo Noriega) from crossing the US-Mexico border.
Having just watched the original Total Recall, I'll be interested in checking this out. Has Schwarzenegger lost anything in his time away from film? I guess we'll find out in January.
Apple has the trailer. The Last Stand opens on January 18.
Action icon Arnold Schwarzenegger makes his much-anticipated return to the big screen in Korean director Kim Jee-woon's hard-hitting US directorial debut, THE LAST STAND. After leaving his LAPD narcotics post following a bungled operation that left him wracked with remorse and regret, Sheriff Ray Owens (Schwarzenegger) moved out of Los Angeles and settled into a life fighting what little crime takes place in sleepy border town Sommerton Junction. But that peaceful existence is shattered when Gabriel Cortez (Eduardo Noriega), the most notorious, wanted drug kingpin in the western hemisphere, makes a deadly yet spectacular escape from an FBI prisoner convoy. With the help of a fierce band of lawless mercenaries led by the icy Burrell (Peter Stormare), Cortez begins racing towards the US-Mexico border at 250 mph in a specially-outfitted Corvette ZR1 with a hostage in tow.