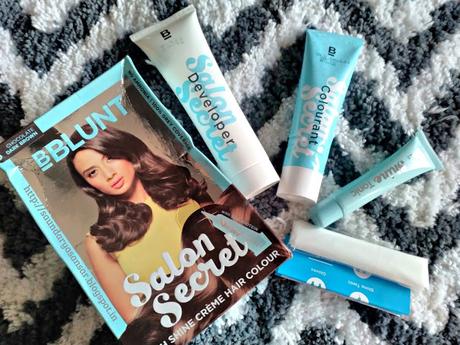 if you like your colour vibrant, rich and deep (who doesn't) this new salon secret is for you. The shine will blow your mind. - Adhuna B, founder BBLUNT.
BBLUNT holds an indispensable place in my hair care regime and I just cant live without my BBLUNT curl defining cream. So when the brand approached me for trying their new BBLUNT hair color, my reply was all affirmative. Although I am not a hair colour user but my Man is. And He has probably tried all possible hair colour brands- from Loreal, Garnier, streax and so on. This time we were already looking for a brand which could be better option.
So today it is BBLUNT Salon Secret High Shine Creme Hair Colour on my review table- A revolution in At-home hair colour (199 INR). The brand intends to offer salon quality hair colour and that too with added shine and an affordable price tag too.
Easily Available online while I am not sure if it has hit the retail counters. The hair colour set is an attractive unique pack in pearly sky blue and silver carton. BBLUNT hair colour system claims to be free of ammonia and with 100% grey coverage along with soft and shiny hair with lasting upto 8 weeks.
BBLUNT hair colour system has unique 3-part hair colour- Colourant, Developer along with a shine tonic; enriched with silk protein is intended to impart dazzling shine to hair colour. Just mix the colourant and developer in equal proportions and add the tonic.

Now what was our experience-
The cream colour is surely thick enough to give non dripping consistency yet has an easy coverage formula. Moreover like usual colours, it does not smell weird and intolerable. The cream is smooth and spreads well with colouring brush. Just needed to keep this for 30 minutes and wash off with water.
(tip - avoid using shampoo the same day, use plain water to wash off the colour)
The colour shade which we chose was Chocolate-dark brown.
Post wash I could see visible difference-
The colour washed off easily without much of the effort leaving hairs soft. Dried hairs retained pretty dark brown colour covering every single strand and to my surprise not only his hairs were softer but lot more shinier. He always use to complain that the colour melts down to his forehead making it appear darker, which usually happens due to long outdoor/sun exposure. But BBLUNT had better longevity without melt down to forehead.
I could say that after long I could his natural soft shiny hairs back and that too without harmful effects of ammonia. Although hair colours are not completely free of chemicals but then I still could not find a better organic hair colour with the desired results.
Overall BBLUNT Salon Secrets has gain lived upto the brand name with its quality and colouring hair at home is hassle free with your favourite colour and added shine to your hair. Highly Recommended!
Disclaimer:-Product sent by the brand in exchange of my honest review.