Hey friends, Happy Friday!  I hope you are all having a great week! I'd love to be able to tell you things have slowed down a bit for me at work and life was returning to a semi-tolerable pace, but I'd be lying, so instead of talking about that, I am going to take about something WAY more fun (and colorful!!)  So, I recently was given the opportunity to review these really neat liquid chalk markers by Colore.  I knew these would be a bit hit in my house with my little monster, who is also a budding artist!

DISCLAIMER: I was provided these markers free of charge in exchange for an honest review of my experience with the vest. All opinions are of course, my own and 100% honest.
I received the markers a few weeks ago and I immediately opened them.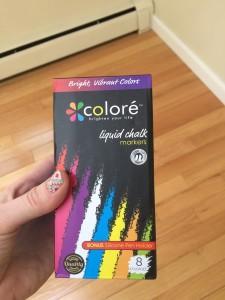 Ashton saw me opening the box came running over and took them out of my hands and claimed them as his! You have to love a 3 year old and their sense of ownership over everything in their world!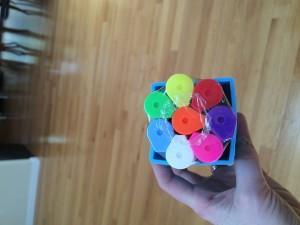 They were packaged nice and tight with plastic and came in a great blue silicone holder to keep them together and neat for storing.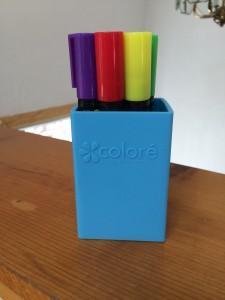 So the skinny on these markers…. they can be used on nearly any non-porous surface, think things like windows (home, car, business) glass doors, white boards, menu boards, food storage containers, etc.  The pack I received came with with eight markers that were all very bright and bold with a neon quality.  The colors we received were blue, yellow, red, green, orange, white, pink, and purple.  What is great about these markers is that they have two types of tips, chisel and bullet so depending on the look you are going for, you can customize the tip.  To change the tip, you just pull it out of the marker, turn it around and put it back in, super simple.
The first time you use a marker, there are three steps that have to be followed in order for them to work.
First, you have to hold the marker with the tip facing the ceiling, push the tip all the way in and release it
Then you have to shake it with the tip still facing up so the liquid chalk mixes
Finally, you have to turn the marker towards the ground and put it on a flat surface so the tip fills with the ink
I just used a piece of paper and they filled relatively quickly (about 30 seconds or so.)  I did this with every marker before we got started so we didn't have to wait around when we changed colors.  Ashton was "patiently" waiting while asking me about 100 times if they were ready to use!  Once they were all prepared, Ashton and I attacked our bay window in the upstairs living room.

He loved being able to draw on the windows and told me he was drawing a picture of his friends playing! So cute. He asked me to draw with him as well and I don't know who enjoyed these markers more because they were SO fun! In full disclosure, I have NO artistic ability, so I just made some swirly marks with him!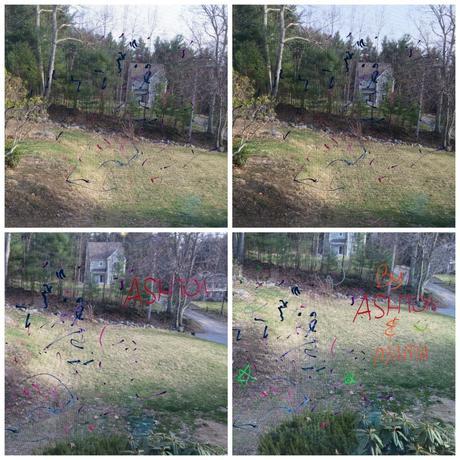 The colors came out very smoothly and were so easy to use.  The lighting doesn't show the colors well, but they are very bold and visible across the room on the window.  I can see us using these a ton together throughout the year, and I think they are going to be awesome for the holidays where we can create seasonal pictures on the windows and sliding glass doors as decoration. They are really easy to clean up too, you can just spray a little glass cleaner and wipe and it's gone! No scrubbing or anything which is great!
Overall, I think these Colore Liquid Chalk Markers are really cool and are great for people with or without kids, as they can be used for a ton of adult projects as well. I can't believe I never thought to get them before this, but I am so glad we have them now and know we will continue to stock these in our house for many years to come!
Well, that's it folks, I hope you have an awesome weekend and I will see you next week!
—————————————————————
Question of the day
Have you heard of liquid chalk markers before?  Ever used them?  Are you artistic?