You might want to who/what is Pantone?
Pantone LLC, a wholly owned subsidiary of X-Rite, Incorporated, has been the world's color authority for almost 50 years, providing design professionals with products and services for the colorful exploration and expression of creativity. Always a source for color inspiration, Pantone also offers designer-inspired products and services for consumers. More information is available at
www.pantone.com
.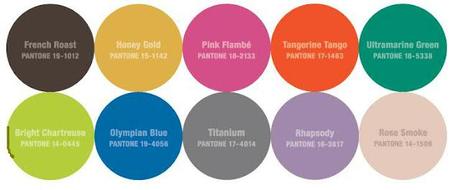 My favorite has to be French Roast, Pink Flambe, Tangerine Tango, Rose Smoke and Bright Chartrouse.
What's your favorite?
If you look at last year S/S 2011 color palette you'd know that nothing much has changed except that Pantone was able to exclude Russett, Regata etc. But, if you look deeply, you'd find that this year is going to be brighter and more sparkling.
I tend to incline towards gray and red during winters but i keep hoarding mustard too. What's your winter color? anything that you love to see in your house, around yourself. Do let me know, or let's decide our own color palettes.
In This Post ---
Product
- Pantone Color Palette for Fall 2012
!!Follow Shopping, Style and Us below!!
xxx
=====================================================
Disclaimer:
For any queries, PR information, website review, store visit and events - please mail me at
[email protected]
. Read about Shopping, Style and Us and to know more, please read my
Disclosure Policy
.
Jiya (Shoppingaholic)