This cold veggie pizza is packed full of veggie goodness. This nostalgic recipe is perfect for lent.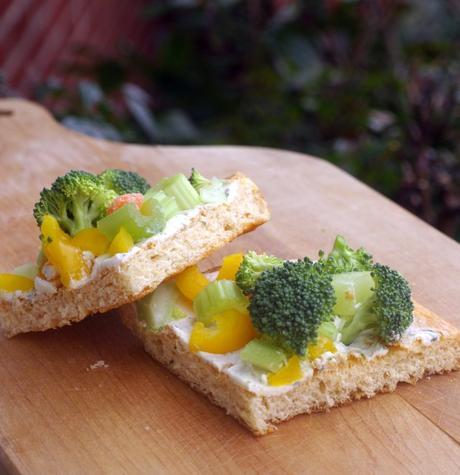 Looks like we are in the homestretch. Easter is only a few weeks away. I love this recipe because this pizza is so easy to make. I love it because it sits in the fridge until you are ready to eat it. The only thing is that I totally forgot cheese on this.
I remember when I was pregnant with Chrissy almost 20 years ago I had a version of this for my baby shower. I think I ate the whole pizza myself. It was delicious.
I made it a few more times but not with a lot of regularity. A coworker mentioned it and it made me want to make it again.
Keep in mind you can switch up the veggies seasonally. I think next time I might use cucumbers and tomatoes instead of carrots and celery. It is kind of fun to mix up the veggies and make a complete different flavor combination. Either way, this pizza is perfect for Lent and easy to make.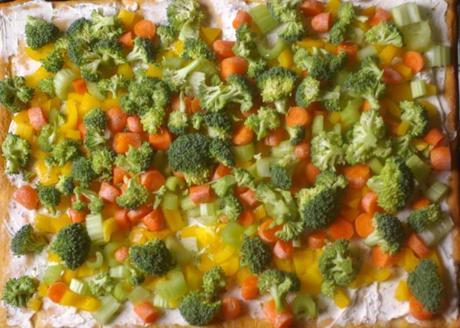 Print Recipe
Cold Veggie Pizza
Ingredients:
2 packages crescent rolls
1 block cream cheese
2 teaspoons onion powder
1 teaspoon salt
1 teaspoon garlic powder
2 tablespoons dried parsley
1 tablespoon white vinegar
1/2 cup chopped yellow pepper
1/2 cup chopped celery
1 cup chopped carrots
2 cups chopped broccoli
Directions:
Preheat oven to 375.
Unroll crescent rolls onto a greased cookie sheet. Flatten dough and pinch seams. Bake for 10 minutes and allow to cool. In a small bowl combine cream cheese, onion powder salt, garlic powder, parsley and vinegar. Sprinkle pepper, celery carrots and broccoli all over pizza. Place in refrigerator for a few hours before serving.
Peace be with you,
Veronica