So remember the other day, Christmas Eve to be exact, and I said how I really wanted a KitchenAid Stand Mixer for a gift....well.....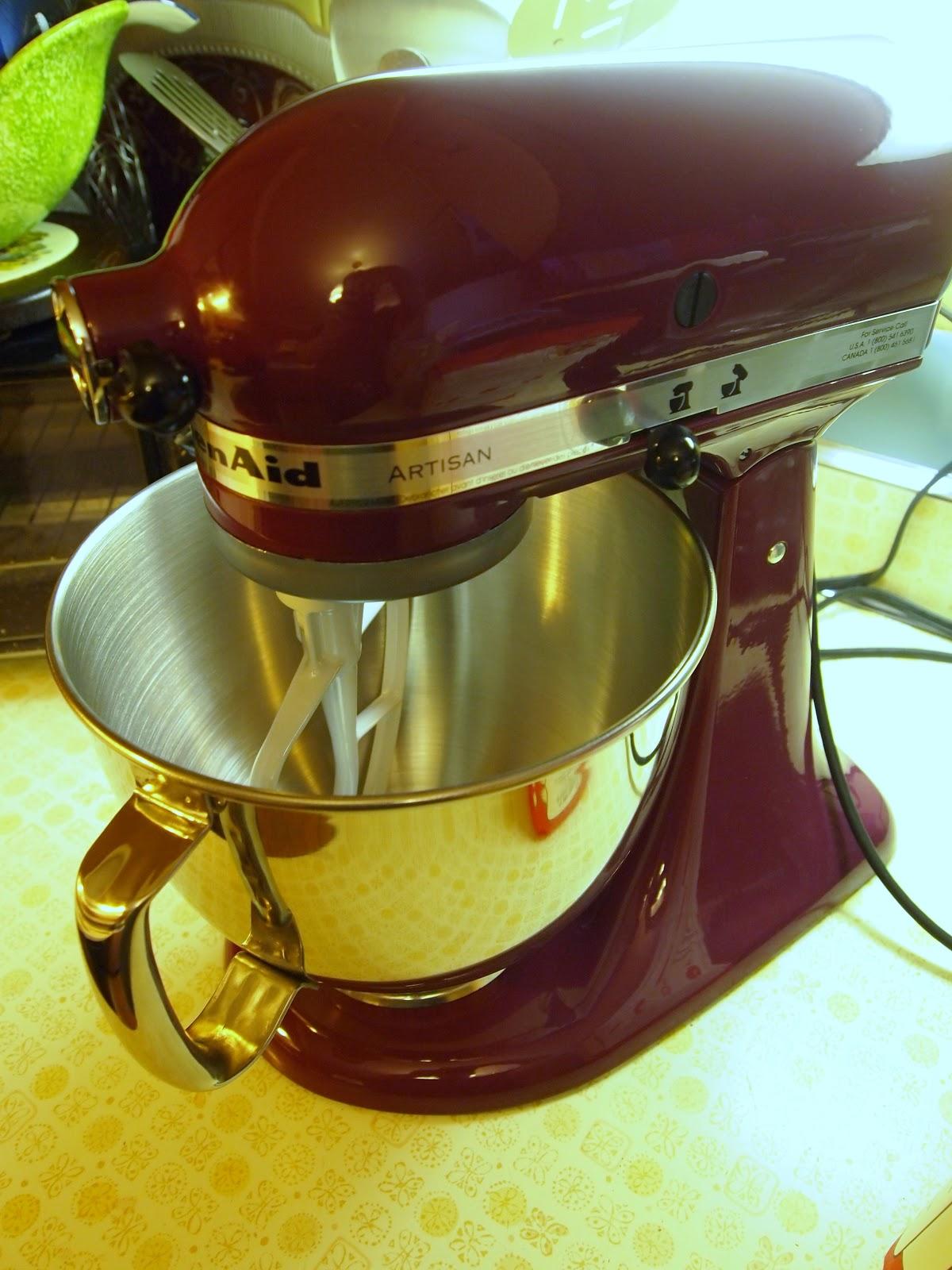 TA-DA!
I got my mixer! Isn't she pretty!? I feel so official now. I've been staring at it since Christmas not knowing what to make first. I just love looking at it, I suppose that's the foodie/chef in me..my mom described it best saying I was like, "a man with a new car". I finally broke it in today and made a batch of oatmeal cookies that I adapted from The Dough Will Rise Again
.
I had made her recipe before, but this time I switched it up and tweaked it a little. I swear having the mixer made it come out better.
Another bit of exciting news...I won a cookie contest! Well I didn't win the whole thing, but I won "Best Chocolate Cookie" with this recipe. How exciting is that?! This was the first time I entered any kind of cooking contest, so to place at all was amazing. I was a very happy baker when I read the winners. 
Now onto the cookies...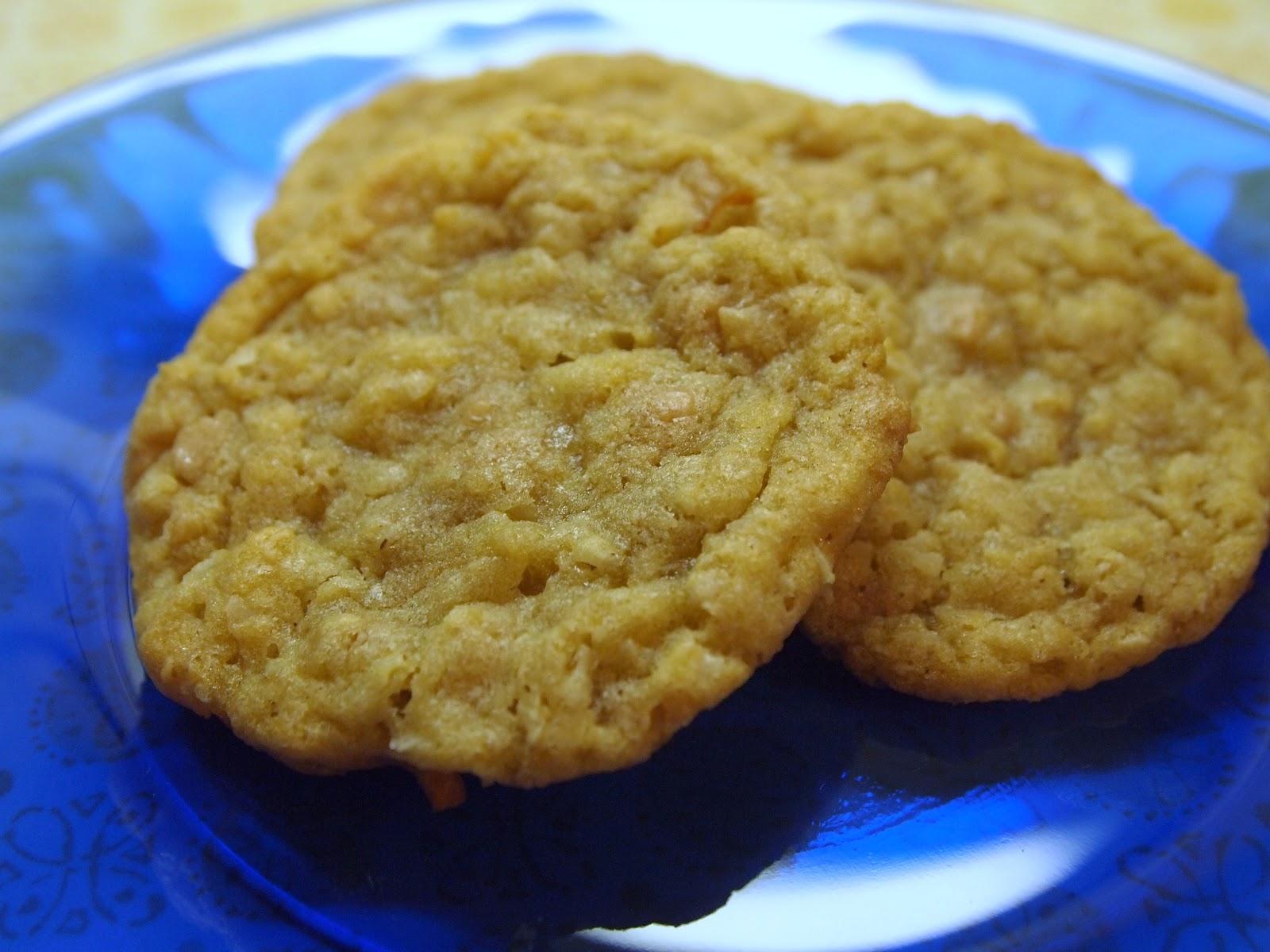 Coconut-Toffee Oatmeal Cookies
2 Sticks Salted Butter, softened
1 1/4 cup Light Brown Sugar, packed
3/4 cup Sugar
2 tsp Vanilla Extract
2 Eggs
2 1/4 cups Flour
1 tsp Baking Soda
1 tsp Baking Powder
1 cup Oats, Quick Cooking
1 1/2 cups Shredded, Sweetened Coconut
1 (8oz) Package Toffee Bits
1) Preheat oven to 350 degrees F. In a large sized bowl or the bowl of your stand mixer, cream together the softened butter and sugars. Once they are well combined add in your vanilla and the eggs, one egg at a time, and mix until fully incorporated. 
2) In a separate bowl combine together your flour, baking soda, and baking powder. Stir them together to make sure they are mixed well. 
3) Add 1/2 of the flour mixture to the wet ingredients and mix until just combined. Scrape down your bowl and then add the rest of the flour mixture. Blend together until just combined. 
4) Add the oatmeal, coconut and toffee bits and stir until just combined. Like this...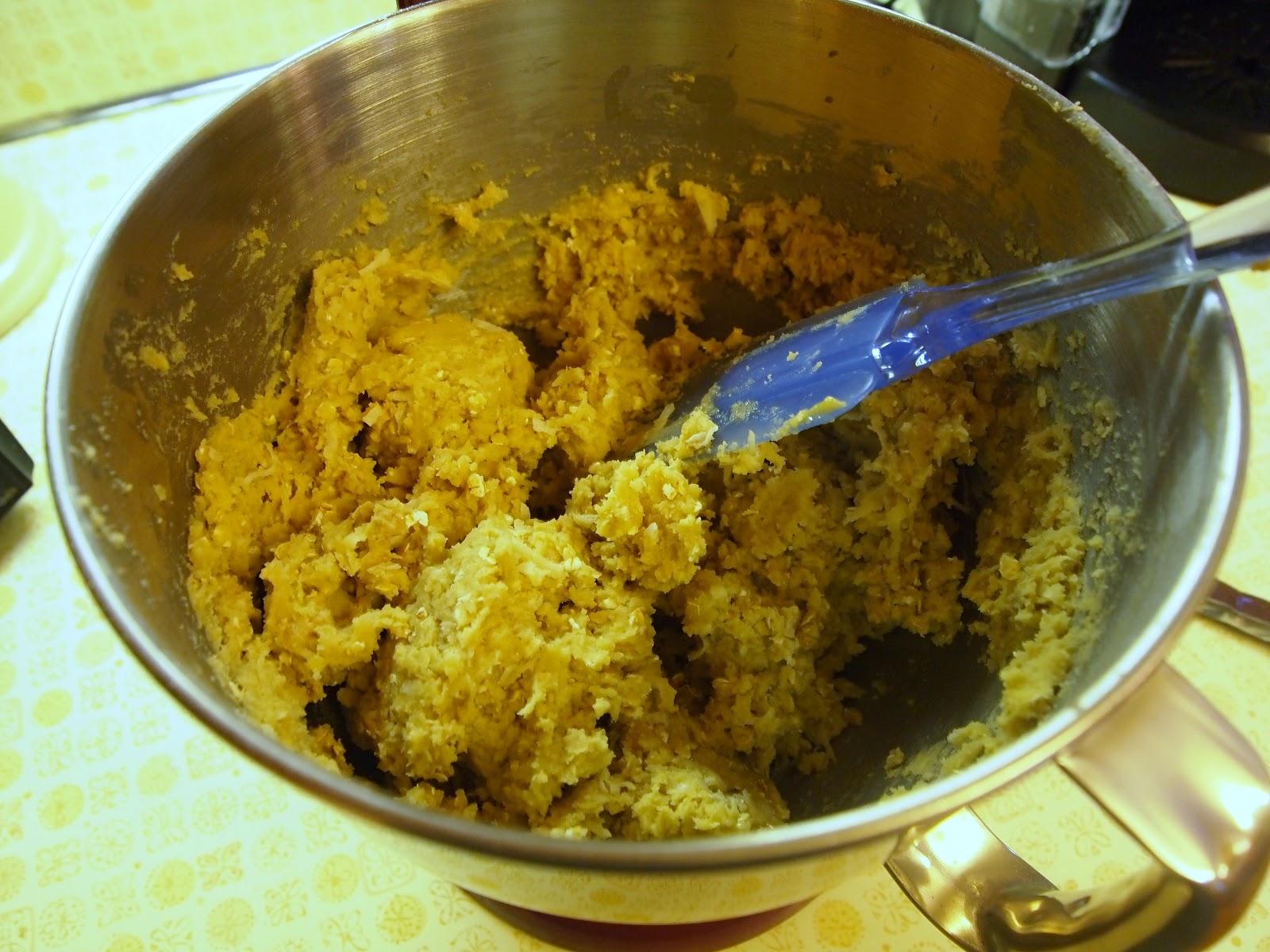 5) Using a small scoop, about a 1" size, scoop the batter onto a cookie sheet and place the balls about 2 inches apart.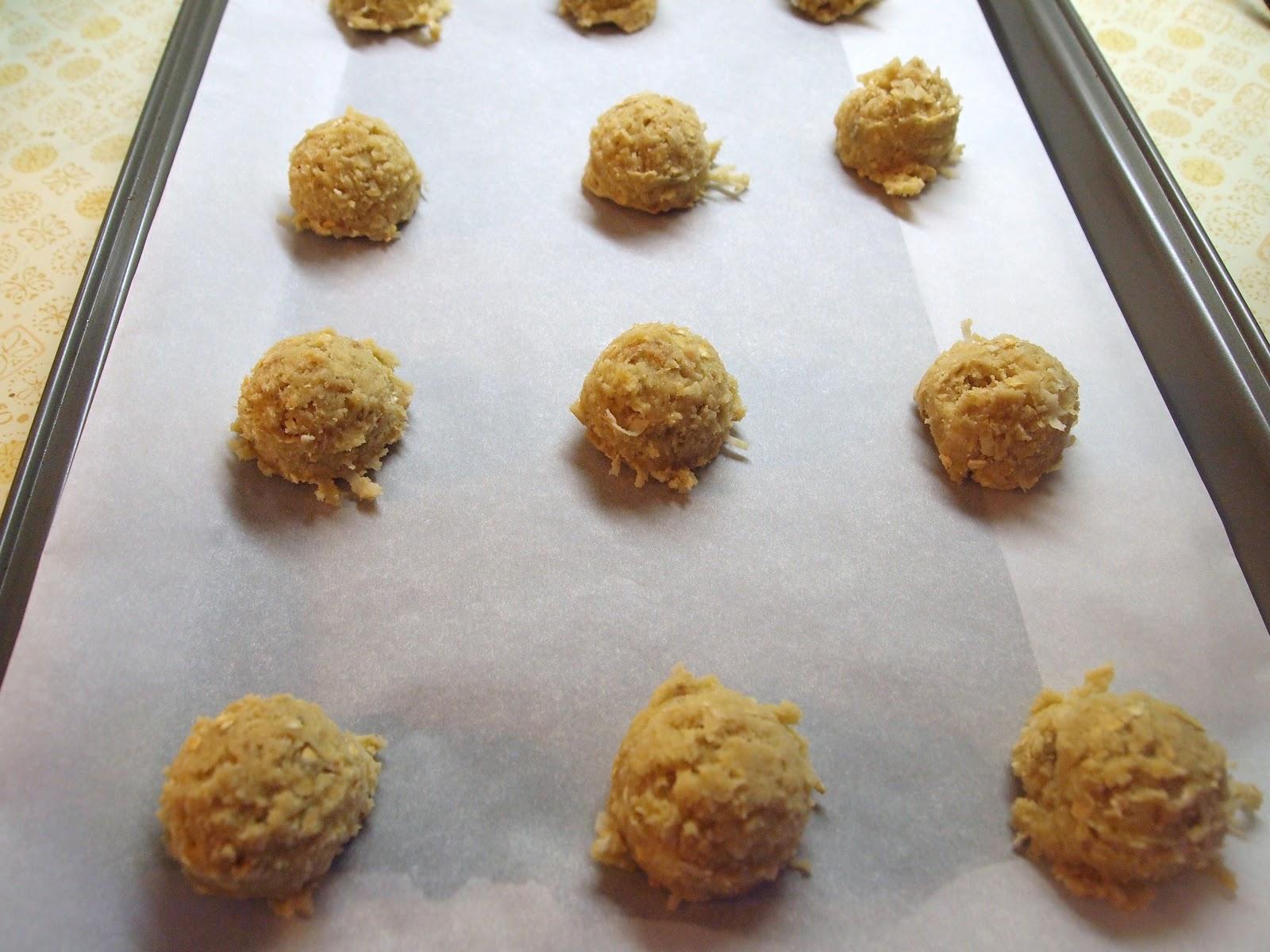 6) Bake the cookies for 8-10 minutes, I found 10 minutes to be better in my oven. Then remove and let sit on the cookie sheet for 5 minutes then remove to a cooling rack to let cool the rest of the way.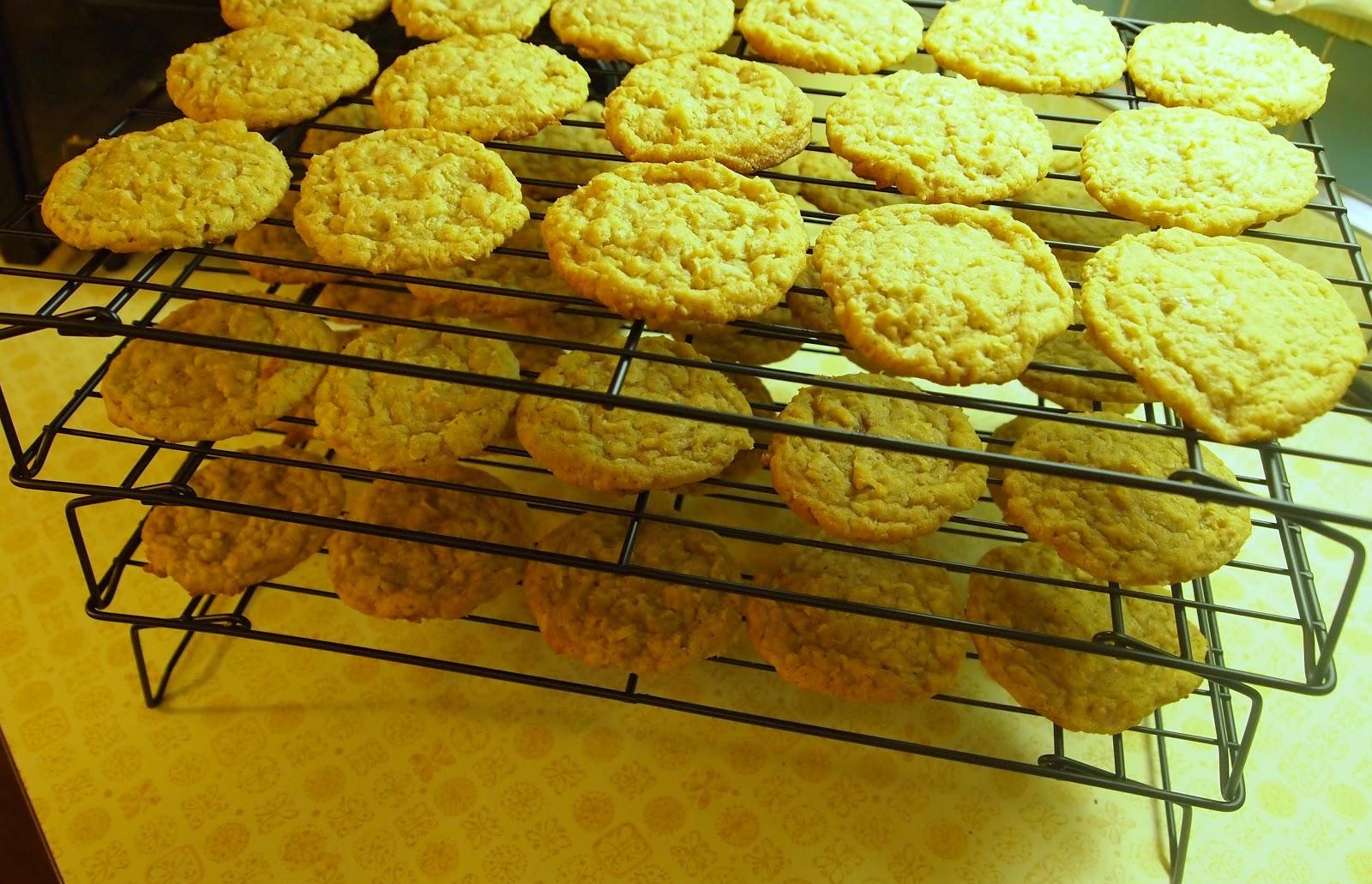 How neat is this cooling rack? Another surprise from Santa! :)
Beware these cookies are addictive. The centers are chewy and the edges are crisp. The addition of toffee bits gives it that extra crunch and buttery flavor. I really love these cookies.