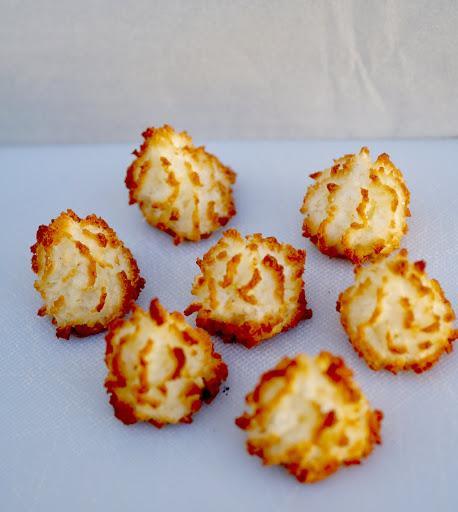 I adore coconut.
So when I went looking for a cookie for Passover and found coconut macaroons, I knew they were the ones I wanted to post about.
These macaroons are full of coconut goodness. They are also very addictive.  These coconut morsels are usually reserved for Passover.  I am not sure why, I love these and enjoy them all year round.  But then again, I am not Jewish.
Did I mention they were addictive?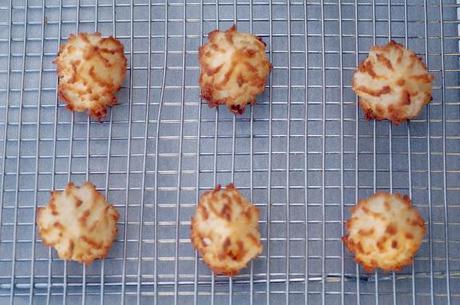 These cookies  have a kind of crunchy outside and creamy chewy middle.
Anyway these cookies are über easy to make.
All you need is five ingredients to enjoy these tasty morsels. They also have no flour in them and they are gluten free. Good to know if you are concerned with such things.
You could get all fancy pants and dip the bottoms in chocolate, but I like them plain.
So, start separating those eggs and let's make some Macaroons!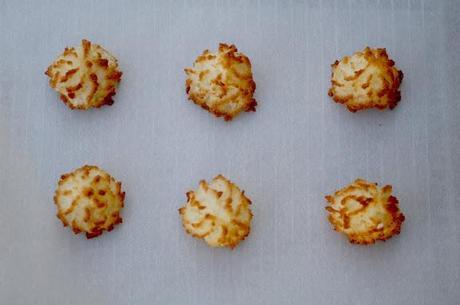 Print Recipe
Coconut Macaroons
Ingredients:
4 egg whites
1 teaspoon vanilla
1/4 teaspoon salt
1/4 cup white sugar
3 cups flaked coconut
Directions:
Preheat oven to 350 degrees
Spray two baking sheets with cooking spray. In your mixer beat egg whites, vanilla and salt until soft peaks form, about 3 minutes. Add sugar and beat another 2 minutes or until stiff peaks form. Gently fold in coconut.
Using a tablespoon or small ice cream scoop drop on a baking sheet. Bake for 20-25 minutes or until golden brown. Remove to a rack and allow to cool.
Peace be with you,
Veronica