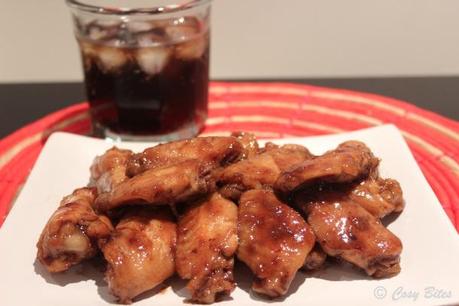 My friend was looking for the recipe for Coca-Cola chicken and said she couldn't find it on my blog. Since she asked, I went to look for the recipe and tried cooking it. It is important to use regular coke instead of diet or flavored coke for this dish as you need the sugar in the Coca-Cola to caramelize the chicken. The result is a sweet savory dish tasting very much like honey glazed chicken.
I adapted this recipe from Noob Cook but omitted the water and dark soy sauce. I also used whole chicken wings (drumettes and all) instead of just mid-joint.
Here's the recipe for Coca-Cola chicken. Enjoy!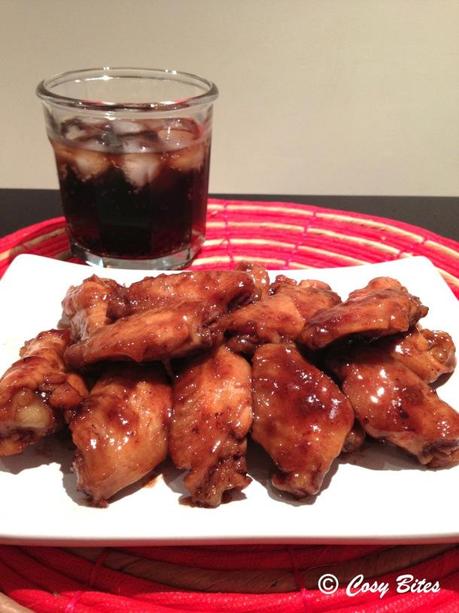 COCA COLA CHICKEN
Ingredients:
450 gram chicken wings, drumettes and wings separated
200 ml Coca-Cola (use regular, not diet or flavored)
1½ tablespoon soy sauce
1 tablespoon huadiao wine 花雕酒
½ teaspoon sesame oil
1 tablespoon cooking oil
Method:
Mix soy sauce, huadiao wine and sesame oil in a large bowl or ziplock bag. Add chicken wings and leave to marinade for 15 minutes.
Heat oil in wok and brown chicken on both sides, approximately 3 minutes each side.
Pour in Coca-Cola and the leftover marinade sauce. Simmer the chicken wings (uncovered) for 15 to 20 minutes until the liquid is reduced to a glaze. Turn the chicken wings once halfway.