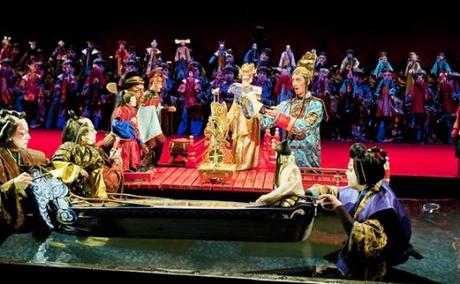 COC's THE NIGHTINGALE at the Brooklyn Academy of Music / Photograph © 2011 Jack Vartoogian
 More than a year after premiering in November 2009, the Canadian Opera Company's The Nightingale and Other Short Fables made its US premiere at the Brooklyn Academy of Music (BAM).  
The centerpiece of this visionary production is Igor Stravinsky's inspired take on the curiously songful bird of the emperor from the Hans Christian Andersen tale, The Nightingale. Canadian director Robert Lepage reimagines the opera as an aquatic fantasy, transforming the orchestra pit into a luminescent lagoon teeming with half-submerged singers, puppet-piloted boats, and lashing dragons.  
Apparently, the COC/BAM collaboration is making headlines faster than a New York minute:  
"The first half of the program employs nimble acrobats and the most affecting and intricate puppetry . . .  the effect more splendid than the Imperial Palace scene in the Met's popular production of Puccini's "Turandot," a Zeffirelli extravaganza."
–The New York Times  
"Lepage . . . has packed this 'Nightingale' with so many visual delights that it would be entertaining even with less than outstanding singers."
-- The Associated Press  
"When [the COC Chorus] members simultaneously opened up their Chinese robes to reveal hitherto hidden puppets, it was pure magic—and the show was full of these moments of childlike wonder."
– The New York Post  
"This night of zesty, folk-inflected songs and one-act operas by Igor Stravinksy . . . is theatrical and operatic bliss."
-- Time Out New York  
The production opened at BAM on March 1, 2011, and continues its engagement at the BAM Howard Gilman Opera House through to March 6, 2011.  
 Congratulations, COC and BAM, and here's to more such partnerships between Canadian and New York houses.