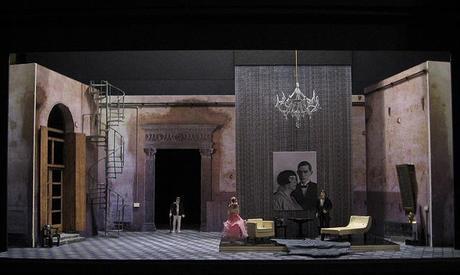 Preliminary set maquette by Wilson Chin, set designer for the Canadian Opera Company production of A Florentine Tragedy, 2012.
The Canadian Opera Company presents a double bill of witty one-act operas as part of its 2012 spring season with the Canadian premiere of Alexander Zemlinsky's A Florentine Tragedy and the return of Giacomo Puccini's Gianni Schicchi, last seen with the COC in 1996. The two operas are presented in a new COC production by the legendary soprano-turned-director Catherine Malfitano and world-renowned conductor Sir Andrew Davis.
About the Production
The COC's new production uses Florence's cityscape as the canvas on which Malfitano draws out the themes of class values, morality and excess of riches that underline both operas, with set designs by Wilson Chin, costume designs by Terese Wadden and lighting designs by David Martin Jacques.Inspired by how A Florentine Tragedy and Gianni Schicchi are linked in time and subject but can feel representative of two very different worlds, Malfitano's concept unites the two operas by having them take place within the same Italian palazzo but physically sets them in different time periods. The paired operas are On Stage April 26 to May 25, 2012.
Cast
Simone / Gianni Schicchi: Alan Held
Bianca / Nella: Gun-Brit Barkmin
Guido Bardi: Michael König
Lauretta: Simone OsborneVisit the COC website for more information.