Lawrence Brownlee (foreground) as Don Ramiro in 'La Cenerentola'
Tenor Lawrence Brownlee as the Prince? Elizabeth DeShong as Cinderella? The two talents together singing classic Rossini?  North American opera simply doesn't get much better than that.
The Canadian Opera Company's (COC) spring 2010/2011 season opens with Gioacchino Rossini's Cinderella (La Cenerentola) featuring a glittering cast in a whimsical rendition. La Cenerentola, an opera for all ages, was created by the Spanish artist collective Els Comediants and led by director Joan Font. Leading the COC Orchestra and Chorus is rising young Italian conductor Leonardo Vordoni, recognized across the United States and abroad for his interpretation of the Italian repertoire.  
COC's production also includes a Cinderella Outfit Challenge called "Send your Doll to the Ball!" (My aunt and grandmother used to crochet outfits for my Barbie. Is this contest a way cute idea or what?)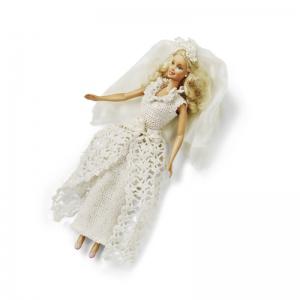 Inspired by the crocheted dress-wearing doll used in the creative campaign of the Canadian Opera Company's production of Cinderella, the opera company launches the Cinderella Outfit Challenge. The gauntlet has been thrown to designers, fashionistas, and those handy with a needle and thread to create a doll's hand-crafted costume inspired by the classic fairytale.
Participants who submit a photo of their homemade doll costume, inspired by Cinderella, will have a chance to win a prize package including four tickets (plus lounge pass and drink tickets) to the opening night of the Canadian Opera Company's production of Cinderella (La Cenerentola), an overnight stay at the Hilton Hotel in downtown Toronto, a gift basket from Cheese Boutique valued at $200, and a chance to meet the members of the cast after the performance.
Sung in Italian, Cinderella runs for nine performances at the Four Seasons Centre for the Performing Arts on April 23, 28, May 1, 7, 10, 13, 19, 22 and 25, 2011.