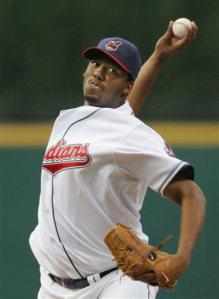 Fausto Carmona, the Cleveland Indians' opening day starting pitcher in 2011, has been arrested in the Dominican Republic for allegedly using a fake identity to claim a new visa. Carmona, who was applying for a work visa in order to attend spring training with the Indians, was detained, tweeted Colonel Maximo Aybar Baez, a representative of Dominican police.
According to the arresting police and ESPN, Carmona's actual name is Roberto Hernandez Heredia, and he is 31 years old, not 28 as Carmona had claimed and is listed on the Cleveland Indians' official website.
While this may come as a surprise to Indians fans and some people around baseball, the falsifying of documents by foreign-born players is nothing new. Several players through the years have been found to have lied about their ages, and in some cases such as Carmona's, lied about their identity.
In most impoverished countries, such as the Dominican Republic and Cuba, the allure of joining a team in Major League Baseball fuels intense competition in countries where the only way to wealth is through sports, particularly in Latin American where baseball is extremely popular.
By becoming seasoned players, it's sometimes beneficial for Latino prospects to appear younger, and there is a black market for fake documents, such as birth certificates with information from younger, perhaps deceased fellow countrymen, that are used to give major league scouts the impression that a hot prospect is 21 years old, not 25.
Most recently, Miami Marlins closer Leo Nunez was detained in his native Dominican Republic on a similar charge as Carmona/Heredia, using false documentation. Nunez was found out to actually be Juan Carlos Oviedo. While his travel status remains uncertain for the 2012 season, the Marlins still agreed on a one-year contract with Nunez/Oviedo, worth $6 million.
The Indians have not commented officially about the Carmona situation. Carmona is owed $7 million for the 2012 season, but his status is currently unclear. The Dominican Republic appears to be trying to curb the illegal use of false documentation. Both Major League Baseball and Latin American countries have been more proactive in educating and cooperating with foreign governments in an effort to limit these instances, as well as reported rampant performance-enhancing drug use among potential Latino prospects.
The landscape of Major League Baseball has changed over the last few decades. While only a trickle of Latino ballplayers played in the years thst followed Jackie Robinson breaking the MLB color barrier in 1947, Latino ballplayers have become a major part of today's game with teams employing scouts and other personnel who are solely dedicated to foreign scouting and signing of foreign-born ballplayers.
With those advancements in making Major League Baseball a more worldly game, problems have developed because of the intense competition from players trying to make it to big leagues.
Carmona, who burst onto the MLB scene with a stellar performance in 2007 with an ERA of 3.06 in 32 starts, had an ERA of 5.25 in 2011, and figures to remain in the Indians' rotation this season.
-James Kries