Hi there peeps, as I previously explained, I am going topost numerous blogs, enabling me the chance to share each and expand on every productthat I personally use in my weekly anti-ageing program.
  This blog is the first in the series; a presentation of the cleansing methods thatcurrently spotlight in my Serious Skin Care routine, including when I use themand my thoughts on each product. :)
Cleansing Tools
Clarisonic PRO Sonic Skin Cleansing System
I wasoriginally dubious about using this cleansing tool at all, because I expected it would be tooharsh for my sensitive, fragile skin and I usually prefer to avoid manualexfoliating products.
  However, mytherapist ensured me this unit is not a manual exfoliator, it's actually acleansing device and recommended I use it with a Delicate Replacement Brush Head, instead of the original attachment, making itperfectly safe, even for those with the most sensitive or traumatic skin.  Initially, I was just loaning this unit, but ended up being literally blown away by how it made such asignificant difference to the overall well being of my skin in that short space of time, so much so, that Idecided to buy it and intergrate it into my PM skin care regime.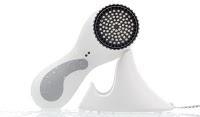 While I am confident that this until cleans my skin better than anythingelse I have ever tried, I was not ready to part ways with my regular, ever faithfulglycolic cleanser either.  I appreciate the cleanser because it has supplementary perks that my skin will advantage from, making it optimal in my anti-ageing skin care prescription.  In a bit of a pickle and unable to make a decision one way or the other, I decided why not alternate thetwo?  The more I thought about it, this was the perfect solution as they would actually compliment each other nicely, if used modestly.
 Therefore, I now use the Clarisonic PRO Sonic Skin Cleansing System onenight and my ASAP Daily Facial Cleanser the following, subsequently, to indulge me with the best of both worlds ;)
  After 9 months of continued, regular use, I have noticed a visible reduction in the appearance ofthe enlarged pores around my nose, which don't get clogged up anymore, henceblackheads have become a rare occurrence.
  I have amuch clearer, brighter skin tone that is more uniform in color and the facialredness I use to suffer from has practically vanished.
  The surface of my skin has smoothed out in texture, feeling firmer and more resilient, whilst my purified pores don't produce asmuch oil, staying in balance so I don't have much worry aboutalways sporting greasy skin (or, as I always claim; my skin doesn't look like I just jumped out of the deep fryer, LOL).
  It's amazing, butthis product alone, actually has produced such a big improvement to so many of my ongoing concerns, which is why it easily earned apermanent home in my beauty ritual.
Cleansers
Alpha-H Clear Skin Daily Face Wash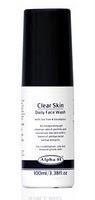 This is my cleanser ofchoice for my AM skin care regime, mostly because I love how the botanical blend, infusedwith essential oils such as tea tree and eucalyptus, make it so refreshing andinvigorating, providing me with an instant wake-up call, so I'm rearing andready to go and face the day.
  Additionally, the supergentle formula is perfect for my sensitive skin, yet still powerful enough todeeply cleanse my pores and leave my skin super soft and clean without feeling tautor stripped.
  It works wonders atreducing any excess oils (that I notice usually becoming worse during the day) andbecause any gunk is drawn out of my pores they look more refined.
  Finally, thanks to the enriched goodness ofthe ingredients, I have fewer blackheads and pimples bothering me any more :)
ASAP Daily Facial Cleanser
This is my all time favorite cleanser;)  If you ever discover how effective anAHA cleanser is and just how perfectly it cleans your skin, I assure, you will never lookback.  This is my preferred PM cleanserthat I use on alternate nights, succeeding my Clarisonic PRO Sonic Skin Cleansing System . My first experience with an AHA cleanser waswhen I purchased the MD Formulations Facial Cleanser. I was so impressed with how it effortlessly itcleaned my skin and left it smooth and clear, however I was concerned aboutrepurchasing because I couldn't justify the price :-o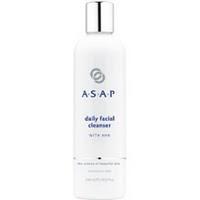 I was chuffed when I discovered the ASAPDaily Facial Cleanser, which was far more affordable and also happened tobe Australian made and owned,

bonus

!  It promises me a deep-pore cleanse, removing all makeup,including the pesky, most stubborn of waterproof mascara and zinc basedsunblocks, along with any impurities that build up on my face during thecourse of the day.  The gel-like consistency, foams slightly, whichprompts a pea-sized portion to sufficiently wash my whole face, neck and décolletage, making the bottle last me forabsolutely ages. The inclusion of AHA's slough away dead, dulling skin cellsand unclog pores and potent anti-ageing ingredients target lines wrinkles andsun damage, while softening rough skin for a ultra smooth, soft surfacetexture.  Even though this '

little ripper

'is powerful enough to cut through the toughest dirt and grime with ease, it'sformulated gently to safely allow for use on a daily basis.  Once in awhile, I like to leave the cleanser on my face for an additional couple ofminutes, as a mini-mask, to grant more time for the ingredients to really get down tobusiness and penetrate deeply to give my skin an extra boost.  The perfectchemical exfoliant and cleanser, combination, that I recommend everyone shouldtry. ;)
Ultraceuticals Ultra Milk Cleanser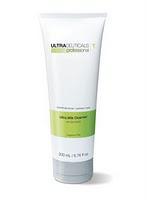 I acquired thiscleanser last year and have been trying to use it up, paired with my Clarisonic PRO Sonic Skin Cleansing System during my PM skin care regime, as I prefer a basic cleanser to coincide withthe hard work that my cleansing tool already maintains.
  It's a rich , creamy, non-foaming cleanser that is gentle on my sensitive skin and is additionally hydrating, but quite frankly Iam not fussed at all on the smell one little bit; in my opinion its actually quite revolting,

LOL

.  I have neversmelled anything quite like it and I can't even begin to describe the scent, other than it's just so putrid,

eww

.
  The bonus I guess isthat the large tube lasts for ages, but when it eventually runs out, I will notbother purchasing it myself.
  It's a bit of a disappointmentreally, as I do love many of the other Ultraceuticals products I have tried and it comes up trumps with the blend of decent anti-ageing ingredients that would be ideally beneficialfor my skin care program, however, unfortunately, this one doesn't meetmy expectations. The smell just kills it, LOL :D
Clarins Gentle Foaming Cleanser - Normal/Combination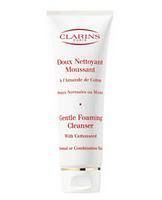 This is the other cleanser that I prefer to team up withmy Clarisonic PRO Sonic Skin Cleansing System during my PM skin care regime and unlike the previous cleanser I mentioned,this fits the bill perfectly, making it an ideal companion to my cleansingtool.
  The botanically enriched formulation is lightly scented with that yummy signature fragrance you can always expect from Clarins; so subtle and never offensive.  It has a rich, creamy consistency though, but upon contact with water it foams up ever so slightly into a light, frothy lather that gently, but thoroughly, washes away any trace of dirt and grime, whilst instantly dissolving all makeup, so my skin feels refreshed and comfortable without being stripped or taut.  Fortunately, it doesn't leave any cleansing residue behind after rinsing, instead my skin is silky smooth, soft to touch and nicely nourished with an almost matte-like finish, making it ideal for my skin concerns.
  As I am one who baulks up at the thought of wasting anything, I will continue to use this cleanser in addition to the Ultraceuticals Ultra Milk Cleanser until that is finally finished and I can gladly see the '

rear end

' of it, in which case the Clarins Gentle Foaming Cleanser will become my  '

go-to

' nightly cleanser, supporting my cleansing tool.
There you have it, hopefully not too confusing,

LOL

.
  Throughout my experience of adapting my skin care routine, aiming to for it to perfectly suit my skins ongoing needs, I have come to realize that 'where there's is a will there's a way'!
  In my case, I

CAN

successfully incorporate different types of cleansers andcleansing methods, even though they work differently and deliver different results.  As long as I'm clued up on all the active ingredients and understand their influence when using in conjunction with other ingredients, if used appropriately and sensibly, the combination can actually boost my entire skin care regime. Now I have finally found a solution that works wellfor me.
:)
Using a good cleaner is the first and most important step towardtaking care of your skin so you can develop your own Serious Skin Care program.
  Other skin care products may not be ableto penetrate properly, therefore are deemed useless, if you don't ensure yourskin is cleansed properly.
  Do youuse a good cleanser and does it productively remove excess sebum, dirt, grimeand dead skin cells?
  More to the point,do you cleanse every single night or are you guilty of the biggest beauty sin,going to sleep with your makeup on?

All images in this blog are generic.