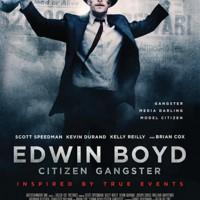 Movie: Citizen Gangster
Director: Nathan Morlando
Cast: Scott Speedman, Kelly Reilly and Kevin Durand
Rating: ***
First time director Nathan Morlando brings to light the tear-jerking true story of an infamous bank robber. It definitely requires more than just good filmmaking skills to engage the viewer with a story that's hardly known or ever spoken about, yet Nathan makes this unknown story of Edwin Boyd, an engaging roller-coaster thriller with heartrending moments.
Edwin Boyd, a Canadian war veteran, sick and tired of his mundane job as a bus driver, finally decides to call it a day. Neither does he have an alternate job nor hopes to find one because he has an unfulfilled dream of becoming a Hollywood star, but can't afford to enroll into an acting school.
With a family of three mouths to feed, Edwin is left with no option but to do the unthinkable. Eager for money and attention, he paints his face, grabs an old pistol and robs banks. What begins as an effort to support his family soon turns into the beginning of a life that he's not capable to handle.
The story, set in post-WWII period, carries a melancholic aura throughout the film and all the characters make the scenes appear foreboding. The aesthetics of the film is stunning and perfectly suits the time and period of the film.
Steve Cosens, known for his work "Snow Cake" and "The Dark Hours", proves his mettle with slick cinematography. His work is apt especially in the bank robbery scenes, where he prefers static camera shots over swiftly moving around to catch some action. Moreover, the camera work doesn't let you miss all the action, but still appears authentically unique.
Nathan shines particularly with his impeccable casting, while his characters are insecure and majorily dependent thus paving way to get deeper into the psyche of Edwin. The relationship between Edwin and Doreen is unexplainable. At first, its unconditional love, then followed by self-pity and lack of trust, but all this is neatly shrouded by the necessity to be together. And so is the relationship between Edwin and his father, played by Brian Cox, which adds a heartbreaking tension to the narrative.
Scott Speedman as Edwin Boyd was fitting in his role as the hapless husband turned bank robber. His character is plagued with incessant fear and accountability, which he displays sporadically in his character with extremely good detailing.
The film was reportedly constructed based on the telephone conversations between Nathan and Edwin Boyd, who died in 2002. Although, "Citizen Gangster" is part ambitious and part poignant, but all one can say about Edwin Boyd as portrayed in the film is that he was a notorious Canadian folk hero.
In short, "Citizen Gangster" can neither be called a master piece nor worthless, but it's undeniably one of the films worth watching.