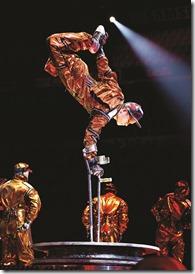 Michael Jackson:
   The Immortal Tour
Written and Directed by Jamie King
Music Directed by Greg Phillinganes
at Sears Centre Arena, Hoffman Estates (map)
tickets: $50-$175   |  more info
  
Check for half-price tickets
  
  
   Read article
  
---
A visual and aural feast for the senses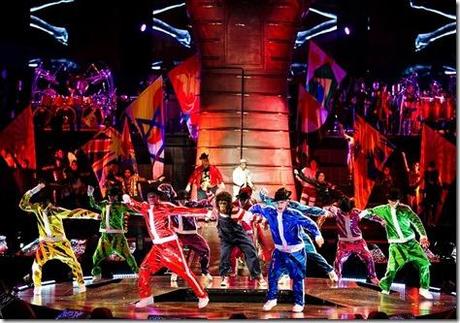 Cirque du Soleil presents
Michael Jackson: The Immortal Tour
By Kat Hey
True Confession Time. I saw the Jackson Five in the summer of 1971 at the old International Amphitheater next to the stockyards. I was 11 years old and was with my cousin Valerie. "I'll Be There" and "Never Can Say Goodbye" were in what seemed to be continuous rotation on the radio. At the center of this group of handsome boys was the supernova – Michael Jackson. A little boy blessed with perfect pitch and an impeccable sense of rhythm twirled and leapt about the stage singing about love and the alphabet. He became a worldwide sensation and a legend as a manchild who never really left Neverland.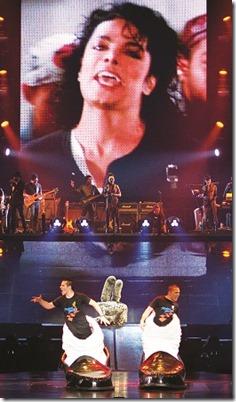 Cirque du Soleil has created a megawatt concert reenactment of Michael Jackson that is packed with dance, acrobatics, heart-stopping aerial choreography and live music. This is a jamming concert of Jackson's hits from the 70's until his death in 2009.
I spoke with Laura Silverman, publicist for Immortal, asking her what the difference is between this show and Michael Jackson: One, currently playing in Las Vegas as a major entertainment draw.
"While Cirque du Soleil is known for acrobatic and aerial dances, this is more of a huge rock concert. There will definitely be the elements of Cirque that people have come to expect but this will have one theatrical storyline. It will feature highlights from his entire career. The musicians, dancers and choreographers all worked with Jackson on his concert tours and are intimately familiar with his music and the famous dance moves."
I asked if there are any standout performances, and she mentioned Bboy Hourth Sok, a one-legged dancer who is very popular with the crowds. Once I saw him do his routine, I could see how this is true. He first appears as part of a collection of bronze statues at Neverland that come to life. Jaws dropped and eyes widened watching him break dance and use the walking stick as a beatbox baton.
Silverman also mentioned the very talented mime Jonathan "Bionic" Bayani. His mime character is the anchor of the show. Miming is precise art in which the actor creates emotion and pathos with his/her body as the only instrument. Bayani seems to be made of liquid as he rises up from the stage clad in sparkling white. Like Marcel Marceau's Bip character, Bayani envelops himself in the environment and, like a chameleon, blends into every part of the storyline.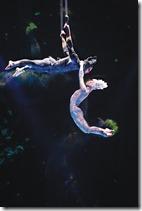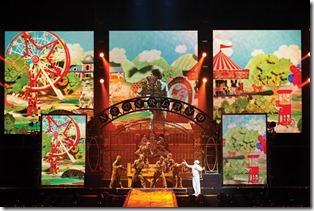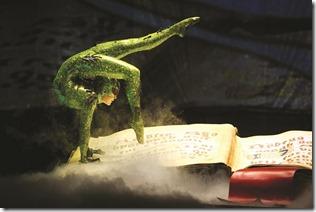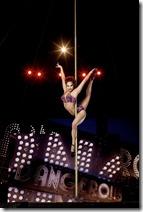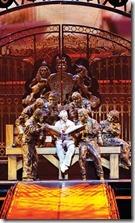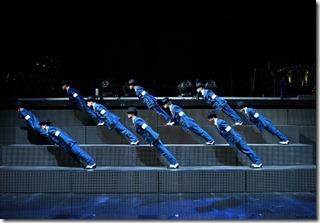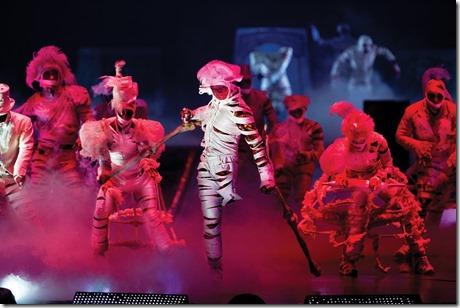 Bubbles the chimp is woven into the story in the form of Terrance Harrison. He is so realistic in his movements – even walking and dancing bent legged the entire time. Speaking of amazing, pole dancer Anna Melnikova takes the art to another echelon that doesn't seem real. Melnikova is featured in "Dangerous" and shoots down the gangsters with her moves.
Contortionist Baaska Enkhbaatar emerges from a giant book of scary stories clad in lizard print. She takes contortionism beyond just posing. Enkhbaatar flows each movement into the music and becomes a surreal live animation.
I found myself gasping aloud while watching Aerial Silk Artist Giulia Piolanti glide up and down a flowing swath of blue. Piolanti floats and then plummets to within inches of the ground. It is a white-knuckle display of skill and beauty.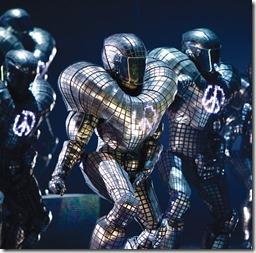 The musicians are outstanding.
Immortal
features guitarist
Desiree Bassett
, who rocks that guitar like Eddie Van Halen. Her Mohawk hairdo glistens and is a dazzling display in itself. Cellist
Mariko
plays an abstracted cello in a smoking hot outfit revealing an athletic and toned body. She is one with the instrument with her glittery hair flying about and even the hair on the bow she used seemed to flow with the music. Here's what happens when you practice and workout.
The Immortal Tour is a visual and aural feast for every sense. There is footage of Jackson through the years, from a doe-eyed little boy to his last visage. We hear his voice played with the live music. The true genius of Michael Jackson is that he was always one with the music. His music and style changed the world of pop music forever. He took the pop craze from the 70's and evolved it into a signature style. That show in 1971 was like nothing I had ever seen with dancing, lights, and really tight musicianship.
This show has been traveling the world for two years. Silverman pointed out that the usually reserved countries such as Japan were really into the music and the dance moves. Jackson was idolized the world over and had indeed morphed himself into a melding of nations and races that were like nothing on the earth. He was the consummate entertainer and Cirque du Soleil does his legacy justice with this show, which has the expressed imprimatur of the Jackson family. I was transported back to 1971 and it was an emotional ride humming all of the songs that I grew up loving and loved as an adult – in spite of myself claiming to have "outgrown" pop music.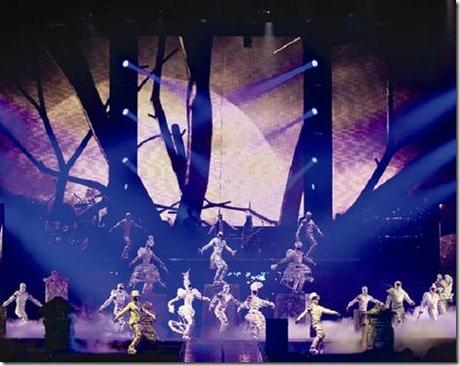 Photos by OSA Images
---
artists
Jamie King (writer, director), Greg Phillingale (music director), Chantal Tremblay (director of creation), Kevin Antunes (musical designer), Carla Kama (associate show producer), Mark Fisher (set design), Michael Curry (scenic design, props design), Zaldy Goco (costume design), Germain Guillemot (acrobatic performance designer), Scott Osgood (acrobatic equipment and rigging designer), Olivier Goulet (projection design), Martin Labrecque (lighting design), Francois Desjardins (sound design), Travis Payne (choreography), Rich and Tone Talauega (choreographers), Debra Brown (acrobatic choreography), Napoleon and Tabitha Dumo (choreographers), Jamal Sims, Daniel "Cloud" Campos, Tamara Levinson, Mandy Moore (choreography), Florence Cornet (makeup design), OSA Images (photos)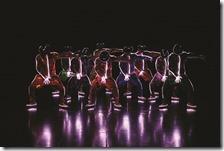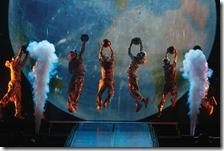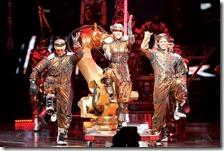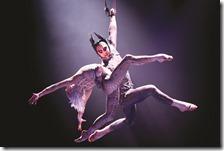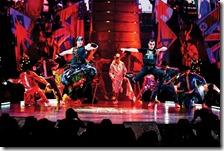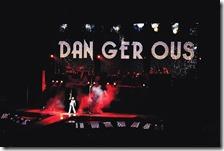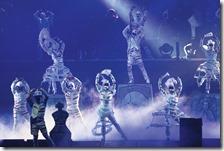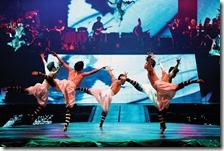 14-0646