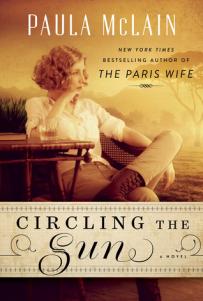 What's it all about?:
Brought to Kenya from England as a child and then abandoned by her mother, Beryl is raised by both her father and the native Kipsigis tribe who share his estate. Her unconventional upbringing transforms Beryl into a bold young woman with a fierce love of all things wild and an inherent understanding of nature's delicate balance. But even the wild child must grow up, and when everything Beryl knows and trusts dissolves, she is catapulted into a string of disastrous relationships.
Beryl forges her own path as a horse trainer, and her uncommon style attracts the eye of the Happy Valley set, a decadent, bohemian community of European expats who also live and love by their own set of rules. But it's the ruggedly charismatic Denys Finch Hatton who ultimately helps Beryl navigate the uncharted territory of her own heart. The intensity of their love reveals Beryl's truest self and her fate: to fly.
What did I think?:
You may be familiar with the name Paula McLain from her wonderful novel The Paris Wife about the first wife of Ernest Hemingway i.e. Hadley Richardson. I was delighted to hear that she was bringing out a new work of fiction about another strong female individual based once more on a real person that I shamefully knew very little about. Again, as when I finished The Paris Wife, the author writes such a compelling story that it instantly makes me want to go and research everything I can about the real woman behind this narrative.
The person McLain chooses to explore is Beryl (Clutterbuck) Markham, who spends much of her childhood on her father's farm in Kenya, learning the art of training racehorses from her father and running wild with her childhood friend, a native Kenyan from the nearby Kipsigis tribe. Life is quite carefree for Beryl and she enjoys the simple pleasures in life until her mother decides to return to England, effectively abandoning her. However, Beryl was never the conventional "lady," and grows up fiercely independent and proud, fulfilling her dreams of becoming the first successful female horse trainer in Africa, having a few "interesting" relationships with men before she meets the love of her life, suffering various heart-breaks and eventually breaking a record attempt for flying solo across the Atlantic in 1936, something which she is most famous for today.
There was so much to like about this book and to be honest, I wasn't sure at first. I'm not a particularly "horsey" kind of girl and obviously, a big part of this book is Beryl's relationships with horses so I wasn't sure how much that would interest me. I do love being proved wrong though – the story of her trials and tribulations with people who doubted her and her fierce attitude towards achieving her status as a world-class horse trainer totally won me over. Beryl is, in essence, a flawed character and a lot of times, I didn't particularly agree with some of the decisions she made, especially concerning her love life (which at points, had me actually quite exasperated!). However, she was real, she made mistakes, she loved, learned and lost like everyone else has to and this made the story so much more believable and poignant in my eyes. Beryl Markham was obviously a remarkable woman and I'll definitely be reading her memoir, West With The Night to view her life once again from her own point of view.
Would I recommend it?:
But of course!
Star rating (out of 5):