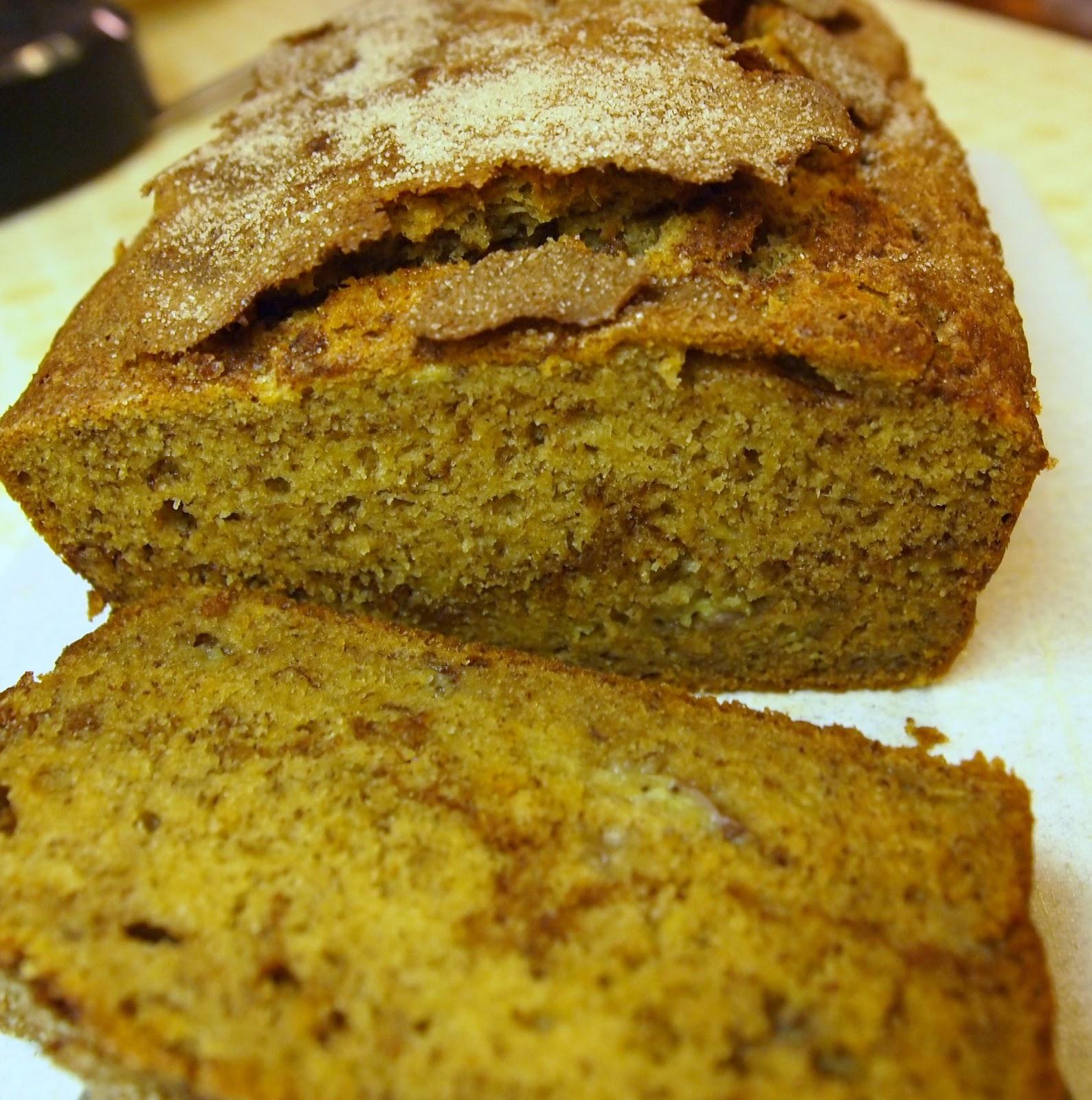 The weather today is perfect for staying in and doing some testing in the kitchen. I long for these stormy days, something about them gives me that cozy, makes you want to sit by the fire kind of feeling. It also makes me want to bake banana bread. 
Banana bread was one of the first things I tried baking. Always plagued with over ripe bananas, it seemed as though more often than not they would end up in the trash; which is wasteful and I am not a fan of that. The beauty of banana bread is that it's simple and delicious. You really can't mess it up.
Today I ended up having 6 overly ripe bananas so needing only 4 of them for this recipe I branched out and created another recipe for some banana muffins. That recipe will come in a later blog, but there is a surprise to them! This banana bread is a combination of my favorite banana bread recipe mixed with inspiration from Lovin' From the Oven. Putting them together you end up with Cinnamon Sugar Banana Bread. The cinnamon sugar gives a nice swirl in the center and then a crunchy sweet crust on top (that may be my favorite part). Have a slice warm from the over with a small pat of butter melted on top, makes a wonderful side to a hot cup of coffee while sitting in front of that fire! Or maybe just the yule log channel on your TV..I've done it!
Cinnamon Sugar Banana Bread
1 stick salted butter, softened
3/4 cup light brown sugar
2 eggs
4 ripe bananas, mashed
1 tsp vanilla extract
2 cups flour
1 tsp baking soda
1 tsp cinnamon
1/4 tsp fresh nutmeg, grated 
1/3 cup sugar
2 tsp cinnamon
1) Preheat oven to 350 degrees F. 
2) Spray a 9 x 5 loaf pan with non stick spray or you can butter it (all sides and bottom).
3) In a large bowl cream together the butter and brown sugar. Add the eggs, bananas, and vanilla until combined.
4) In another bowl combine the flour, baking soda, cinnamon and nutmeg. Mix them together.
5) Combine the dry ingredients with the banana mixture and stir until just combined. 
6) In a separate small bowl combine the 1/3 cup sugar with the cinnamon. Then spoon half your batter into the loaf pan. Sprinkle a little more than half the cinnamon sugar mixture onto the batter and then swirl it in with a knife like this: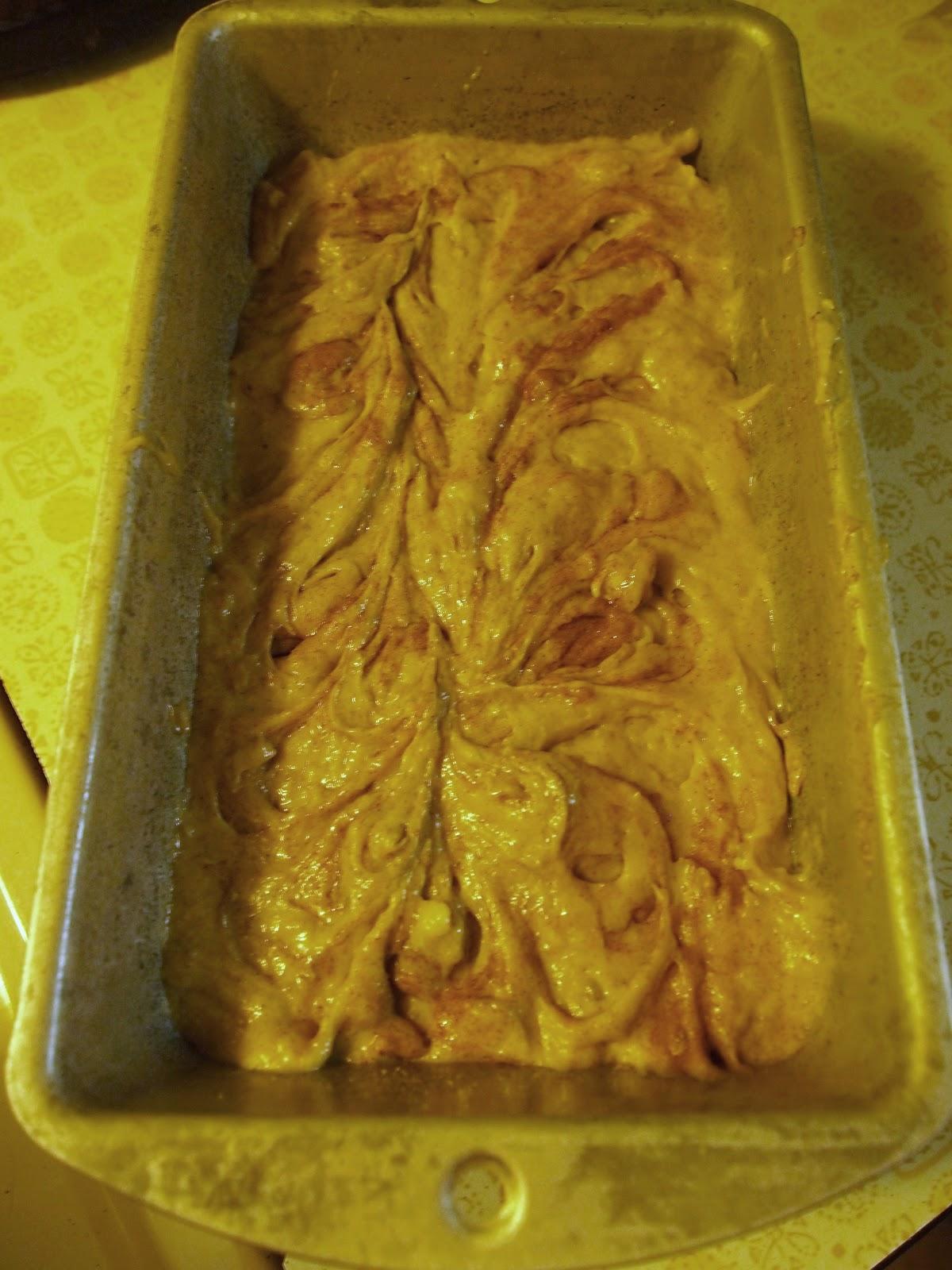 Add the second half of your batter to the pan then top with the rest of the cinnamon sugar. I didn't swirl the top part in, but you can if you want.
7) Bake for 55-60 minutes. Remove from oven and let sit in pan for about 10 minutes. Take it out of the pan and let finish cooling on a rack.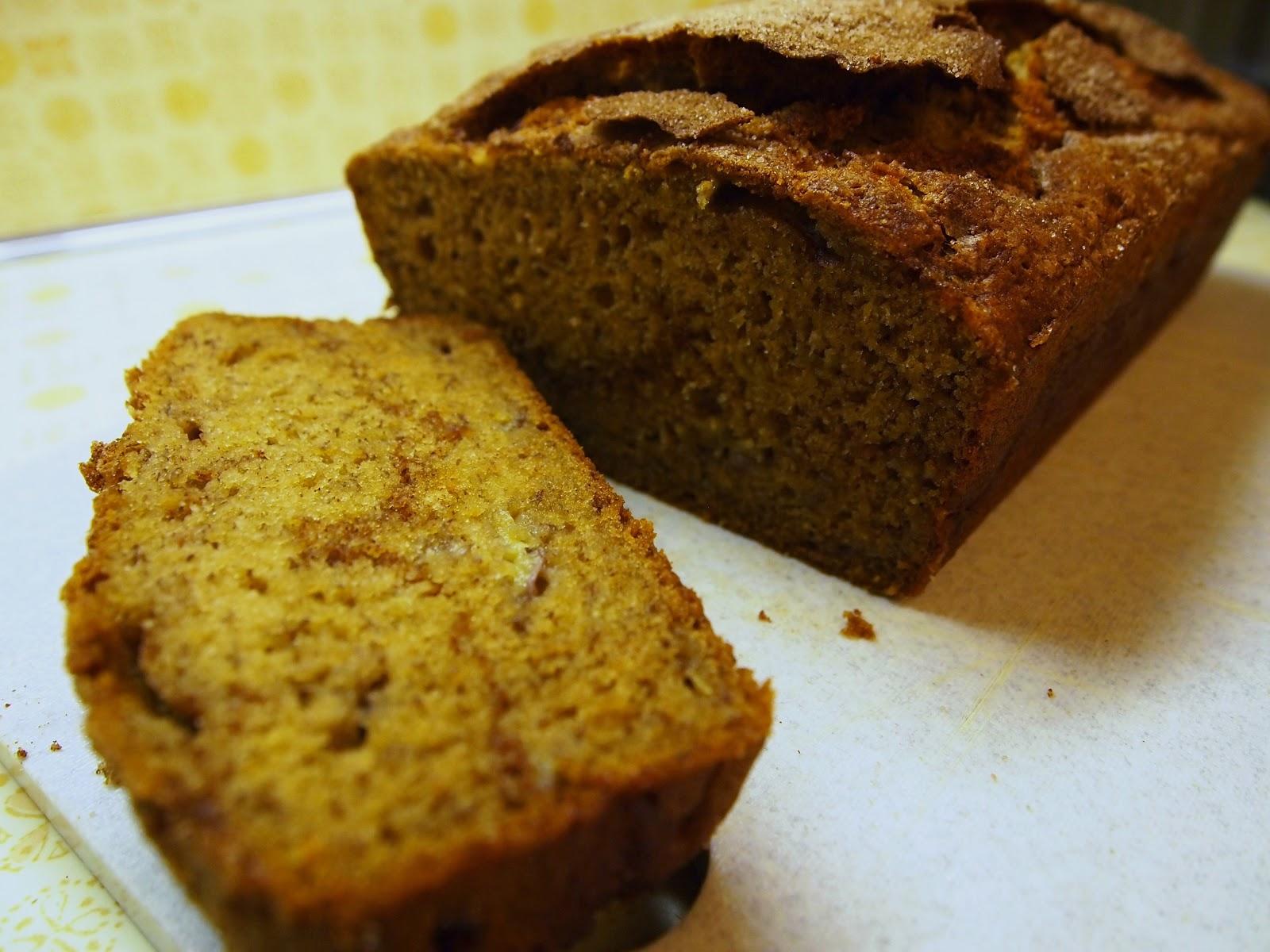 Enjoy!