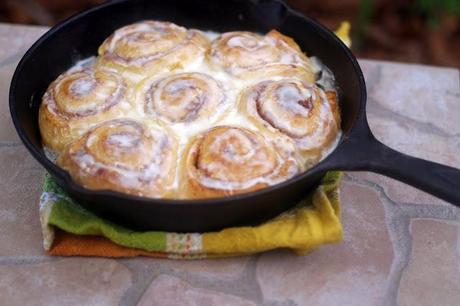 Nothing beats the smell of cinnamon rolls in the morning.
If you want to get your kids or husband out of bed, bake this.
Watch them crowd into the kitchen to find out what smells so wonderful.
Use it to your advantage.
Do you have a honey do list for your honey?
Before you give him one of these delectable rolls warm from the oven, gently remind him that the garage needs to be cleaned.
Serve this to him and watch how quickly things get done,
or not.
You can make the dough the night before and store it in the fridge until you need it.
Just allow it to return to room temperature.
I used my cast iron skillet to bake these cinnamon rolls.
My cast iron skillet is the workhorse of my kitchen.
I highly recommend one in every kitchen.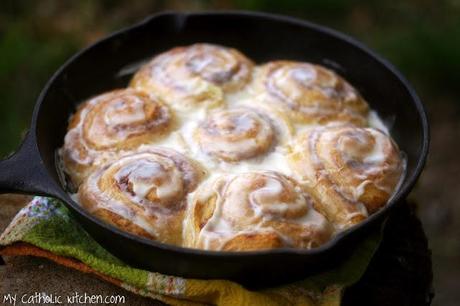 Print Recipe
Cinnamon Rolls
Ingredients:
1 (1/4 ounce) package dry yeast
1 cup warm milk
1/2 cup granulated sugar
1/3 cup margarine
1 teaspoon salt
2 eggs
4 cups flour
FILLING
1 cup packed brown sugar
2 1/2 tablespoons cinnamon
1/3 cup margarine, softened
Directions:
For the rolls, dissolve the yeast in the warm milk in a large bowl.
Add sugar, margarine salt, eggs, and flour, mix well.
Knead the dough into a large ball, using your hands dusted lightly with flour.
Put in a bowl, cover and let rise in a warm place about 1 hour or until the dough has doubled in size.
Roll the dough out on a lightly floured surface, until it is approx 21 inches long by 16 inches wide.
It should be approx 1/4 thick.
Preheat oven to 400 degrees.
To make filling, combine the brown sugar and cinnamon in a bowl.
Spread the softened margarine over the surface of the dough, then sprinkle the brown sugar and cinnamon evenly over the surface.
Working carefully, from the long edge, roll the dough down to the bottom edge.
Cut the dough into 1 3/4 inch slices, and place in a lightly greased baking pan. Allow to rise in a warm place for 30 minutes or so. Bake for 10 minutes or until light golden brown.
ICING
8 tablespoons margarine
1 1/2 cups powdered sugar
1 block cup cream cheese
1/2 teaspoon vanilla
While the rolls are baking combine the icing ingredients.
Beat well with an electric mixer until fluffy.
When the rolls are done, spread generously with icing.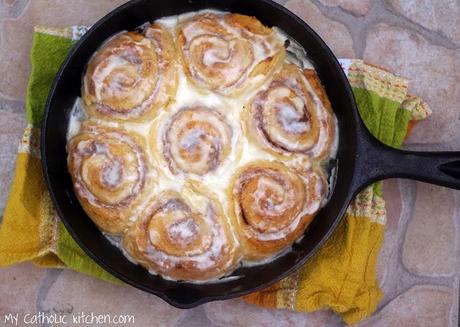 Peace be with you,
Veronica