I feel like everyone needs a good nude nail polish. It's like the "little black dress" for nails. It goes with everything, works for any situation and is just kind of classy, tasteful and elegant. Basically it's most things that I am not!

J

Much like any necessity in life, finding that perfect nude polish can be daunting and incredibly time consuming. But alas! I think I have found it and I wanted to share my find because, of course, it's a limited edition polish. It is from the Olivia Palermo Collection for Ciat

é

in the shade "Sunday's." Absolutely stunning and completely perfect on my nails!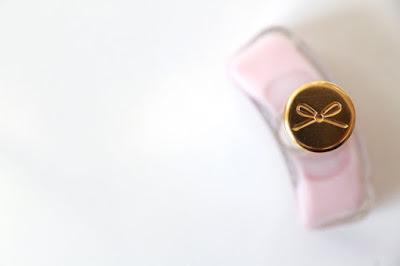 Obviously the perfect nude will differ for each person because everyone's skin tone is different. Even if "Sunday's" isn't the perfect nude for you, I feel like it's still a perfect barely-pink for most people. That subtle touch of whitish-baby pink is exactly what makes this work as a nude for my nails too. Many nude polishes make my nails look dead or non-existent because they are just too similar in tone. This polish is just the tiniest bit pink with the smallest hint of white so that it's not flesh colored, but it's not screaming "Look at my nails."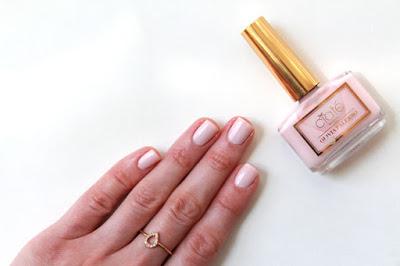 As far as similar shades, there are a few that I have in my collection, but nothing that looks quite as good. I have compared the Ciat

é

polish with the shade "Ana" from Zoya's Satin Collection. "Ana" is definitely more tan-nude and thus essentially my skin tone. On the other end of similar is "Whitehall" from Nails Inc.'s The New White Collection, but it is definitely a crispier white-based shade that stands out from my skin tone a lot more. If those two shades had a baby, it would be "Sunday's." It is just a pinky-flesh that neither blends in nor stands out. Perfection!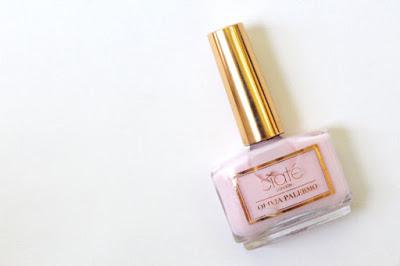 The formula is also spectacular! I don't know if it is just this shade or if all of the Olivia Palermo shades are similar. "Sunday's" has a beautiful semi-sheer gel-like formula that builds to a perfect glossy opaque with 3 coats. Even just one coat can make a beautiful sheer baby pink that is streak-free, which is so hard to find. I think it would be spectacular for French manicures, though I never do them so I cannot be certain. Two coats will give a slightly deeper subdued pink that is perfectly even, but my nail beds show, which I'm not the biggest fan of so I added a third coat. It definitely has a gel-like finish that is ultra glossy and almost looks kind of sheer, but not. It is probably one of the best formulas I've used, especially for a very pale shade.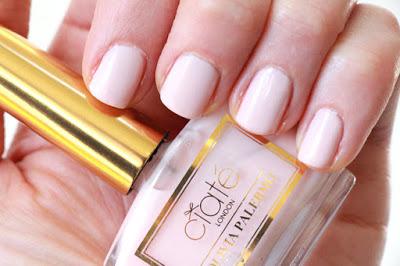 If you're like me, you find that even the most beautiful polishes can live or die depending on the brush. A crappy formula can apply easier and look nicer if the brush is great, while the absolute best formulas die a long slow death with a crappy brush. Just buy a mini bottle of a formula you love and you'll probably find a cheap brush with a poor handle making the application a nightmare. The applicator on this polish is flat with just a tiny bit of a curved semi-wide brush that fits even smaller nail beds nicely while applying a nice even layer of polish. It never seems to pick up the prior coat either, which is a common problem that I have, especially with paler or semi-sheer shades. The "handle" is also spectacular – it is long and thin allowing plenty of control. It is, say it with me this time, perfect.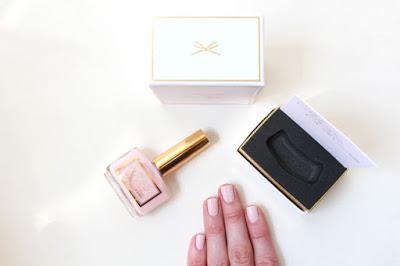 Finally, we have to discuss the packaging. This is only specific to the Olivia Palermo polishes from Ciat

é

, but talk about overdone elegance! You receive a beautiful white textured cardstock covered box with embossed gold foil lettering. Sitting in the bottom of the fancy two-piece box is a well cushioned 0.46 fl oz / 13.5mL bottle of the marvelous polish. The traditional thin slightly curved rectangular Ciat

é

bottle gets an upgrade with a gold cap and gold printing. It is a beautiful thing. It would make a spectacular gift and I feel like "Sunday's" is the absolute perfect bride's maid gift…as well as the perfect bridal shade! This definitely screams elegant wedding to me.

J

So strange that I am in love with it actually. I don't usually do tasteful!

J

Anyway, one of these polishes would definitely be a beautiful gift for any woman who loves nail polish.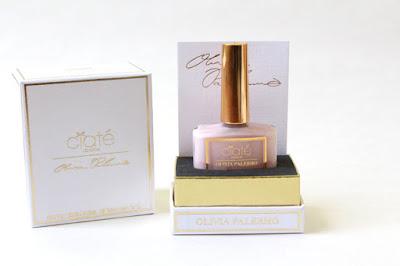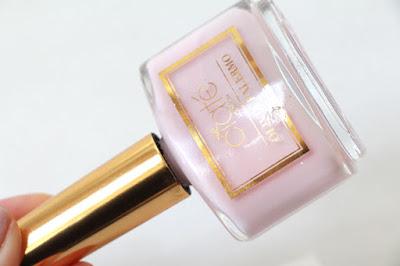 So there you have it. What I consider the perfect nude nail does exist and it is now in my possession. My precious! Of course the Olivia Palermo shades will not last forever so the debate as to whether or not a backup should be added will begin! If nude or pale baby pink is not your thing, there is also a red and a coral in the collection, though neither looks like anything all that revolutionary. Then again, I'm not sure "Sunday's" does either until applied to the nails. Each shade will set you back $24 in the US and all I can say to that is "Ouch!" Overpriced it may seem, but I am so, so glad that I grabbed the elegant little box that houses my cannot-live-without bottle of "Sunday's." Definitely a great gift or the perfect treat for yourself because admit it, you deserve it!

J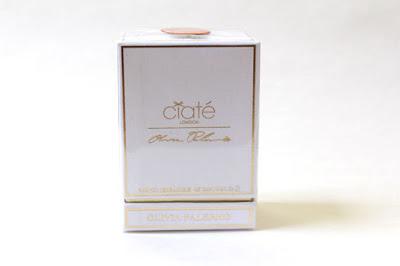 Let me know what your perfect nude polish is. I'm really curious what works for others. It's such a personal thing and it seems so elusive! Thank you so much for checking out my little corner of the world and I hope to see you again soon! xoxo