This little Italian ice-cream parlour, located south of Leicester Square perching on Charing Cross Road is Bar Ciao; and is quite simply the only place for desserts.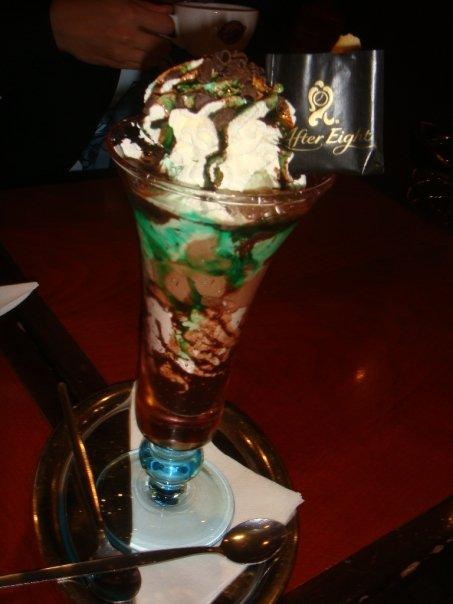 After Eight Ice Cream Sundae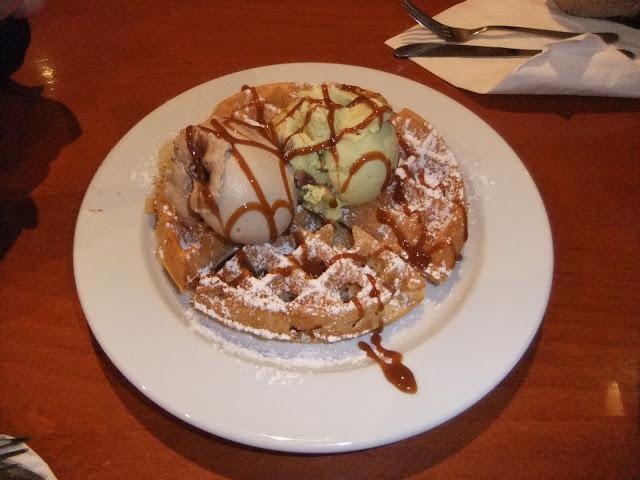 Tiramisu and Pistachio Belgium Waffle with Caramel SauceFor £6-7 each you get an enormous sundae - ideal for sharing - unless you're me. It may look small in the photo but believe me it was colossal. There are various other ice-creams to choose from; from 'fried egg' ice-cream to fruit sundaes, to frozen yoghurt sundaes.
For £5 you get this freshly made Belgium waffle, I forced my companion to choose two scoops of ice-cream; tiramisu and pistachio with caramel sauce.  The waffle had a crispy outer casing with a warm soft centre, and wasn't too sweet so the ice cream and caramel sauce was the perfect complement.  
If you're a nervous wreck like me when given so many selections of ice cream to choose from, I'm going to impose my favourite waffle+ice cream collaboration on to you; you just have to try hazelnut ice cream and caramel sauce with the warm Belgium waffle. You won't be disappointed; and if you are - you are just lacking in tastebuds (apologies to those who have nut allergies). But you could choose any flavor from their range of ice-creams displayed at the front. Rum and raisin to pistachio to mango sorbet. 
Cheap delicious desserts in a cosy Italian cafe in Central London. What more can you ask for?
Bar Ciao: 9/10 Yummei's
Where?
Bar Ciao
17 Charing Cross Road, 
Leicester Square,
London,
WC2H 0EP