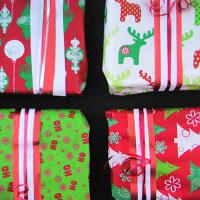 It's no secret that wrapping presents at Christmas time can be a pleasure or a pain.  I've mentioned in earlier posts that I'm trying to have a 'clean-out' year, using leftover scrapbook papers and embellishments to make mismatched gift tags, and my intention to finish off the last of all the rolls of wrapping paper.
To pull the diverse looking wrapping papers together and make the presents look like 'a family' under the tree I decided to add a 'candy-cane stripe' to each present.
Here's what you need:
a roll of shiny red wrapping paper.
a roll of mat white paper (construction, butchers or drawing paper all suit)
sticky dots or double-sided tape
red curling ribbon
Here's what to do:
take the shiny red wrapping paper and cut thin strips off about 6cm / 2.5" 
cut up a set of even thinner strips of plain white paper
wrap the presents as normal
add a sticky dot or piece of double-sided tape to the front of each present
with the intention of wrapping around the shortest side, place the red 'sash' in place, sticking the ends down on the back of the present (I didn't worry if the ends didn't meet at the back, so long as they went all the way around the sides) 
repeat steps 4 & 5 for the white paper
tie curling ribbon around the center of the white strips (I used a tiny piece of double sided tape to hold it in place.)
(Note - you can also swap the colours, and have a shiny red stripe on a wider white band and a silver or white ribbon.)
Sound simple?  It is.  But.  Be warned.  It can effectively triple your workload.  If you're a 'wrap-and-one-ribbon' kinda person, this will seem like torture as there are three lots of paper to cut and wrap, plus the added 'hassle' of adding tape to hold it all in place.
For me it was worth it though.  
I love wrapping, it's almost a zen thing;
finding quite time, surrounding myself with pretty papers, playing with new ideas, and finding that yes indeed, quirky, classical and contemporary wrapping papers from a variety of sources can all look candy-sweet together!
Only a few more sleeps to go now... hooray for festive fun and wrapping presents you just know will bring a smile to someones face... even if it is only for a fraction of a moment before the paper is gauged apart, ripped, shredded, screwed up and tossed aside... or perhaps set aside, folded, flattened and turned into a
scrapbook page
 by a crafty mom like me... or YOU!  
And don't forget the Christmas printables, including bunting, cards, food flags and more, are all still available for $1.10 for some last minute print, cut and keep - just click here!